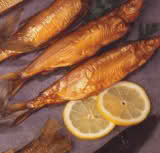 Smoked fish or Tinapa is fish cooked/preserved through smoking and is a Filipino native delicacy. It has a two-stage process: the brining part, which gives it a good salty taste and makes it moist; and the smoking part, which cooks the fish and gives it the smoky flavor.
Smoked Fish products are available throughout the year because a wide variety of fish species like Lapad, Tunsoy, Banak, Kabasi, Hasa-Hasa, Galunggong and Tamban can be processed using the same technology. Except for Galunggong, all other species command a higher price.
I. Estimated Investment Costs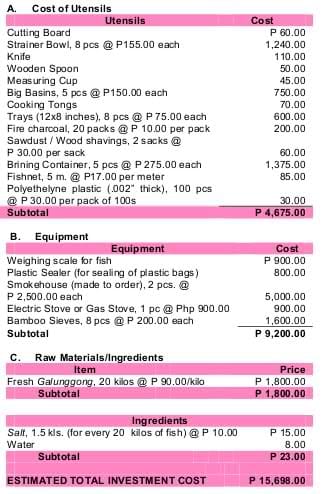 * Based on 2009 prices
** Sources of prices:
– Paco, San Andres, and Sta Ana Wet Markets (for fresh fish and ingredients)
– Landmark, SM Department Store, Binondo shops/stores (for utensils and equipments)
II. Procedure
1. Cut the fish along the back just above the backbone to split it open leaving the belly solid.
2. Remove all internal organs and blood.
3. Wash fish thoroughly with running water.
4. Prepare brine solution (i.e., mixture of water and salt). For 20-kg. fresh fish, use 4 gallons of water and 1.5 kls. of salt.
5. Place the fish in the brine solution for 30 minutes. Be sure that the fish is completely submerged.
6. Boil the brine solution for at least 5 minutes. Boiling the brine solution aids in maintaining the firmness of the fish.
7. Strain the cooked fish and arrange in bamboo sieves. Be sure that excess water is completely drained.
8. Partially sundry fish for 30-45 minutes. Make sure to cover fish with fishnet to avoid contamination.
9. Prepare smokehouse using charcoals and sawdust or "kusot" as fuel.
10. Put fish in bamboo sieves inside the smokehouse and cover. Smoking time varies according to size or dryness of fish. Longer smoking time makes storage longer.
11. Remove fish from bamboo sieves and let them cool in room temperature.
12. Weigh and wrap in plastic bags, then seal.
Assumption: Fish Smoking is done for 22 days/month
Sources on procedures:
– Sustainable Livelihood Options for the Philippines – An Information Kit (Coastal Ecosystem). Department of Environment and Natural Resources (DENR).
– Department of Science and Technology (DOST) – Industrial Technology Development Institute
III. Estimated Costing and Pricing (for 1Kg of Tinapa)
A. Product Costing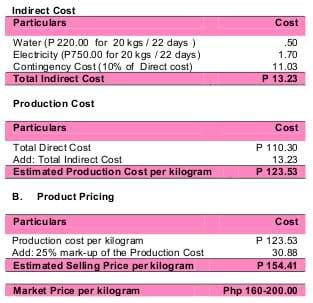 * The higher the volume of production per day (more than 20 kgs.), the lower the production cost, thus further increasing the mark-up to more than 25%. The higher the markup, the higher the profit margin.
* If price per kilogram is lower compared with the existing market price, increase mark-up to 25% or more.
* Labor is based on NCR Minimum Wage Rates per Wage Order No. NCR-14 effective 14 June 2008.
IV. Registration Requirements
1. Business Name Registration
Department of Trade and Industry (DTI) within NCR
a) 12/F, Trafalgar Plaza,
105 H.V. Dela Costa St., Salcedo Village, Makati City
Tel. No.: 811.8232 loc. 208
b) 2/F, Park N' Ride, Lawton,
P. Burgos Ave., Dr. Basa St., Ermita, Manila
Tel. No.: 536.7153
c) G/F, Highway 54 Plaza,
EDSA, Mandaluyong City (across SM Megamall), Tel. No.: 706.1767
d) 5/F, Araneta Square Mall, Monumento Circle, Kalookan City
Tel. Nos.: 332.0854 / 332.0829
DTI Office in the province where the business is located
Website: www.bnrs.dti.dov.ph for online registration
Validity: 5 years
2. Mayor's Permit / Residence Certificate and Sanitary Permit
Municipality or city where the business is located
Validity: 1 year
3. Tax Identification Number (TIN)
Bureau of Internal Revenue (BIR) BIR National Office Bldg.
Agham Road, Diliman, Quezon City
Trunkline: (632) 981.7000 / 981.8888
Email: contact_us@cctr.bir.gov.ph
www.bir.gov.ph
BIR Regional or District Office where the business is located
4. BFAD Certificate
Bureau of Food and Drugs (BFAD) Civic Drive, Filinvest Corporate City, Alabang, Muntinlupa City
Tel. No.: (632) 807.0721 / 842.5606
Email: bfad@bfad.gov.ph
www.bfad.gov.ph
BFAD Office in the province where the business is located
Validity: 1 year
V. Financing
Small Business Corporation
17/F and 18/F, Antel Corporate Center,
139 Valero Street, Salcedo Village, Makati City
Tel. No.: (632) 751.1888 www.sbgfc.org.ph
(Direct lending for individual borrower with an asset size of
P500,000 – P100M)
People's Credit and Finance Corporation (PCFC)
2/F, Accelerando Building,
395 Sen. Gil Puyat Ave., Makati City
Tel. Nos.: (632) 897.8521 or 752.3745
Fax No.: (632) 325.0448/49
Email: info@pcfc.ph
www.pcfc.gov.ph
National Livelihood Development Corporation (NLDC)
4/F, Hanston Building, F. Ortigas Jr. Road, Ortigas Center, Pasig City
Tel. Nos.: (632) 914.7290 to 97 or 631.2955/57
Email: nlsf-info@nlsf.gov.ph
VI. Technical Assistance
Department of Science and Technology – Industrial Technology Development Institute (DOST-ITDI)
DOST Compound, Gen. Santos Ave., Bicutan, Taguig, Metro Manila
Tel. Nos.: (632)837.2071 to 82
Telefax: (632)837.3167
Email: fpd@dost.gov.ph
Technology Resource Center (TRC)
TLRC Building, 103 J. Abad Santos cor.
Lopez Jaena Sts., Little Baguio, San Juan, Metro Manila
Tel. No.: (632) 727.6205
www.tlrc.gov.ph
Technical Education and Skills
Development Authority (TESDA) Women's Center
37 East Service Road, South Superhighway, Taguig City
Telefax No.: (632) 818.8062
Trunkline: (632) 814.4076 loc. 278
Email: tesdawomen@yahoo.com
twc.tesda.gov.ph
Source: www.dti.gov.ph
BUREAU OF MICRO, SMALL AND MEDIUM ENTERPRISE DEVELOPMENT (BMSMED)
5/F, Trade and Industry Building
361 Sen. Gil J. Puyat Ave. Makati City
Tel. Nos.: (02) 897.1693 / 897.7596 / 890.4968
Fax No.: (02) 896.7916 Email: bmsmed@dti.gov.ph
Photo: eagledistributorsinc.com
Do you like this business idea? then please consider subscribing to our PINOY BISNES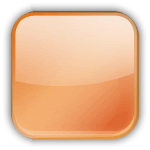 RSS feed. You can also subscribe by email and have new articles sent directly to your inbox. (Once you entered your e-mail address, you need to login to your e-mail account and click the link to confirm your subscription).