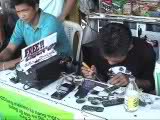 Cellphones have become a necessity throughout the country. Opportunities now exist for entrepreneurs to start their own cellular phone repair shop.
To start this type of business, it is a must to have a background knowledge on electronics repair, hire a qualified technician to start your business, or enroll yourself in a cellular phone repair course.
Here are some tips in starting your cellphone repair business:
Start-up costs
With the exception of obtaining the necessary licenses from government agencies (see registration requirements) to make your business legitimate, there is not much to spend for your business to become fully operational. To minimize rental costs, you can establish your business at home with your neighbors as your initial target customers. Later on, as you expand your business, you can locate inside malls or commercial spaces accessible to a larger target clients. The basic equipment you need (see tools and equipment) is also not that expensive. You can start with second-hand tools or equipment.
Advertise
There are many ways to advertise your services – distribute leaflets, flyers, brochures, business cards to friends, family members, neighbors, or go door-to-door around your barangay. Post a sign outside your home so that people are aware that you offer such services.
Keep Updated
With the fast pace of technology development, it is important to keep your knowledge or your technician's updated. One way is to search the Internet for information or purchase manuals or tool kits that will help hone your skills or technicians in your repair shop.
I. Estimated Investment Costs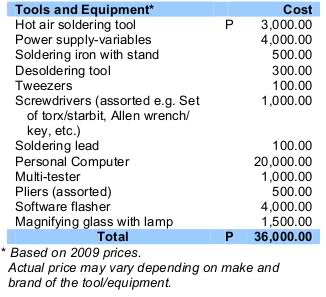 II. Estimated Costing and Pricing
Current market repair/servicing fees of cellphones vary. They range from P100 to P500 or higher depending on the defect/damage and model of the phone. High-end phones may cost more to repair. Cellular phone system defects may include but are not limited to the following: no power, no signal, not charging, defective user interface (e.g. LCD, keypads, etc.), and software related troubles.
Sample Monthly Income computation
Assuming that you can repair 5 phones in a day with an average service fee of P200 per phone.
Note: Figures used in this computation are hypothetical, it may vary from actual operation of the business. Salaries and wages are based on NCR minimum wage rates as per Wage Order No. NCR-14 effective 14 June 2008.
III. Registration Requirements
For Single Proprietorship
Business Name Registration Certificate
Department of Trade & Industry (DTI) within NCR
a) 2/F, Park N' Ride, Lawton, P. Burgos Avenue cor. Dr. Basa St., Ermita, Manila
Tel. No.: 536.7153
b) 12/F, Trafalgar Plaza, 105 H.V. Dela Costa
St., Salcedo Village, Makati City
Tel. No.: 811.8231 loc. 208
c) G/F, Highway 54 Plaza, EDSA, Mandaluyong City
Tel. No.: 706.1767
d) 5/F, Araneta Square Mall, Bonifacio Monumento Circle, Rizal Avenue Ext. cor Samson Road, Caloocan City
Tel. No.: 332.0854/332.0829
DTI-Provincial Office where the business is located or log on to www.bnrs.dti.gov.ph for online registration
Validity: 5 years
For Partnership/Corporation
Securities and Exchange Commission (SEC) Certificate
Securities and Exchange Commission SEC Building, EDSA, Greenhills, Mandaluyong City
Tel. Nos.: (632) 726.0931 to 39
Email: mis@sec.gov.ph
www.sec.gov.ph
Mayor's/Business Permit
Local municipality/city where the business is located
Validity: 1 year
Tax Identification Number (TIN)
Bureau of Internal Revenue (BIR)
Bureau of Internal Revenue, National Office, Agham Road, Diliman, Quezon City Trunkline: (632)981.7000
Email: contact_us@cctr.bir.gov.ph
www.bir.gov.ph
Social Security System (SSS) Certificate
Social Security System (SSS) SSS Building, East Avenue, Diliman, Quezon City
Tel. Nos.: (632) 920.6401 / 920.6446
Email: sssemail@info.com.ph
www.sss.gov.ph
Department of Labor and Employment (DOLE) Registration
DOLE Office where the business is located
Hotline No.: 527.8000
www.dole.gov.ph
Other Agencies
Bureau of Trade Regulation and Consumer Protection (BTRCP)
(For accreditation of service repair shops.)
Only accredited repair shops and licensed technical personnel are authorized to operate in the Philippines.
Department of Trade and Industry – Bureau of Trade Regulation and Consumer Protection (DTI-BTRCP)
2/F, Trade and Industry Bldg.,
361 Sen. Gil Puyat Ave., Makati City
Tel. No.: (632) 751.3238
Fax No.: (632) 751.3234
National Telecommunications Commission (NTC)
NTC Building, BIR Road, East Triangle
Diliman, Quezon City Tel. No.: 924.2495 www.ntc.gov.ph
IV. Technical Assistance
Philippine Trade Training Center (PTTC) PTTC Building, Sen. Gil J. Puyat Avenue corner Roxas Blvd., Pasay City
Tel. No.: (632) 468.8969
Email: info@pttc.gov.ph www.pttc.gov.ph
Technical Education and Skills Development
Authority (TESDA)
TESDA Complex, East Service Road South Super
Highway, Taguig, Metro Manila
Tel. Nos.: (632) 887.7777 / 817.4078
Email: contactcenter@tesda.gov.ph www.tesda.gov.ph
Source: www.dti.gov.ph
BUREAU OF MICRO, SMALL AND MEDIUM ENTERPRISE DEVELOPMENT (BMSMED)
5/F, Trade and Industry Building
361 Sen. Gil J. Puyat Ave. Makati City
Tel. Nos.: (02) 897.1693 / 897.7596 / 890.4968
Fax No.: (02) 896.7916
Email: bmsmed@dti.gov.ph
Photo: ngokapital.com
Do you like this mmoney making business idea? then please consider subscribing to our RSS feed and have new articles sent directly to your inbox. (Once you entered your e-mail address, you need to login to your e-mail account and click the link to confirm your subscription).