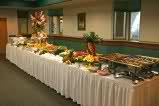 Food catering is a hip business during special occasions like Christmas, birthdays, anniversary, weddings, corporate events, parties etc. This could be a lucrative business for anyone who loves to cook. The possibilities of becoming a self-starter in catering are endless as the career field is well rounded – offering both full-time and part-time opportunities. All at once, a catering business is entertaining, financially fulfilling, as well as challenging.
The main advantage of catering business is that capital requirement for this business is quite low. In fact if you have a good chef with you then you can rent the catering equipments and appoint some people to join you in daily payment business initially. Later you can have a stable catering set-up including the manpower and the equipments for your business. When considering entering this field of work, consider the following factors when establishing a plan for your new business:
Getting a License
To acquire a license, you must apply to your local Municipality. Before issuing a license, the Health Department inspects your place of business to see whether you meet sanitation requirements. Once you are issued the license, the Health Department constantly conducts routine inspections of the business. These inspections are done to ensure the maintenance of good hygiene and sanitation. Outbreaks of food-borne illnesses have resulted in many restaurants from poor hygiene, inadequate cooking times and improper cooling and storage of food.
Business Name Registration
Visit Department of Trade & Industry (DTI)
Provincial Office where the business is located or log on to www.bnrs.dti.gov.ph
Mayor's Permit/Resident Certificate & Sanitary Permit
From The Local municipality where the business is located
Tax Identification Number (TIN)
Bureau of Internal Revenue (BIR) National
Office, Agham Road, Diliman, Quezon City
Trunkline: (632) 981.7000 / 981.8888
Email: contact_us@cctr.bir.gov.ph
Website: www.bir.gov.ph
Start-Up Capital
Initially, you may start your food catering business by renting equipment to reduce start-up costs. You can rent equipment such as tables, chairs, utensils, tablecloths, serving equipments and other items. This will help to build your reputation in the market and gradually develop some initial capital for further investment and expansion. It also gives you a chance to evaluate the money and time you need to invest and think about the impact the venture will have on your family.
FINANCING FACILITY
SSS Special Financing Program
Social Security System (SSS)
Loans and Investment Office
SSS Building, East Avenue, Diliman, Quezon City
Tel. Nos.: (632)920.6401 / 920.6446
Email: member_relations@sss.gov.ph
Website: www.sss.gov.ph
Small & Medium Enterprise Credit
Phil. Business for Social Progress
18th Flr., Phil. Social Dev't. Center,
Magallanes cor. Real St. Intramuros, Manila
Tel. Nos. (632)527.7741 to 51 or 527.3751
Fax No. (632)527.3743
Email: pbsp@pbsp.org.ph or smec@pbsp.org.ph
Website: www.pbdp.org.ph
People's Credit Finance Corporation
395 Sen. Gil Puyat Ave. Makati City
Tel. Nos. (632) 897.8549 / 897.5822
Fax No. (632) 897.8523 / 897.8528
Email: info@pcfc.ph
Website: www.pcfc.gov.ph
Products and Market
When developing a food catering business plan, it is important to settle on the type of market you wish to serve. A few ideas include providing and organizing picnic lunches, seated dinners, children's birthday parties, dinner for two, specialty cakes, business meetings, dessert trays, weddings, and anniversaries. It is important to choose an existing market where demand surpasses supply in order for you to claim a niche. Checking out the local competition also helps new business owners shape their own plans.
Menu Planning
Depending on your catering focus, creative menu planning is a must, as you will not serve the same thing to children at a party as you would for a 50th wedding anniversary celebration. For each specialty menu, you need to take into account the type of event, time of day, number of anticipated guests, equipment needed, and estimation of how much it will cost. Before selecting a caterer, customers like to see varying colors, shapes, sizes, flavors, cooking methods, and price alternatives added to menus. Another desirable feature includes a balance of the food groups.
Hiring Staff
In the beginning, some self-catering businesses involve relatives and friends, but often times, there is a need to figure in the possibility of hiring staff to help with service, production, and cleanup.
Create Contracts
Professional caterers need to create contracts, which clearly state the terms of an agreement. Some of the main details include time of event, location, room set-up, duration of event, estimated attendance, and pricing arrangements. A deposit is also required, which ranges from 25% to 50% of the total event cost, which is due when the contract is signed.
Additionally, when starting your own food catering business – remember to include insurance costs (product and personal liability), record keeping, and food safety. In order to gauge final charges for your catering business, you will need to incorporate materials (cost of food and drink), overhead expenses (variable and fixed expenses), labor costs (food preparation and service), and anticipated profit in order to come to a suitable figure. In the end, final prices should reflect the amount you need to charge so you can maintain your business, as well as reap benefits.
To be a successful food caterer, you must be able to prepare delicious, hygienic and wholesome food. You should maintain high quality standards while preparing the food. When well planned, having your own food catering business can be personally and financially rewarding.
TRAINING INSTITUTIONS
DTI-Cottage Industry Technology Center (CITC)
20 Russet St., SSS Village, Makati City
Tel. Nos.: (632) 942.0880 / 942.3974
Email: citc_dti@yahoo.com
Technology Resource Center (TRC)
TLRC Building, 103 J. Abad Santos cor. Lopez Jaena Sts., Little Baguio, San Juan, Metro Manila
Tel. Nos.: (632) 727.6205
Website: www.tlrc.gov.ph
Technical Education and Skills Development Authority for Women Center (TESDA-WC)
37 East Services Rd. South Superhighway, Taguig City
Telefax. Nos.: (632) 818.8062
Trunkline: (632) 814.4076 loc. 278
Email: tesdawomen@yahoo.com
Website: http://twc.tesda.gov.ph
Download: Food Catering Business Brochure
Sources:
1. georgewalker, "Private Catering – Brief Business Techniques". http://www.streetdirectory.com/travel_guide/193897/entrepreneurship/private_catering___brief_business_techniques.html.
2. Chinongoza, M. "How to Start your Own Catering Business". http://www.streetdirectory.com/travel_guide/193475/entrepreneurship/how_to_start_your_own_catering_business.html.
3. Jacowski, T. "Starting a Successful Catering business". http://www.streetdirectory.com/travel_guide/190380/success/starting_a_successful_catering_business.html
4. dti.gov.ph
Photo: comfortinnzillah.com
Do you like this money making business idea? then please consider subscribing to our RSS feed and have new articles sent directly to your inbox.