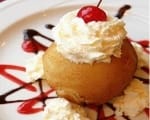 Everybody loves to eat ice cream especially this hot summer days, but have you ever wondered how you could make plain old ice cream more interesting? Here's one ice cream recipe that is fun and easy for you to make at home- the mouth-watering Fried Ice Cream treat. This idea will surely make a crowd-drawer for your restaurant, food shop and food stall. Serve this as a dessert or snack to your customers and wait for the "wows" to come rolling in.
You might think that it would be too difficult to make this scrumptious treat. It's not at all hard to do but it does require some advance preparation.
Fried Ice Cream
Ingredients
1 quart vanilla ice cream
3 cups crushed cornflakes cereal
1 teaspoon ground cinnamon
3 egg whites
2 quarts oil for frying
Directions
Scoop ice cream into 8 – 1/2 cup sized balls. Place on baking sheet and freeze until firm, about 1 hour.
In a shallow dish, combine cornflakes and cinnamon. In another dish, beat egg whites until foamy. Roll ice cream balls in egg whites, then in cornflakes, covering ice cream completely. Repeat if necessary. Freeze again until firm, 3 hours.
In deep fryer or large, heavy saucepan, heat oil to 375 degrees F (190 degrees C).
Using a basket or slotted spoon, fry ice cream balls 1 or 2 at a time, for 10 to 15 seconds, until golden. Drain quickly on paper towels and serve immediately.
Recipe from: allrecipes.com