Mango float, macaroons, yema candy, leche flan, cassava cake and ube jam are just some of my favorite desserts. These kind of desserts are easy to make. You could also sell it to your neighbors and friends to make an extra money. Here are some recipes that you can try at home.
Mango Float Recipe
Mango float is one of my favorite desserts. They are yummy and delicious too!
Ingredients:
1 cup heavy cream, chilled
1 cup sweetened condensed milk, chilled
1 tsp. vanilla extract
Thin slices of ripe mangoes
Graham Crackers
Crushed Graham Crackers
Procedure:
Blend cream and sweetened condensed milk together. Add vanilla. Set aside, preferably keeping it chilled until needed.
In a square 9 x 9-inch transparent dish, assemble graham crackers and cream mixture by arranging the crackers on the bottom of the dish.
Spread one third of the cream mixture, arrange some mango slices, then put another layer of the crackers. Repeat the process, ending with the Crushed Graham Crackers or with the cream mixture on top.
Sprinkle with chopped nuts (optional). Garnish with more slices of mangoes for a more festive appeal. Makes 9-12 servings.

Leche Flan
Ingredients:
1 can (390g) evaporated milk
1 can (390g) condensed milk
10 egg yolks
1 teaspoon of vanilla extract or lemon essence
For the caramel:
1 cup sugar
3/4 cup water
Cooking Instructions:
In a saucepan, mix the sugar & water. Bring to a boil for a few minutes until the sugar caramelize.
Pour the caramelized sugar into aluminum moulds – you can use any shape: oval, round or square. Spread the caramel on the bottom of the moulds.
Mix well the evaporated milk, condensed milk, egg yolks and vanilla by hand or blender.
Gently pour the mixture on top of the caramel on the aluminum moulds. Fill the moulds to about 1 to 1 1/4 inch thick.
Cover moulds individually with aluminum foil.
Steam for about 20 minutes OR
Bake for about 45 minutes. Before baking the Leche Flan, place the moulds on a larger baking pan half filled with very hot water. Pre-heat oven to about 370 degrees before baking.
Let cool then refrigerate.
To serve: run a thin knife around the edges of the mould to loosen the Leche Flan. Place a platter on top of the mould and quickly turn upside down to position the golden brown caramel on top. Recipe found at: Filipino Food Recipe

Simple Yema Recipe
How to Make Yema is so simple.
Ingredients:
1 can condensed milk
12 egg yolks
Procedure:
Mix condensed milk and egg yolks in a sauce pan (a double boiler – which is basically a small pan inside a big pan containing water – works wonder for this). Cook mixture under medium – high heat, stirring continuously until the mixture coagulates and separates from the pan. Cool. Shape into pyramids and wrap with cellophane cut into squares. Recipe found at: Ex designz
Yema Balls
How to make Yema balls.
Ingredients:
1 cup condensed milk
5 egg yolks
1 teaspoon vanilla
2 tablespoons butter
For caramel compound:
1 cup sugar
½ cup water
¼ teaspoon cream of tartar
Procedure:
1. In a double boiler, heat water, place the upper pan & vanilla and butter.
2. Cook over moderate heat until thick in consistency (do not boil).
3. Let cool & form into balls.
4. Prick yema balls w/ toothpick and dip into caramel (see Caramel Procedure)
5. Let yema balls cool & wrap in cellophane individually.
Caramel Procedure:
1. In a deep pan, mix together sugar, water, and cream of tartar.
2. Bring up to a quick boil until golden in color.
3. Take out caramel from heat.
The caramel will crystallize when stored in a cold area, so as much as possible use it immediately, or if it has hardened already, heat it over a low fire or over a very very hot pot of boiling water. Recipe found at: Kusinsa atbp.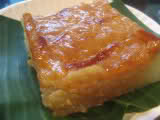 Cassava Cake
How to Make cassava cake is also so simple.
Main Ingredients:
400mg grated cassava
1 can evaporated milk
1 can coconut milk
2 cups refined sugar
2 tbsp melted butter
1 bottle macapuno in syrup
5 medium eggs
1 can condensed milk
Procedure:
1. first put the grated cassava in a mixing bowl, together with 1 can evaporated milk, 3 eggs, 2 tbsp melted butter, 1 can coconut milk, 2 cups refined sugar, 1/2 of macapuno with syrup.
2. place all the mixture in a baking pan.
3. then put it into the oven at 250C for 30-45 mins. or until golden brown
3. then place on top of the cassava cake the toppings and 1/2 of the macapuno. make sure that the macapuno is visible on top, just to tell that the cassava cake is macapuno flavour.
4. and then put it into the oven for about 10-15 mins more.
5. best served when its already cold.
Toppings Procedure:
How to make a topping for the cassava cake:
put into a sauce pan, 1 can of condensed milk and 2 eggyolks. cook it in a low heat until it thickened, just enough to spread on top of the cassava cake. Recipe at: Kusina atbp.
Special Cassava Cake
Ingredients:
2 lbs grated cassava
14 oz can coconut milk
13 oz can coconut cream
14 oz can sweetened condensed milk
12 oz. can evaporated milk
1 cup grated coconut
¾ cup sugar
3 eggs
3 egg whites
Topping:
Sweetened condensed milk
3 egg yolks
vanilla and lemon flavoring to taste
Directions:
1. Preheat oven to 325 F.
2. In large bowl, combine the cake ingredients, reserving 1/3 of the condensed milk for topping. Mix well.
3. Pour equally into two large greased rectangular pans.
4. Bake until firm, about 30 minutes.
5. Mix topping ingredients – the reserved sweetened condensed milk, egg yolks and flavourings – and spread evenly on the two cakes.
6. Bake an additional 20 to 25 minutes.
7. Cool cakes completely and cut each cake into squares.
Recipe found at: Asian Cuisine.

Ube Jam
Halayang Ube (Purple Yam Jam) is a favorite Filipino dessert.
Main Ingredients:
1 kilo ube (purple yam)
1 can evaporated milk
2 can condensed milk
pounded peanuts (optional)
1/2 teaspoon of Vanilla
1/2 cup butter or margarine
Procedure:
1.On a pot, boil ube yam in water and simmer for 30 minutes. Drain and let cool.
2.Peel and grate the ube yam.
3. Heat a big wok in medium heat.
4. Put the evaporated milk melt butter or margarine add the 1 kilo grated ube yam condensed milk and vanilla flavoring.
5. Add condensed milk and vanilla flavoring.
6. Adjust the heat to low
7. Keep on mixing the ingredients for about 30 minutes or until sticky and a bit dry (but still moist).
8. Let cool and place on a large platter.
10. Refrigerate before serving the ube delight.
Note: you may mix your peanuts with the grated ube or you may just have it as toppings. Recipe found at: Filipino Food Recipes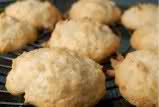 Special Coconut Macaroons
Ingredients:
4 large (120 grams) egg whites, at room temperature
1 cup (200 grams) granulated white sugar
1/4 teaspoon salt
1 teaspoon pure vanilla extract
1/2 cup (60 grams) cake flour, sifted
3 cups (300 grams) sweetened shredded coconut
Procedure:
In a stainless steel bowl, placed over a saucepan of simmering water, whisk together the egg whites, sugar, and salt. When this mixture is warm to the touch, and nice and creamy, remove from heat and stir in the vanilla extract, flour, and coconut. Cover and refrigerate for about two hours, or until firm.
Preheat oven to 325 degrees F (170 degrees C) and line two baking sheets with parchment paper.
Place small mounds (heaping tablespoons) of the batter on the parchment-lined baking sheet, spacing several inches apart. Bake for about 15 to 20 minutes or until golden brown. Remove from oven and let cool on the baking sheet for about 10 minutes and then place on a wire rack to cool. Makes about 2 dozen Macaroons.
Recipe found at: joy of baking
Photos: photobucket.com, canterbury.nsw.gov.au, pinoyrecipe.net, photos.the-protagonist.net, blogs.inquirer.net, joyofbaking.com