Lechong manok is a favorite recipe of Filipinos to give value added cost to the dressed chicken that we normally buy from the market or supermarket. It is our meat of choice and at the same time, healthy and affordable.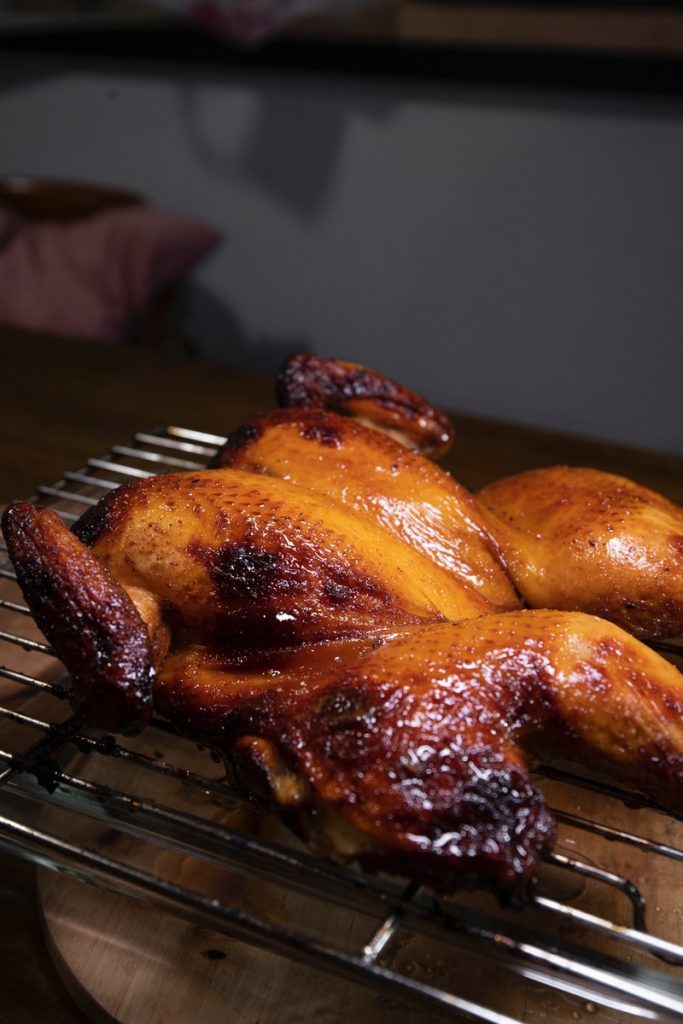 Roasted chicken is a universally accepted dish that is enjoyed by all cultures.
Lechon manok should have a golden brown color or caramelized. BF Blend (Binder Filler Blend) should be incorporated in the marinade to maintain the juiciness of the meat. Cooking in a rotisserie is one way of maintaining the juiciness in lechong manok. Ideal weight for raw material of lechong manok is 1.0 – 1.1 kgs buying at P130.00 per piece and selling price of the product is P190.00 per kilogram.
There is business in lechon manok.
Lechon Manok
You will be needing:
Meat material:
Chicken, dressed – 1.0- 1.2 kgs.
Ingredients:
Chicken marinade – 100g
(Good for 10 pcs. chicken – 10 Tbsp)
Gravy:
Chicken liver – 3 pcs.
Chicken stock – 2 cups
Butter – 2 Tbsp.
Milk evaporated – 1/4 cup
Salt – 1 tsp
Cornstarch – 1 Tbsp.
Pepper, white (dissolve in 1/4 cup water) – 1 tsp.
Procedure:
1. Select good quality raw materials (1.0 – 1.2 kgs.)
2. Wash chicken very well specially the inner portion and drain for two minutes.
3. Measure 50 grams (5 Tbsp) of chicken marinade. Divide into two portions: 30 grams (3 Tbsp) for the inner portion of the carcass and 20 grams (2 Tbsp) for the outside portion of the carcass.
4. Dissolve 3 Tbsp in 1/4 cup water and pour into the carcass and rub very well. Allocate 2 Tbsp for the outside portion of the carcass.
5. Put into a clean white plastic bag and tie the upper end tightly.
6. Put in the middle portion of the refrigerator for 8-10 hours, for the marinade to be absorbed by the chicken. If for commercial purpose four (4) hours is enough for marination at room temperature.
7. Tie wings at the side with a piece of string so with the legs. Brush with margarine and wrap in aluminum foil.
8. Put in turbo at 325oF for 1 hour or bake at 325oF for 1 hour.
9. Unwrap and continue baking or in the turbo until golden brown. Baste occasionally with gravy.
For the gravy:
1. Boil liver in two cups water until tender. Chop the liver. Set aside.
2. Heat butter in a pan, blend in cornstarch and dissolve in water.
3. Add chopped liver and milk. Season with salt and pepper. Cook until thick.
Additional tip:
1. If stuffing is needed, the following ingredients are recommended:
– bacon and ham (chopped in small pieces) – 1/2 cups
– evaporated milk – 1/4 cups
– chopped onions – 1/4 cups
– refined salt – 3/4 tsp
– breasts sliced (torn into pieces) – 2 pcs.
– white pepper – 1/4 tsp.
Source: Lourdes S. Rivera, Marid Agribusiness Digest June 2008