Today, you can hardly find a business that doesn't have a digital marketing strategy because it is one of the fastest ways to tell the world about your brand. And, the budgets that some businesses allocate for digital marketing sometimes go through the roof.
According to Business2Community, marketing budgets can take up to 14% of the company's revenue. So, if you get one million dollars in yearly revenue, digital marketing can cost you as much as $140K a year.
And businesses are ready to invest in digital marketing as much as needed because it has proven to help increase brand awareness, generate and convert leads, and improve sales. Besides, digital marketing is constantly evolving, helping brands come up with more creative strategies.
Of course, if you're looking for ways to expand your digital marketing presence, you first need to invest in a few essentials, without which digital marketing success is not possible.
So, without further ado, let's dive in and take a look at the best solutions for growing your business's digital marketing presence, which have proven to bring positive results.
1. Start a Blog to Build Authority in Your Niche
It's true that blogging is one of the oldest digital marketing strategies, which has withstood the trials and is still going strong.
Blogging also remains relevant, thanks to the results it delivers. According to statistics by Optinmonster:
companies that blog are 13 times more likely to get a positive ROI
57% of marketers confirmed they acquired customers through blogging
marketers that do blogging receive 67% more qualified leads
Apart from the benefits mentioned above, blogging can also help you build authority in your niche. This is especially relatable for B2B companies, whose customers are usually interested in brands that have a strong presence in their industry. If your business is more on glass labeling then Glass Marking with CIJ should be your partner.
To achieve the expert level with your blog, it should contain various types of content. For instance, your blog can include the following articles:
statistics
case studies
original research
expert opinion
guides
Of course, the choice of the content types will depend on the specialty of your blog. For instance, if it's a blog about learning French, it's better to focus on guides, listicles, and articles that provide expert opinions to keep the engagement high.
Whatever the goal of your blog will be, keep in mind that blogging, as much as any other digital marketing strategy, requires consistency. Without it, the money that you invest in blogging will simply go down the drain, and your blog probably won't deliver any positive results.
2. Invest in Link Building to Expand Your Online Presence
Another marketing strategy that can help expand your digital presence and build authority in your niche is link building or a partnership with websites with the goal of acquiring backlinks.
However, this strategy has become very popular, to the extent that many businesses are abusing it and build low-quality links. To make sure that you do everything right, keep up with the following rules:
Check the website's domain authority. First and foremost, you need to make sure that this website has enough authority in its niche and ranks high. This way, your link will most likely get more SEO value.
Scan the number of referring pages that a website has. If this number is high, this is also an indicator that the website is popular in its niche.
Analyze the growth of referring pages linking to a given website. If the growth is consistent, this means that a website doesn't follow questionable link building techniques and acquires links naturally:

With these techniques in mind, you will be able to build links only on high-quality websites and consistently grow your own website's SEO value, and, as a result, improve your business's digital marketing presence.
3. Partner with Influencers to Grow Your Audience
One of the most popular reasons why businesses want to expand their digital marketing presence is to spread brand awareness and gain new customers. In this case, influencer marketing has proven to be the best solution so far.
Reportedly, 89% of marketers confirm that the ROI from influencer marketing is comparable to or better than any other marketing channel. With this, marketers confirm that influencer marketing is the most effective way to gain new customers.
But, if you want your influencer marketing campaign to deliver positive results, you need to find an influencer who works in your niche. HypeAuditor can help you with influencer search: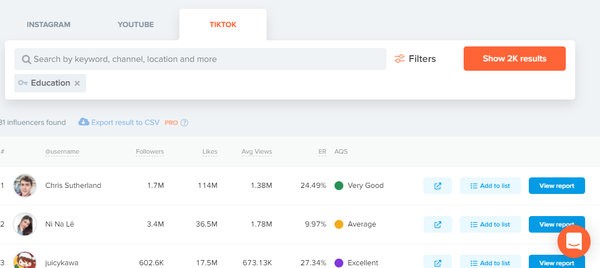 All you need to do is to type in the keyword and choose the platform on which the influencer is active. As a result, you will be able to review the influencer's overall performance, audience, and reach.
Wrapping Up
All the strategies that we shared with you today work perfectly both for maintaining and expanding your digital marketing presence.
But, no matter which one you choose, blogging, link building, influencer marketing, or all three together, keep in mind that, without consistency, all these strategies will turn out to be a waste of money. A steady digital presence requires commitment. Only then will your brand be able to reach more people, acquire new leads, and get more awareness in general.
Ryan is a passionate blogger and writer who likes sharing his thoughts and. Now he works as a content editor and internet researcher, you can check his website. He likes to travel and explore new countries.