Display matters a lot in a convenience store. These come in various options but acrylic displays make a worthier investment. Acrylic trays are great display tools for allowing customers to see your products. Keeping items in acrylic trays makes it easier for all kinds of customers to spot whatever they are looking for. The trays come in convenient shapes and sizes in various designs and colors. This allows choosing eye-catching acrylic displays to make your display stand out while generating more sales.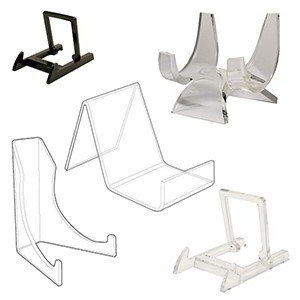 Image credit: americanretailsupply.com
Stacking
Using stackable bins is a simple but straightforward storage solution for various items. The clear bins have an easy to clean top to allow customers to see the contents. Additionally, the stackable bins fit various spaces in the store. You can display collectibles and other enticing items on the countertop in your gift shop or antique store.
Various viewing angles
You can use acrylic jewelry displays to showcase your silverware collection on a table setting. This gives customers a chance to view your items from various angles. With this, the shoppers find it easier to pick up the item that catches their fancy. Acrylic jewelry displays are ideal for showcasing items including earrings, bracelets, and watches.
Highlighting products
Easels hold any item to make a simple straightforward display tool that draws attention to the product. When having a lot to display in your convenience store, custom easels offer immense value. These acrylic displays exceptionally display items to shoppers in the best way possible. The best thing about these easels is highlighting the product instead of the display itself. Luckily, you can order custom easels for a reputable supplier of acrylic trays online to match your product needs.
Portraying order of importance
Acrylic risers hold items on display in various heights. The risers display various items once in their order of importance. You can display various items on risers including trophies and others to suit your situation. Displaying various items at different heights adds interest to your store display effortlessly. Using various acrylic risers is the best way to create an eye-catching convenience store display. The risers come in options including square, round, rectangle, and mirrored.
Display larger items in steps
A larger version of acrylic risers, tiered step displays come in knock-down and solid forms. The solid display of these displays holds up the weight of various items nicely. Additionally, the tiers of these displays keep items high enough. This makes them noticeable without getting buried in bins. Tiered displays are valuable for convenience stores for the most popular items. The display allows shoppers to notice the items more easily and for quick access to boost sales.
Holding various items
The use of adjustable acrylic trays allows quick sorting and storage of tiny items including candles, jewelry, and craft supplies. The easy adjustment system of these trays allows modifying the tray any time. This allows supporting various items with different sizes. Adjustable trays are ideal for keeping frequently used items to keep your convenience store neatly organized.
Additionally, the use of divided bins also keeps various things at once. You can keep items of various sizes and shapes in these bins without compromising highlighting their features. The divided bins have with dividers for moving to create the right space to match your storage requirements. These bins are a larger form of acrylic displays and work better when placed on other storage forms for easy access.
Matching store décor
Acrylic boxes are available in various sizes and shapes including angled top and straightforward boxes. These boxes can come with slits at the top to add letters. Acrylic boxes come in various colors to fit the décor in your convenience store. Special attention is required on the appropriate measurements for the boxes. This allows investing in boxes that match your needs.
Attracting more glances
Use of acrylic blocks is a simple way to elevate your items in the store. You can use a range of these blocks to attracting more glances from customers. The blocks are placed in various locations with an option to place them inside display cabinets. The right supplier will have a range of acrylic blocks from which to choose those to match your imagination.
Easier transportation
Resembling acrylic risers and tiered step displays, interlocking stair displays are made for easier transportation. However, this doesn't compromise offering an eye-catching display of your products. Interlocking acrylic displays offer minimal visual impact compared to risers. This makes them an excellent choice when looking forward to highlighting various larger items including cans and purses in your convenience store.
Display special products
For products that require special displays, a reputable supplier can get you specialty displays. You can order them in the appropriate sizes, shapes, and types to match your items. Unique acrylic displays shaped to match your imagination wonderfully make your products attractive to shoppers. So, there is no need to worry when you can't find displays to match your items in generic designs.
Bottom line
Organizing your convenience store makes it appealing to shoppers. The use of acrylic displays makes your items more eye-catching to generate more sales.