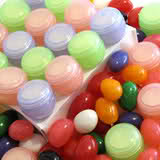 Make Your Own Easy Bath And Body Treats
by Colleen Moulding
Egg and Honey Facial
This easy mask is good for all skin types. It clarifies and moisturizes the skin leaving it cleansed and silken. Egg yolks contain anti-oxidants which are very beneficial to our skin.
Ingredients:
1 egg yolk
1 tsp honey
1 tsp vitamin E oil (available from health shops)
1 tsp almond oil
Directions:
Mix all ingredients together, stirring until smooth.
To use: Apply to face. Rinse off with warm water after 15 minutes.
Chocolate Lip Gloss
Ingredients:
3 tablespoons cocoa butter
4-5 chocolate chips
1 capsule Vitamin E oil
Directions:
Melt and blend ingredients with a spoon until smooth. Spoon into a small container and refrigerate until solid.
Bath Cookies
Fragrant non-fattening cookies! Drop into your bath for some skin softening pleasure.
Ingredients:
2 cups finely ground sea salt
1/2 cup baking soda
1/2 cup cornstarch
2 tablespoons light oil
1 teaspoon Vitamin E oil or squeeze from capsules
2 eggs
5-6 drops fragrance oil
Directions:
Preheat oven to 350 degrees. Mix ingredients. Take a teaspoon of the dough and roll it gently into a ball (about one inch). Continue doing this with all the dough and place on an ungreased cookie sheet.
Optional: Decorate the cookies with cloves, anise or dried citrus peel. Bake for 10 minutes or until lightly browned. Do not overbake. Allow the cookies to cool completely.
To use: Drop one or two cookies into a warm bath and allow to dissolve.
Makes approx. 24 cookies.
Keep out of reach of children. Label – Fun bath product – not to be eaten!!
Summer Rain Massage Oil
Ingredients:
6-8 teaspoons grapeseed oil
6-8 teaspoons lavender essential oil
2 drops rose essential oil
2 drops jasmine essential oil
Directions:
Blend ingredients well. Warm up oil before doing any massage including your fingertips.
Lavender Milk Bath
This couldn't be simpler. Ideal for relaxing before bed.
Ingredients:
1 cup powdered milk
2-3 drops of lavender oil
Directions:
Mix and add to bath.
Fairy Dust Glitter Gel
This fun whimsical gel is great for your skin. Apply a little whenever you want to sparkle and shine.
Ingredients:
1/4 cup Aloe gel
1 teaspoon Glycerin
1/4 teaspoon Fine Glitter
5 drops Essential oil of your choice
Directions:
Mix together aloe and glycerin in a small bowl. Stir in glitter and essential oil. It is ready to use immediately.
When using any new cosmetic or essential oil, it is always a good idea to test a tiny amount of the product e.g. behind the ear, in case of allergy or reaction.
Lots more recipes for bath bombs, salts, oils, body washes and scrubs, soaps, perfumes, hair products, hand and feet treats at http://www.allthatwomenwant.com/recipecollection.htm plus gift basket ideas, gift jar recipes, smoothie recipes, ice cream recipes and lots more…Join almost 18,000 other ladies who receive the All That Women Want ezine on the first day of each month by sending a blank email to allthatwomenwant-subscribe@yahoogroups.com It was made for you!