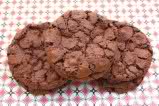 Do you enjoy baking cookies? Would you like the freedom of working from home or working for yourself in a small bakery of your own? If so, you might want to start your own cookie business. The good thing is that you can start easily your own cookie business with just minimum start up capital.
These Chocolate Chip Cookie Recipes hit list is a compilation of all kinds of different chocolate chip cookie recipes–some basic and traditional all- time favorites. These are deliciously mouth-watering recipes you'll surely love!
Note: Descriptions below are quotes from the recipe sites
1. 30 Calorie Chocolate Chip Meringue Cookies
Sure you can buy meringue cookies in the grocery store but they don't hold a candle to these babies. These bake up with an unassuming smooth and dry outer shell but inside, oh inside is where the action is! Inside you'll find a flossy, lightly toasted marshmallow like center, with slightly melted chocolate chips just waiting for you…Recipe from Dozen Flours.

2. Coconut Oatmeal Chocolate Chip Cookies
This time I added coconut and chocolate chips! A divine combo indeed! We especially loved these with a glass of cold milk!! These are the perfect dunkaroos! Recipe from picky palate.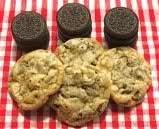 3. Chocolate Chip Oreo Cookies
The recipe starts out as a basic chocolate chip cookie, but then you stir in crushed up Oreos. Two cookies in one, a dream come true! These cookies are definitely a crowd pleaser and they are Lincoln approved! I recommend you try these soon! Recipe from Two Peas And Their Pod.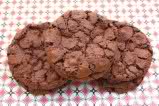 4. Chocolate Toffee Rounds
If you are a chocolate lover, these are the cookies for you. They are super rich! They remind me of brownies, but in cookie form. The toffee melts in with the chocolate and adds extra goodness to these cookies. Make sure you have a cold glass of milk nearby; you will want a few swigs after downing a couple of these chocolaty gems. Recipe found at The King Arthur Flour Cookie Companion.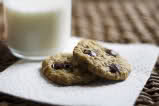 5. Peanut Butter Chocolate Chip Oatmeal Cookies
Today I decided to face my fears and bake oatmeal cookies. There are no raisins in my cookies (I wouldn't dream of adding them. Cookies should have chocolate, not fruit. I'm talking to you, Dad.), but there are peanut butter chips and a mixture of milk and dark chocolate chips. I'm happy to say that I have seen the light. Oatmeal cookies are actually pretty tasty. Recipe from Buns In My Oven.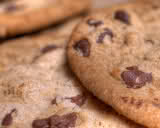 6. The Best Chocolate Chip Cookie Recipe, period.
The key to perfect baking, however, is that, quite simply, you follow the recipe perfectly. I really admire people who can create their own cookies, cakes, & the like, because my track record when it comes to experimental baking is not nearly as good as my other culinary achievements. As such, you must follow this recipe 100% if you want the best cookies. Recipe found at Simply Sunshine.

7. Low Fat Chewy Chocolate Chip Oatmeal Cookies
Chewy, moist oatmeal cookies loaded with chocolate chips, in a reduced fat cookie? These cookies are fabulous and they are loaded with chocolate chips in every bite!. Recipe found at skinnytaste.com.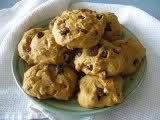 8. Pumpkin Chocolate Chip Cookies
In years past I would anxiously await the arrival of the pumpkin chocolate chip cookie and devour as many as possible before they disappeared again. I searched in vain for a recipe for these morsels and ultimately decided to take matters into my own hands. And now, friends, I share it with you. Get ready to enjoy some Perfect Pumpkin Chocolate Chip Cookies.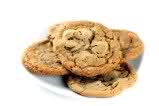 9. Peanut Butter Chocolate Chip Cookies
The chocolate chips are the perfect compliment to the peanut butter cookie. The recipe calls for using milk chocolate chips and warns against using semisweet chocolate because that would taste bitter against the peanut butter. I'll take their word for it. Recipe from Sugar Cooking.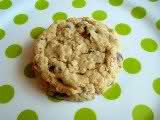 10. Classic Oatmeal Chocolate Chip Cookies
I had to give you another classic oatmeal chocolate chip cookie recipe because I can't stop eating these either! My favorite cookie has coconut and dark brown sugar in the recipe – it adds a complex flavor that is downright delicious, but if you are looking for a straight-up classic oatmeal chocolate chip cookie with standard ingredients, try this one. Recipe from My Kitchen Cafe.
11. Classic Oatmeal Chocolate Chip Cookies
What do you know? They didn't. The ingredients, I mean. None was wasted. The chocolate chip cookies, minus the oatmeal turned out wonderfully — crisp outside but still slightly chewy inside. Recipe from Pinoycook.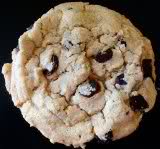 12. Chocolate chip cookies
It is the Cook's Illustrated version that I have seen on several food blogs lately. And it is tremendous. I haven't made another recipe in two weeks (and I make chocolate chip cookies a lot) because this one is so very good. They really are thick and chewy and utterly delicious. Recipe from my kitchen cafe.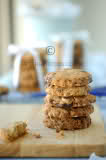 13. Thick and Chewy Chocolate Chip Cookies
If you do a search on the world wide web, I'm sure you'll come up with a lot of cookie recipes! Well I'm here to add my own to that pool. I loved these. They were addictive and did not last long in the house. Recipe found at Souvlaki For The Soul.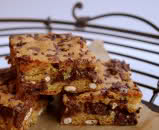 14. Chocolate and Almond Cookies
I often will call out the names of recipes that I find interesting and announce them to whoever is around me at the time… I mumbled out "Hmm Chocolate Chip Pretzel Bars". Recipe found from the cutting edge of ordinary.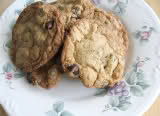 15. Chocolate Chip Pretzel Bars
The recipe has since won a gluten free baking contest, sparked chocolate chip cookie debates on the Gluten Free Recipe Swap Group, and been a great conversational dessert for gluten eating friends. Are you ready to try the *new* best gluten free chocolate chip cookies ever? Recipe from Ginger lemon girl.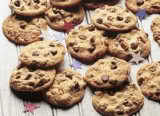 16. Gluten Free Chocolate Chip Cookies
Just like the name says, this is the chocolate chip cookie extraordinaire! Definitely one of Betty's favorites!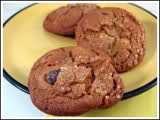 17. Ultimate Chocolate Chip Cookies
Gingersnaps have so much flavor, I never miss the butter. As for the chocolate chips, I played around with the amount and found that the cookies with fewer chocolate chips were better. Recipe from cookie madness.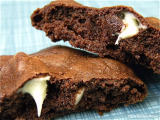 18. Chocolate Chip Gingersnaps
These cookies are soft and a little chewy—and totally brownie-like in consistency. They're studded with white chocolate chips, and get their dark, fudge-y flavor from a generous amount of melted, unsweetened chocolate. Recipe from the hungry mouse.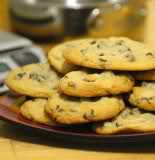 19. Dark & Fudgey White Chocolate Chip Cookies
According to Nestlé, the Toll House recipe originated with Ruth Wakefield who, along with her husband, operated the a lodge in New England called the Toll House Inn. Sometime in the early 1930's, Ruth was preparing cookies for her guests when she chopped up a bar of Nestlé Semi-Sweet chocolate and added it to the dough. The result became the most popular chocolate chip cookie recipe in the world. Recipe found at cooking for engineers.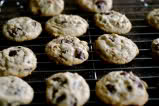 20. Nestle Toll House Chocolate Chip Cookies
The nuts are always well-toasted and they're always finely chopped–as in, some will be the size of petite peas but many will be more like powder. What this gets you is a cookie filled with all of the awesome flavor of nuts, as well as the extra crunch, without the nuts actually interrupting your chocolate chip experience.
21. Our Favorite Chocolate Chip Cookies
These cookies have come a long way, lots of time and tasting spent on getting them to where they are now. Vegans and non vegans LOVE them. Recipe from Veg web.
Make sure your cookies are unique. Find a unique packaging or better yet make your own cookie packaging. It may also be in unique ingredients, cookie shapes or decoration. Find a way to set yourself apart from your competitors before you even start your own cookie business and you'll definitely succeed.
Do you like this Money Making Business and Ideas? then please consider subscribing to our RSS feed and have new articles sent directly to your inbox.