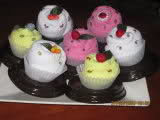 Cupcake towels that "looks so tasty". These cakes are actually towels that are exquisitely designed to look just like real cakes.
Cupcake towels are the perfect innovative dessert souvenirs for any occasion. They can make an event feel extra special, they can provide for a wonderful crafting experience if one takes some additional time to really find some unique items and material ingredients, and they can even be something one adds to the list of hobbies he or she enjoys doing alone or with others. These cupcake towel souvenirs can be made anytime of the day for any event such as weddings, birthdays, debuts, anniversaries, parties, giveaways or promotional gifts. They are always welcome additions. Just like real cupcakes, cupcake towels can be made in such a great variety of ways such as mini cakes, shakes, sliced cake rolls, muffins etc.
Behind this innovative business idea is Ms. Jennet, a mom of two from Caloocan, who enjoys beading and crafting. You can see on her sites, my cupcake towels and kobeads collections, those cupcake towel collections that she really enjoyed doing. Ms. Jennet's cupcake towels were already sold in Bazaars and still can reproduce it for anyone who are interested and depending on the availability of materials. Ms. Jennet was also featured in ABS-CBN's Wonder Mom program last Sept 5, 2009.
Made from soft and comfortable towels, they are topped with different kinds of fruit-like and figurines depending on the event and customer's choice. Each cake is individually hand crafted from carefully selected materials. Cupcake towels awaken one's crafting and creative senses and skills and make for fun projects that one will never tire of. Essentially, one can keep creating more and more cupcake towel recipes and still never come up with all the possible combinations!
This makes a wonderful business idea. Enjoy Jennet's cupcake towels special taste as an interior ornament or of course as a towel. So have fun and enjoy!
TO ORDER cupcake towels:
CALL/TEXT Ms. Jennet ( w/ ur name) – 09164454785
EMAIL – kobeadscollections@yahoo.com
Website: http://kobeadscollections.multiply.com/
Here's a video tutorial on How to Make Guest Towel Cupcakes from StyleWithASmile.tv:
Photo: kobeadscollections.multiply.com
Do you like this Money Making Business Ideas? then please consider subscribing to our RSS feed and have new articles sent directly to your inbox.