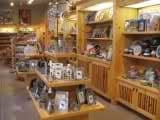 Gift shop business is perhaps one of the few businesses which are handy to both the supplier and the customer. It is a low-investment business which, if complemented with apt guidance rendered by tool kits and other research resources available in market at a reasonable cost, is bound to grow.
We all like getting presents. Admit it. Even if you're someone who tells their friends not to bother with a birthday present, you still feel a twinge of excitement when that gift-wrapped package inevitably finds its way into your hands.
Giving gifts is a tradition that spans all sections of society, no matter what age group, income group or region, helping to celebrate almost every major occasion of the year.
Three distinct breeds of pure gift shop to consider when starting a gift shop business.
* Traditional -stocking a range of local products, often drawing on the reputation of the area. Also may stock traditional gifts such as candles and soaps.
* Design-led – stocking well-designed gifts and accessories, often at the higher end of the price bracket.
* Card and gift shops – placing a much greater emphasis on cards with a smaller selection of gifts. High-street chains dominate this sector.
Setting up Your Gift Shop Business
Gift Shop Business Location: Could be home or a small accommodation, if possible near the target customers. As a startup to keep a check on the overheads, it is recommended to begin from home.
Gift Shop Product Selection: The single most important aspect of a gift shop is its goods. Your stock composition will depend greatly on the location of your business and the profile of your customers. Tourists will want local specialties and may not be as averse to tacky designs than local customers looking for quality gifts.
Also remember that business in a tourist area will be very seasonal. To ensure your business doesn't fail in the off-season, you may need to give local residents a reason to visit your shop as well.
Pricing your Gift Shop Items: Price of the gift items should be optimal enough to cover the cost while at the same time low enough to attract customers. A competitive analysis to understand your competitor's deliverables and corresponding prices is essential to chalk out the pricing range.
Gift Items Procurement / Purchasing: It is better to make bulk purchases from wholesalers rather than retailers as it passes on the price advantage which is extremely crucial to keep up with the increasing competition. It also saves the shopping time which is directly proportional to the orders placed and variety of gifts sought. Shopping for gift items is facilitated by various shopping exhibitions and regional shows organized by specialized craftsmen and societies. These are perfect destinations to look out for the seemingly difficult-to-find items.
Gift Shop Business Marketing Strategy
Any business idea, however good, must be backed up by extensive marketing. This perhaps is another advantage of the gift basket business wherein the conventional expensive means of marketing are not required. The quality of the gifts embedded in the selection of items and packaging speaks for itself. The key is to generate as much word of mouth as possible through satisfied customers.
However as a startup you can contact your prospective customers by cold mailing, advertising in various directories, releasing newsletters, creating an online presence and by sending innovative gift items to selective targets as complementary, especially few days before an important occasion.
Like all retail outlets, you will have to display items in an attractive way that compliments the style of the shop with an appealing atmosphere that encourages shoppers to shop.
Anybody working in retail should be sociable and enjoy meeting members of the public. Running a gift shop may involve more interaction than other businesses, however, since customers browsing for gifts often need ideas or encouragement about what to buy.
Follow this link on How to Register Your Gift Shop Business. (Tagalog Version)
Here are sample Business Plans you can try on. (opens in new window)
– Gift Shop Business Plan
– Specialty Gifts Business Plan
– Home Accessories and Gifts Business Plan
– Gifts, Novelties, Souvenir Business Plan
– Gifts and Collectibles Retail Business Plan
Sources: startups.co.uk, streetdirectory.com, bplans.com
Photo: phoenix.about.com
Do you like this money making business idea? then please consider subscribing to our RSS feed and have new articles sent directly to your inbox. (Once you entered your e-mail address, you need to login to your e-mail account and click the link to confirm your subscription).