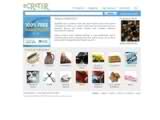 Are you planning to put up an online business? How about starting an eCrater store business?
Some of the best small business ideas don't need big amount of money for you to start. One example is to open an online store. It's just easy to begin and can earn you an income within a short space of time. You can even manage it around with your current commitments. Start slow and grow at your own pace with the added benefit of operating in a global market if you wish.
Start an eCrater Online Store Business
What is eCrater? eCrater is an online free marketplace, webstore, an eBay alternative, and a shopping website in which people and businesses buy and sell wide varieties of products. It was launched in the early fall of 2004 by Dimitar Slavov. eCrater marketplace offers the products of all registered sellers in one place, while the web store builder allows sellers to choose the kind and colour of their own online store.
For those who are not familiar with eCrater we are going to answer some basic questions for you like:
* How to get started on eCrater?
* How does eCrater work?
* What are Pros and Cons of using eCrater?
If you're really eager to get your best online business ideas off to a great start, Click the link picture on the subject of e-Goods and e-Business. To better help build on the basic knowledge already gained here, this article will give anyone a definite advantage on making an income online.
Let's Begin
Anyone with a desire can sell and make money on eCrater as it's still one of the best online business ideas around. Even if you don't have your own computer there are plenty of Internet cafes where you can access the Internet and run your eCrater business from. They don't even charge a lot to access the Internet so I believe it's an under used resource and still one of the easiest and fastest way to make some money online.
First, you will need to set up an eCrater account it's free to set up, and if you are interested in this take the eCrater tour for a more in-depth explanation. You also need to set up a Google checkout account or PayPal account which is necessary for receiving payments. To create your account you'll need to provide credit card and bank account details for verification purposes.
Second, choose a business name that can best describe your business but don't be to specific with the name in case you change what you sell (e.g. Paquiao's DVD, sells DVDs of course now suppose you want to sell personal care products or clothing line with a name like Paquiao's DVDs—doesn't have the same connection and it sounds slightly odd).
Third, sourcing products to get your online store business off the ground isn't difficult, if you know where to look.
Many people sell old and used items on eCrater. They source these products from their garages, attics, basements and a lot of these items are unwanted or unused gifts which people have received in the past. Remember! What seems worthless to you is in fact valuable to someone else. Take a trip to local antiques shops, flea markets, Bazaars or in Divisoria, you will find rare gems there that you can sell online.
What are the costs involved for putting up an eCrater online store?
Starting an eCrater online store is totally free. You will get: Free webstore hosting, Unlimited disk space, Your own URL http://yourname.ecrater.com, Store Widgets, and many other features. All the profits will be yours after PayPal, owned by eBay, charged you a fee for the item sold.
Product Description
Okay, so now we have covered the basic store set up procedures, setting up an eCrater account, choosing a business name, and sourcing some good products to sell. You are now eager to sell your products and get the ball rolling and this is where you put your thinking cap on and start to write an enticing description for your product..
Make sure to give enough information about your products so that all possible questions are answered in advance. By doing this you will ensure that you don't waste time answering the same questions from different buyers.
Product Photos
If you have a digital camera, take pictures of your products as many as you want you can post up to 10 pictures of your item in eCrater. You know what they say… a picture is worth a thousand words and it's always nice to see what you're buying. If you don't have a digital camera, then you can use any camera as long as the product/ item is clearly visible and make sure you make your words as descriptive as possible.
Pricing and Shipping Fees
Pricing your item correctly is very important to make sure you'll gain a profit. It is also important to be honest on the price. Don't charge your item too high or too low. Just add an additional mark up percentage for the price plus shipping fee to ensure a profit. You also have to consider the fees that will be taken when you use PayPal or Google checkout. Make sure you have added this on your pricing. Lastly, as much as possible include tracking number on your package to avoid any problems when your buyers complain.
eCrater Feedback System
eCrater has a user feedback system which allows buyers on eCrater the opportunity to leave positive, neutral or negative feedback. This helps the consumer a great deal in finding genuine sellers and builds your credibility and trust as a seller in a huge way. For example whom would you rather buy your products from on eCrater, someone with a 50% per cent feedback record or seller with a 100% per cent feedback record? See the difference?
Receiving Payments
eCrater offers two trusted payment system: Google checkout and PayPal which let's your buyers use the following methods: credit card, personal cheque, debit cards to pay for products. These two payment options offer a convenient fast way to receive money and pay for goods. You also have the option to receive payment in cheque, money order or COD but I won't recommend it to avoid payment frauds.
If you are the seller you have to pay a small fee to these payment gateways for each product that you sell and which uses their payment system to collect your money. This can work out a bit costly if you are selling more expensive items so you will have to decide on which payment system works best for you.
eCrater Pros and Cons:
Pros
* FREE start up cost.
* The opportunity to trade in a truly global market.
* Work from home or from anywhere you can access a computer
* Huge potential to sell anything you want within reason
* Work around your current commitments
* Your best small business ideas can be very lucrative
* Offers total flexibility as you are in control
* Expand your best small business ideas at your own pace
* You can trade 24/7 and you're never close.
* Your online store even let you earn money while you sleep
* With Forum community where you can interact with other sellers
Cons
* eCrater business can be unpredictable as any other venture
* You cannot control the feedback system in your store
* Plenty of competition for your online store business, products and services
* PayPal Fees can be considerable especially for high price products
* The same with other online marketplace, some items can not be sold and shipped because they are not allowed
As you can see the Pros out do the Cons and eCrater offers you a very good starting point to begin and get a feel for your online store business.
Do you like this Money Making Business Idea? then please consider subscribing to our RSS feed and have new articles sent directly to your inbox. (Once you entered your e-mail address, you need to login to your e-mail account and click the link to confirm your subscription).