The Internet is so gigantic that it enables even the small-sized companies to gain profit with just a little bit of creativity and strategic thinking. New technologies allow entrepreneurs to reduce operational costs, increase workforce productivity, and improve system security.
However, it seems like only 21% of small businesses actually invest in modern tools and training to boost employee productivity. If you are running a company, you should be proactive and embrace digital solutions to make your business more professional. In this article, we will show you how small businesses use technology to raise income.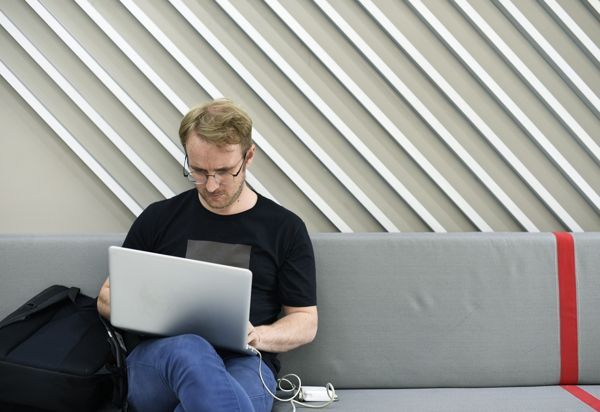 9 Ways Digital Solutions Can Help You Run the Company
Information technologies brought drastic changes both to our private and professional lives. It's hard to count all of its effects but we decided to explain 9 ways it has been influencing small companies. Let' check them out.
Cloud computing is one of the basic advantages of modern technologies. Essentially, it allows you to gather, store, and access data over the Internet so you don't have to use big and expensive hard drive. It also allows you to access business information anywhere and anytime from many devices. Most professionals use it to collaborate quickly, using sorting and sharing options among each other. Furthermore, cloud computing represents a safe data storage system and you don't need to worry about losing information.
Small business owners are often all-around players who have to deal with all sorts of problems, including financial management. Using financial software, you can conduct online payments and invoice. This system tracks time of all financial transactions and it also notifies you about the coming payments or debts. It's a major help for people who are not professional accountants.
Social media networks gather more than 2.5 billion users globally, which means that you can transfer marketing messages to one-third of the world's population almost instantly. You can precisely target potential customers, personalize your messages, and build groups of loyal consumers. Kira Clark, marketing pro at BestEssays says: "Today, it's much easier to discover the needs and values of an average buyer persona. Using social media, you can strengthen customers' relations with the brand and make them more engaged. With all these possibilities in your hands, raising income is almost inevitable."
Customer relations have become the most important brand differentiator in the last few years. Fortunately, small businesses can utilize many CRM tools to strengthen their customer services. Your buyers leave all sorts of relevant data, so you only need a good business intelligence to find out what they like or do not like about your work. CRM software enables you to collect and analyze information, which leads to the eventual elimination of harmful practices from your customer service.
According to the recent survey, less than a third of all projects were successfully completed on time and on the budget over the past year. It clearly shows that project management needs external support to generate better results. Project management software makes collaboration a lot easier, creating a dashboard of activities and dividing projects into smaller stages. Using this kind of tool, you can integrate your employees into a solid unit of reliable workers, where each member of the team contributes to the overall success of the campaign.
With modern technologies, you don't need to open physical stores to sell products or services. Online shopping made a drastic change in retail business, extending the boundaries of traditional sales business. This is exactly how Amazon became one of the largest companies in the world, earning billions each year. Besides online shopping, there are many other elements of eCommerce: online auctions, electronic payments, Internet banking, online ticketing, etc.
In the era of never-ending technological changes, it is important to keep learning and improving professional capabilities of each employee. This used to be very expensive but now you can organize training sessions for your team with the minimum budget available. There are numerous webinars, online training, and video lessons that you can take, some of which are even free of charge. Besides that, employees can follow their own learning rhythm, going back to the earlier lessons whenever needed.
Digital marketing can disperse your messages across multiple channels of promotion but it is almost impossible to do it manually. For this reason, companies use marketing automation to reach thousands or even millions of users simultaneously. You can launch targeted marketing campaigns through email, social networks, or any other digital media. You can automatically offer discounts for the first-time visitors of your website or send customized offers to loyal clients. The possibilities are almost countless and nearly two-thirds of marketers claim they saw the benefits of using marketing automation within the first six months of its implementation.
However small, your business still depends on the engagement and productivity of your employees. New technologies allow members of your team to work remotely and save time they used to spend commuting every day. This way, they also save money and feel more satisfied, which is the basic precondition for work productivity. Employees can make a better work-life balance and dedicate to professional duties more seriously, which creates a win-win situation for both parties.
Conclusion
Small businesses can use technology to improve efficiency and reduce operational costs. Using contemporary software solutions, you can give a new boost to the company and make it more profitable in the long run. In this article, we showed you how small businesses use IT to raise income. Make sure to use our suggestions and share with us your comments about any one of these tips.
Author's bio:
Warren's lifestyle is full of hiking adventures. When he's not busy with his guitar or enjoying the sunny day outside, he excels at blogging skills and leaps through social media.
https://twitter.com/_warrenfowler/
https://www.facebook.com/warren.fowler.5015