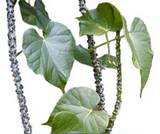 Makabuhay is a Filipino term which means 'pro-life or to give life'. Makabuhay (Tinospora rumphii Boerl) is a climbing, dioecious vine reaching a height up to 15 meters long. Makabuhay plant has many benefits especially its stem is used as a primary ingredient in concocting preparations that would prevent spread of malaria, and may be used as cleanser for skin ulcer and skin wounds. Also, it is an effective ointment for pains caused by rheumatism and arthritic complaints; also for abdominal colic.
And not only that, according to research, makabuhay plant was found out to be very effective in controlling green leafhoppers, brown plant-hoppers, and rice stemborers in rice plantations. (Approximately 10-15 kgs. of chopped vine is needed to soak rice seedlings to be planted on one hectare.)
There are many ways of using makabuhay. One is by root soaking of rice seedlings in Makabuhay extract. Follow the procedure below:
1. Chop the makabuhay vine into small pieces. Weigh 200 grams of chopped vine.
2. Pound or crush the chopped vine with the use of stone or mortar and pestle.
3. Add one liter of water to the crushed vine. Thoroughly stir the mixture. Then soak the rice seedlings into the mixture for 12 hours before transplanting.
The second one is immersion of Makabuhay vine in the water runways to replace spraying. Follow the steps below:
1. Cut the Makabuhay vines to about 30cm.
2. Tie these on both ends onto a couple of bamboo stakes.
3. Drive the stakes in canals where the water passes from one paddy to another.
Makabuhay – Tinospora rumpii
From The International Institute of Rural Reconstruction, Silang, Cavite.
Sources: philippineherbalmedicine.org, trc.gov.ph, stuartxchange.org
Do you like this money making business and ideas? content"> then please consider subscribing to our RSS feed. You can also subscribe by email and have new articles sent directly to your inbox. (Once you entered your e-mail address, you need to login to your e-mail account and click the link to confirm your subscription).