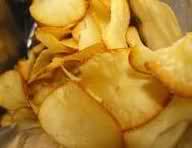 Cassava is a tuberous edible plant from which cassava chips and flour, breads, tapioca, a laundry starch, delicacies and even an alcoholic beverage are derived.

Processing of Cassava Chips
Wash the roots with water to remove soil particles and other foreign matter that may contribute to low quality of the end products. Cut the woody portion of the roots using a sharp knife or bolo.
Use the sharp knife or bolo to peel the roots intended for the manufacture of starch or flour. Roots for the animal feeds need not be peeled, however.
Cut the roots into thin slices not more than 5 mm thick.
Manual Method:
Hold the root on a slanting position in a clean chopping board or any piece of wood if to be used in feed formulation. Slice thinly using a sharp knife or bolo.
Directing Sun Drying:
Lay bamboo or other woven mats on a flat cleared ground fully exposed to sunlight. Spread the chips evenly but not too thickly on the mats.
Storing Dried Chips:
When dried chips are not milled right away, store them properly to prevent moisture re-absorption. Place the chips either in pails with cover or sacks with cellophane lining (like thoroughly washed fertilizer sacks), in jute sacks or containers that can be closed

Cassava Flour and Starch
Use tubers that are not fibrous, about 10 months old and not later than 16 months old after planting. They should be used within 24 hours after harvesting.
Preparation:
1. Wash, peel and re-wash tuber after peeling.
2. Slice thinly or shred by means of a papaya shredder.
3. Soak or wash in enough water to remove part of the starch and should be allowed to settle. Drain the shredded cassava.
4. Line a "bilao" or basket with sinamay cloth and spread the shredded cassava. Dry until crisp or brittle.
5. Grind through a cornmeal grinder and pass through a No. 120-mesh sieve. This is the cassava flour. Pack in airtight container, preferably plastic bags and seal.
6. The water where the cassava was soaked contains the starch (step 3). Decant off the water and completely dry the starch under the sun. Pack in dry containers.

Cassava Bibingka
Ingredients:
1 cup grated fresh cassava
½ cup scraped "buko"
½ cup pure coconut milk
3 tbsp melted shortening
2 pcs egg
¾ cup sugar
4 tsp grated cheese
Procedure:
Beat egg; add sugar, melted butter, and coconut milk. Mix cassava and coconut milk. Add 2 tbsp cheese and mix well. Line a round pan with banana leaves and pours in the mixture. Bake in moderate "palayok oven". When almost brown, brush with butter and sprinkle top with a little sugar and remaining cheese and bake further until golden brown.

Cuchinta
Ingredients:
1 cup cassava flour
1 cup brown sugar
1½ cups water
1 tsp lye
few drops of yellow food color or achuete
Procedure:
1. In a mixing bowl, blend all the ingredients until thoroughly fine.
2. Pour into cuchinta molders or ungreased muffin tins.
3. Steam for 5 to 20 minutes.
4. Let it cool for 5 minutes and remove from pans.
6. Serve with grated coconut.

Cassava Butter Cake
Ingredients:
1 ¾ cups cassava flour
1 ¾ cups wheat flour
1 cup butter
2 cups sugar
8 pcs egg less two (2) whites
1 cup diluted milk
4 tsp baking powder
Procedure:
Sift flour separately; measure mix and add baking powder. Sift three (3) times. Cream butter, add sugar. When fine, beat in the egg yolk one at a time. Cream well until fine and fluffy. Add sifted flour mixture alternately with milk. Fold well-beaten egg whites in the butter mixture. Pour in well-greased nine (9) inch baking pans. Bake for 20-25 minutes.

Upside Down Cake
Ingredients:
1 ½ cup cassava flour
¼ cup butter and one cup brown sugar
6 pcs eggs
1 cup cugar
6 slices canned pineapples
6 halves canned peaches or mongo
Procedure:
Place butter, brown sugar and ½ cup syrup of the canned fruits in a deep baking pan. Place over slow fire until brown sugar is melted. Remove from the fire. Arrange fruits in the pan. Separate the yolks from whites of eggs. Beat egg whites with ½ cup sugar until stiff. Beat egg yolk until fluffy adding the other half of the sugar and two (2) tablespoons of water with calamansi juice. Beat both mixtures together. Fold in flour. Pour butter over fruit in pan. Bake in moderate oven. When done, turn upside down on cake plate.
Do you like this food business ideas? content">then please consider subscribing to our PINOY BISNES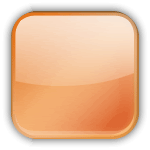 RSS feed. You can also subscribe by email and have new articles sent directly to your inbox. (Once you entered your e-mail address, you need to login to your e-mail account and click the link to confirm your subscription).