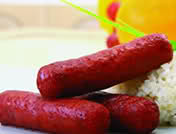 Skinless longganisa or longanisa (Filipino-style sausage) is a popular viand that you can find in most dining tables of Filipino families. Longganisa comes in different versions from the different regions of the country, i.e. with vinegar like in Vigan, or with oregano like in Lucban.
Longganisa/ longganiza recipe
Meat Ingredient:
– 1kg. Pork lean, ground finely (700 gms)
– Pork fat, ground finely (300 gms)
Extenders:
– In 1/2 cup water add 1/4 cup textured vegetable protein (TVP).
– Hydrate for 3 minutes.
– Add 1 Tbsp Isolate and 1/2 tsp Carageenan
Curing Mixer:
– 1 Tbsp – Salt, refined
– 1/2 tsp – Curing salt
– 1 tsp – Phosphate, dissolve in 1/4 cup water
– 1/4 tsp – Vitamin C powder
Seasonings:
– 3/4 cup – Sugar, refined
– 2 Tbsp – Garlic, chopped finely
– 2 Tbsp – Anisado wine
– 1/4 cup- Pineapple juice
– 1/2 tsp – Vetsin (MSG)
– 1 tsp – Food color dissolve in 1/2 cup of water
– 1/2 tsp – Meat enhancer
– 1 tsp – Paprika powder
– 1/2 Tbsp – Black pepper, ground
Procedure:
1. Select good quality raw materials.
2. Measure and weigh all the ingredients
3. Mix the curing ingredients continuously.
4. Add the rest of the ingredients. Mix until well blended
5. Cure at room temperature for 8-10 hours or refrigeration temperature for 1 day
6. Wrap in paperlyne or cut wrap (2 T per piece)
7. Pack in polyethylene bag 1/4 kg. (should have six pieces of skinless longanisa)
8. Store in freezer for 1 day only
Packaging materials:
– Polyethylene bags: Size – 4″ x 8″ ; Thickness – 0.003
– Styrofoam, rectangular in shape with cling on top
Vigan Longganisa, Homemade Skinless Longganisa
Vigan longganisa are garlicky, sourly and salty with the distinct pungent aroma even in its uncooked state. It is made up of lean pork meat compared to Pampanga version which are sweet.
Vigan longgnisa are not readily available elsewhere outside Vigan, the authentic Vigan longganisa are only produced in limited quantities by the manangs of this old City. Recipe found in overseas pinoy cooking.
source: elgu2.ncc.gov.ph. Photo: pampangasbest.com.ph.
Do you like this Money Making Business Ideas? then please consider subscribing to our RSS feed. You can also subscribe by email and have new articles sent directly to your inbox. (Once you entered your e-mail address, you need to login to your e-mail account and click the link to confirm your subscription).