Airflow is vital if you want your house to feel less confined and more spacious. But that isn't the only good thing about airflow. Proper airflow can even help control how much humidity is present in your home. This can be particularly helpful in highly humid areas, especially during the summer months in India. A fan with proper airflow can also distribute the cool breeze evenly throughout the room so even your little furry friend can enjoy the fresh air. You can achieve good airflow from a variety of fans. Here is our list of top fans that you can purchase from top digital marketplaces such as the Bajaj Finserv EMI Store.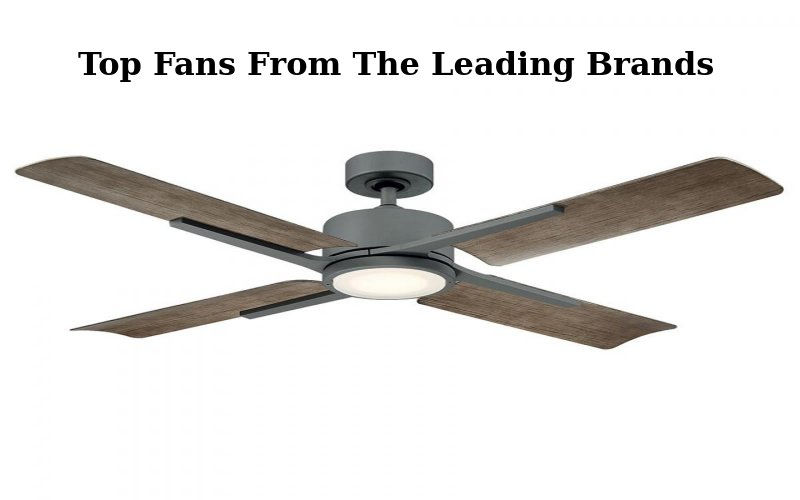 Orient Wall 49 Remote Controlled Wall Mounted Fan
This Orient wall fan has a sweep capacity of 400mm. It is a wall fan, and it will ensure adequate air is circulated to the entire room. When you use any fan for a prolonged period, the motor gets heated which can lessen the fan's lifespan. This Orient wall fan comes with thermal overload protection and auto-resetting features. It won't get heated when you use it for a long time, thereby saving the motor from early damage. You also get a remote control to easily control the fan from wherever you are seated in your home. The wall-mounted fan also has a touch-screen panel, auto speed control and is energy efficient.
Crompton Hill Briz 48-inch ceiling fan
Crompton is a well-known brand in India for the plethora of high-quality fans it manufactures. The Hill Briz ceiling fan is another amazing fan from Crompton. It is a highly durable ceiling fan because it has a motor made with 100% copper windings. It also has double ball bearings, which ensure flawless performance of the ceiling fan. It is perfect for Indian homes because it is corrosion-proof, thanks to the aluminium body and special coated blades. The ceiling fan is a simple yet charming fan that does its job with perfection.
Orient Electric Desk-26 Trendz table fan
This table fan is one of the best table fans with excellent airflow. It can run at a high-speed of 1300 RPM. The air delivery rate is 5040 cubic meters per hour, ensuring proper air circulation to the entire area where it is installed. The table fan is highly portable, which allows you to use it for a variety of purposes. This Orient table fan comes with a 90-degree oscillation. The three blades ensure proper airflow and they are powder-coated for high durability. The table fan is protected from corrosion and it works well even in areas where voltage fluctuation is common.
Fanzart Tron tower fan
The Fanzart tower fan provides good air circulation for Indian homes. The Tron model of tower fan from Fanzart is one of India's sleekest and elegant tower fans. Look wise, the tower fan is beautiful and majestic, which makes it stand apart from other types of fans that you have at home. It is great for use when you are having guests over and want proper ventilation in the house. The Fanzart fan comes with an eco-feature that allows the fan speed to be adjusted according to the room temperature. It has touch control and comes with an excellent motor.
American Micronic Instruments pedestal fan
If you want an energy-efficient fan, then this one is it. This American Micronic Instruments pedestal fan is a great fan for those who want functionality and looks in one fan. You can easily move it to the room where you wish to use it. The auto cut-off technology of the fan ensures that the motor never gets overheated, thereby ensuring it works for years. You can easily adjust the height of the pedestal fan which enables you to use it when you are working, sleeping, and just chatting with your friends in the living room. The pedestal fan has an oil reservoir that helps with the proper lubrication of the fan.
Gorilla Energy Saving ceiling fan
A ceiling fan is great for any room and this energy-efficient one from Gorilla is an excellent fan for India. At full speed, this fan consumes just 28 watts of power. This ceiling fan is high on performance as it is one of the best functioning fans that last for years. The airflow of this ceiling fan is commendable as it ensures every corner of the room gets sufficient air. You get a remote with this ceiling fan which allows you to control its speed from the comfort of your sofa and bed. You can even set up smart sleep mode and timer mode, among other functions.
Want to buy a fan but are worried that you might have to take a loan? Bajaj Finserv EMI Store is the ultimate destination to buy fans online. Whether looking for the Orient wall fan or a Havells ceiling fan, you can find the best fan options. You can get No Cost EMI options, flexible repayment tenors, and a zero down payment facility on the EMI Store.