Today we are going to talk about situations when a currency pair suddenly moves over 200 pips. This article was created to help you understand how to act if you get into such a situation in the Forex market.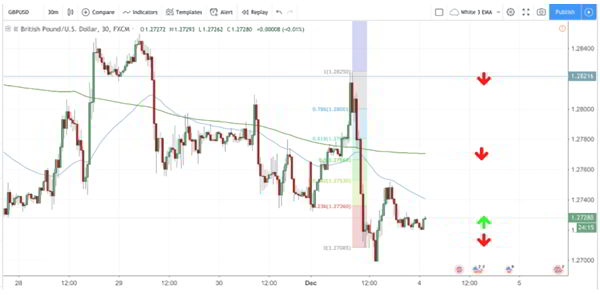 So, let's say you are in a trade and this move has gone bad. Remember to set a Stop Loss every time entering a trade. Yes, you have taken a loss, but not a big loss, a manageable loss. So what to do next?
How It Looks on a Real Chart
You can see that the price has moved approximately 220 pips downside. Most likely this has happened right after a major economic event, such as an important announcement that was not planned. The price would unlikely move this much after a scheduled announcement from the economic calendar, like interest rate decision.
What to Expect Next?
There are several things that can happen post-move:
The price will continue moving in the same direction
A pullback of some kind – price will turn to the other side
What we call a V-reversal
The price will move sideways for an extended amount of time and only then make a move
A retracement using the Fibonacci tool to adjust your trade
Let's get back to our chart. The bias remains bearish. In other words, the price continues moving in the same direction, to the downside.
Now, we should expect a pullback of some kind, a small or major one. As traders, we have to adjust to this move and trade accordingly.
When the price makes a pullback, it makes a so-called "V" reversal on the chart. The price comes to a stop. After one or two candles, it will reverse to the upside, about 80% of the move or higher. In my experience, this is a bearish move and soon it will return to the downside again. This is a fun trade when you see it. I guess you can call this a fade of the move.
How to Trade on Such a Market?
Low activity on the chart is quite common after we see big moves on the chart. The currency pair will take some time to adjust. I would say, a maximum of 48 hours, and we will see a tangible move in one of the directions. Make sure to get out of your trade before this major move.
On the chart above you see the Fibonacci pullback – my favorite type. To make this simple, we want to see the maximum pullback to .786 or .618 level. The bigger the pullback, the more our price will move to the downside. On our chart, though, the pullback reached .236 level only, so the price continued moving sideways.
Last Useful Tip
Remember, no matter what your trading strategy is, never chase a price. Let the move happen and react at the proper time. Chasing a price will just take your money most of the time, as you really have no idea when this is going to stop and reverse.
Always use the Online HTML Converter to compose the content for your website easily.