Polvoron has become one of the most sought-after items and a favorite gift to give to overseas friends and family. It is primarily made with toasted flour, powdered milk, sugar and melted butter pressed in a special mold.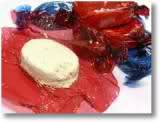 There is such a huge demand for polvoron that in a survey conducted by the Business section of the Philippine Daily Inquirer last 2007, Goldilock's Bakeshop named polvoron as their top-selling item—it sold more than their cakes! Polvoron comes in different flavors like Pinipig, Peanut, Pili, Cashew, Cookies & Creme, Classic, and Chocolate.
Special Polvoron Recipe
Materials needed:
Mixing bowl
Measuring cups and spoons
Wooden spoon
Saucepan
Japanese paper or cellophane
Polvoron molder
Polvoron Ingredients:
4 cups all-purpose flour
2 cups powdered milk
1 1/2 cup melted butter
2 cups sugar
Procedure on how to make Polvoron:
1. On a pan, toast flour in moderate heat for about 15 minutes, or until light brown, stirring constantly to avoid burning.
2. Remove the pan and transfer the mixture into a big bowl.
3. Add the powdered milk, and toss for another 3-4 minutes.
4. Add sugar and melted butter. Mix well.
5. Fill the polvoron mould with the mixture, press it hard by using a spoon, then release it. If it is still too loose, add more butter or olive oil. Make sure that you could pick up the polvoron without it crumbling straight away.
6. Place the polvoron in an airtight container, then chill in the fridge until firm.
7. Carefully wrap the polvoron individually in japanese paper or cellophane.
8. Keep the polvoron refrigerated until you want to eat them. You can store them on the fridge for about a week, or you can freeze them.
Polvoron Recipe 2
Polvoron Ingredients:
1 cup plain flour
1 1/2 cup full cream powder milk
1/2 cup sugar ( preferable very fine sugar)
1 cup melted butter or half margarine half butter
1/2 teaspoon salt
1/4 cup roasted pinipig
Polvoron Preparation:
Step 1. Roast the flour in a wok (slow heat to avoid burning)
Step 2. Roast flour until it is slightly brown
Step 3. Take it off the heat
Step 4. Mix milk, sugar, pinipig, salt and melted butter with the flour
Step 5. Blend them together
Step 6. Try your molder. Mold one and if it is still too loose, add more butter to it. make sure that you could pick up the polvoron without it crumbling straight away
Step 7. Wrap them with papel de hapon.
Try this simple polvoron recipe and sell it to your friends, stores and even to pasalubong shops to make an additional income into your pocket. This can be a great business idea after all.
Sources: entrepreneur.com.ph, duyan.com Photo: filipinasoul.com
Do you like this money making business idea? then please consider subscribing to our RSS feed and have new articles sent directly to your inbox. (Once you entered your e-mail address, you need to login to your e-mail account and click the link to confirm your subscription).