Cebu, Philippines – Premier Family Business Consulting in partnership with Family Business
Network (FBN) Asia is set to launch Asian Family Enterprise Excellence Conference (AFEEC) 2021
virtually, on March 26, 2021 at 3 PM (GMT +8) via Zoom. The AFEEC 2021 Launch will highlight ashort talk from Shanti L. Poesposoetjipto and the AFEEC 2021 event details. The launch event is
free for all. Participants interested in knowing the best practices of family businesses in Asia can
register here: premierfamilybusiness.com/afeec-2021-launch/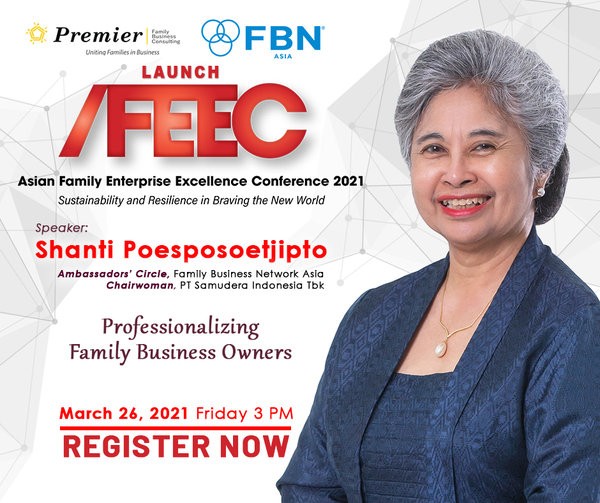 "AFEEC 2021 will be our biggest yet, bringing together families in business from all over Asia
and the world for 2 days, virtually", says Jon Ramos, Founder and CEO of Premier Family
Business Consulting. "We look forward to sharing more details about the conference and to
give a snippet of Shanti's topic in the Conference proper during the launch. We hope to see
everyone, especially families in business, so join in this exciting event on March 26."
Shanti L. Poesposoetjipto, one of Indonesia's top woman entrepreneurs and trailblazers, will
share the importance and benefits of professionalizing the family business owners, the
challenges they need to overcome, and her testimony on how she did it in her own
conglomerate. Shanti L. Poesposoetjipto is a founding Board Director of Family Business
Network (FBN) Asia and Chairwoman of PT Samudera Indonesia Tbk, one of the leading
integrated cargo transportation and logistics company in Indonesia.
Shanti was awarded the "Woman Inspire Award of 2002" in the Information Technology Sector
in the Asia Pacific region by Singapore Women Business Connection (WBC), and named as
"2009 Woman Entrepreneur of The Year" at the Asia Pacific Entrepreneurship Award.
In 2016, she was conferred "Officer Order of Leopold" by the Kingdom of Belgium for her
services in developing the business cooperation between Belgium and Indonesia.
Jon Ramos will share his advocacy of strengthening Asian family businesses.
With this year's theme, "Sustainability and Resilience in Braving the New World", AFEEC 2021
will capture the family business journeys of Asian families in a life-changing and captivating
event to change the way we look at our new world today. The Conference is a 2-day event
happening on June 25 to 26, 2021. The conference will bring in 16 Speakers, 32 Panelists, and
1,500 Families in Business across Asia, all done virtually so attendees can stay safe in their
homes. This is the first time the conference goes fully digital! The Asian Family Enterprise
Excellence Conference is a global event, traditionally held every 2 years.
About Premier Family Business Consulting
Premier Family Business Consulting, Inc. is the only family business consulting firm in Southeast
Asia that provides holistic services that integrate the family and business system. Premier
champions family unity by placing it at the heart of all processes, with the belief that healthy
and meaningful family relationships are the means to family business success across
generations.
About Family Business Network Asia
Family Business Network (FBN) Asia is a regional chapter of FBN International, a private,
not-for-profit organization. It is led "By Families, For Families, Together Across Generations".
FBN is the leading family business community around the world, offering a unique and safe
space for its members to share best practices and progressive ideas on how to grow, succeed
and prosper in their family business and personal lives. Founded in 1989, it represents more
than 16,000 individual members from more than 4,000 business families in 65 countries across
5 continents.
Its vision is to create a vibrant community of family businesses that serves as a model of success
and longevity.