Global BPO underscores the importance of encouraging authenticity and accountability at the core of their D&I efforts
MANILA – September 16, 2021, Sitel Group®, one of the largest global providers of customer experience (CX) products and solutions, joined the Asia CEO Forum Asia Diversity Forum 2021 alongside industry experts and leaders to highlight the importance of diversity, equity, and inclusion in the workplace and share the steps the company has taken to strengthen their Diversity and Inclusion roadmap for over 160,000 Sitel Group employees globally.
"At Sitel Group we pride ourselves on our values of Be Bold, Build Trust, Work Together and Wow Customers," shared Erin Wallace, Sr. Director, DE&I, Americas. "And when we discuss diversity and inclusion, we need to include our company values in the discussion because these values capture who we are and what we want our culture to be. They drive us in creating our diversity and inclusion programs based on what we care about most."
At Sitel Group, Diversity and Inclusion are not just buzzwords but are connected and integrated into the company's growing business. Through the various D&I initiatives, Sitel Group nurtures a welcoming and inclusive workplace enabling their people to create and deliver unique experiences where everyone's voice is heard and acknowledged.
The company launched MyID or My Inclusion and Diversity community to celebrate each unique voice and experience. MyID includes various programs and employee resource groups for women, LGBTQ+, and persons with disabilities. Sitel Group has a wide variety of cultures, ethnicities and religions. Everyone has an integral role in driving diversity and inclusion in the workplace.
Sitel Group understands that investing in equity is important as the best solutions are generated through collaboration with people who think differently and represent diverse opinions and experiences. This is why fostering inclusion is not just an employee engagement program. It is also an important aspect of growing the business, driving market growth, fueling innovation, attracting and retaining talent and improving communities.
To ensure they meet their D&I goals, Sitel Group has broken the strategy down into three categories: Organizational Culture, Reinforcing Infrastructure and Creating Personal Accountability. A Diversity Council comprised of leaders was created to oversee D&I goals and create accountability. While Human Resources is the culture architect or the program, all levels of operations have a stake in the D&I strategy.
"Enhancing our culture of diversity, equity and inclusion is critical to our personal development as well as our future growth," Wallace concluded. "It allows us to bring our best work to drive innovation, which in turn helps us better serve our customers. At the end of the day, it's all about belonging. This is the key and endgame to D&I for Sitel Group. We want our associates to bring their authentic selves to work every day. This allows them to succeed and grow."
The Asia CEO Forum is the largest regular business event organization in the Philippines highlighting business leaders and in Asia Pacific. They regularly organize events such as the Asia Diversity Forum 2021 to promote the Philippines as a premier business destination to global decision makers by highlighting the business innovations and achievements in the region.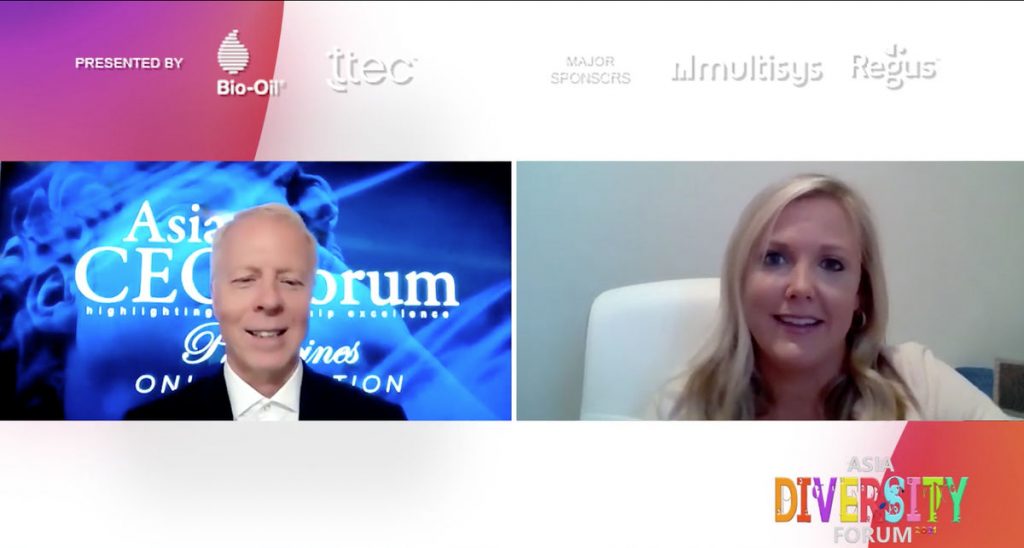 About Sitel Group®
As one of the largest global providers of customer experience (CX) products and solutions, Sitel Group® empowers brands to build stronger relationships with their customers by creating meaningful connections that boost brand value. Inspired by each brands' unique vision and goals, we ask "what if?" applying our expertise to create innovative solutions that reduce customer effort.
With 160,000 people around the globe – working from home or from one of our CX hubs – we securely connect best-loved brands with their customers over 8 million times every day in 50+ languages. Whether digital or voice-based, our solutions deliver a competitive edge across all customer touchpoints. Our award-winning culture is built on 40+ years of industry-leading experience and commitment to improving the employee experience.
EXP+™ from Sitel Group is a flexible solution with complete cloud capability, designed to simplify the delivery of end-to-end CX services, while boosting efficiency, effectiveness and customer satisfaction. EXP+ creates a robust ecosystem by harnessing the power of four connected product families.
Learn more at www.sitel.com and connect with us on Facebook, LinkedIn and Twitter.