Are you trying to grow your real estate agency? Have you considered using social media marketing to get the message across to potential buyers? Social media marketing can help you achieve your goals but before I tell you how to let's look at the history of social media platforms.
Contrary to popular belief, Facebook was not the first social media channel in the history of social media platforms. Linkedin and MySpace were launched in 2002 and 2003 while Facebook was only launched in 2004. That said, Facebook has become one of the most influential social media channels with an outstanding 1.74 billion users. Youtube receives close to 30 million visits from its 1.3 billion users in a day with 5 billion videos being watched. Instagram is considered the fastest growing social media platform at the moment and has around 700 million users.
From the above-stated figures, it's plain to see why social media plays such a big role in the marketing strategies of most businesses, no matter the industry. If you use it properly, you too can benefit from what these social media platforms have to offer. Here are 5 ways you can use them to your advantage:
#1 Share Useful Information on Facebook
To get likes on your Hamilton Real Estate Agency Facebook business page, for example, you need to post interesting and engaging content about Hamilton on a regular basis. And by interesting, we mean not boring! If all you are posting about is new listings, houses you've sold and advertising your business, you can forget any type of engagement or interaction from your audience. You'll get a higher success rate if you come across as more personal than business-like.
Real Estate Social Media Content Ideas
Facebook is an excellent place to share useful tips and tricks related to properties like:
Home Renovations Ideas
Suggestions for making your home more eco-friendly
Enhancing your home's curb appeal with landscaping
Budget-friendly ways to make small changes that will give you big results
Big brands like Remax (with a following of nearly 200 000) use this strategy to spread the word. By offering potential clients with interesting info they enjoy reading, they typically get hundreds if not thousands of likes and shares on each post. Word of mouth at its best.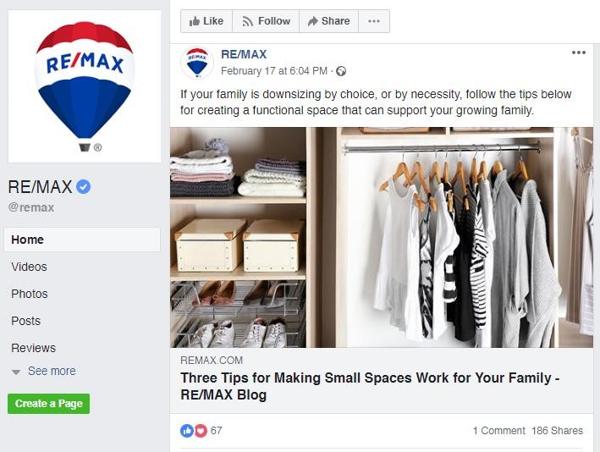 You can also host contests or giveaways, provide fun facts about the area you are targeting or share your involvement in the community, news, and events. People love to work with people who care about others. Make sure you promote the town, not just the house.
#2 Showcase Beautiful Properties on Instagram
Instagram, launched in 2010, is owned by Facebook. This free photo and video sharing app makes it easy to showcase the amazing properties you currently have listed.
Being extremely user-friendly, this app is primarily accessed on smart devices, thus leading to higher engagement levels. If used correctly, you'll quickly notice increasing views which will strengthen your brand and ultimately create conversions.
It's vital to remember that the photos you use will tell a story so anytime you promote a new listing, be sure to post high-quality, beautiful images on Instagram. If you can't take good pictures it won't hurt to hire a professional photographer. Keep filters to a minimum to ensure a natural look. And don't forget the hashtags!
Again, Remax makes use of this incredible tool to inform potential buyers of new properties. Typically, a post like this reaches their audience of more than 70 000 subscribers yielding thousands of likes.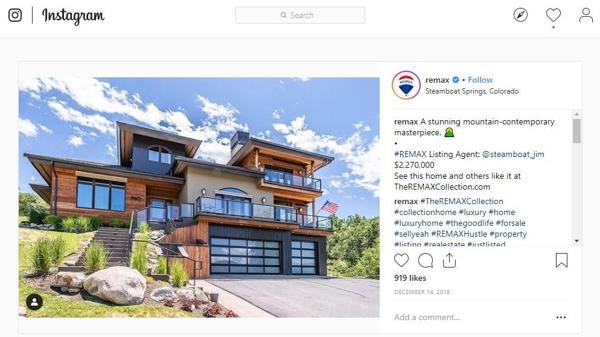 #3 Embrace YouTube for Property Tours
YouTube is an exceptional tool where you can create a dedicated channel complete with neighborhood tours and charming videos of your property listings.
Smartphones these days offer high-quality video recording which means with little effort, you can impress potential buyers with the magical view of a beach sunset or the luscious leafy streets that buyers are after. Videos make properties come alive.
Take your social media marketing one step further and use a single video in three different ways. Ten-second teaser video on Facebook, one minute cut on Instagram and the full-length recording on YouTube.
Not sure you can pull off videos? Don't worry, it is very easy to incorporate them on social media channels with ample tutorials readily available online.
This video, Beautiful Real Estate Video On Mallorca (For sale 2019) is a perfect example of what can be achieved with YouTube. With over 85 000 views to date, this property is an easy sell.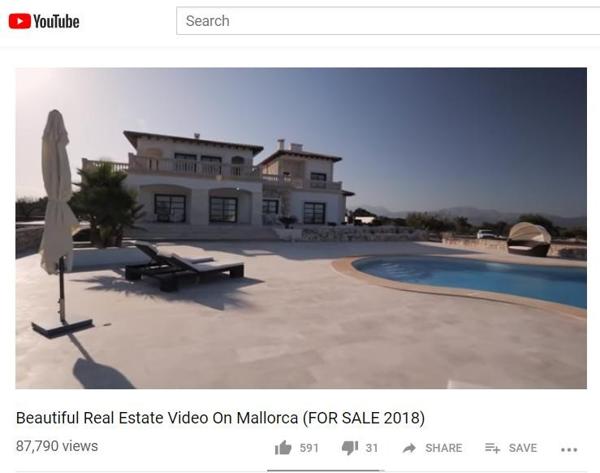 #4 Start and Join Social Media Conversations
Opportunities are all around you to start conversations on social media. So take advantage of them. Give people useful information about the home buying or selling process and tell them what they need to know about a particular neighborhood or school district.
Home buyers want to know the positives and negatives of the town to which they intend to relocate. While demographic statistics are useful, what you really want to do is to enrich their understanding of the place they might live in.
Don't neglect to answer any questions your audience might have. Buyers these days expect instant responses so use this opportunity to start a conversation with followers who might be potential buyers. Make sure you respond to comments whether they're good or bad.
Successful estate agents like Era, Century 21, Remax and IQI Global take time to reply to comments on social media, even if negative since they know that not giving it the needed attention, will send the wrong message to potential clients.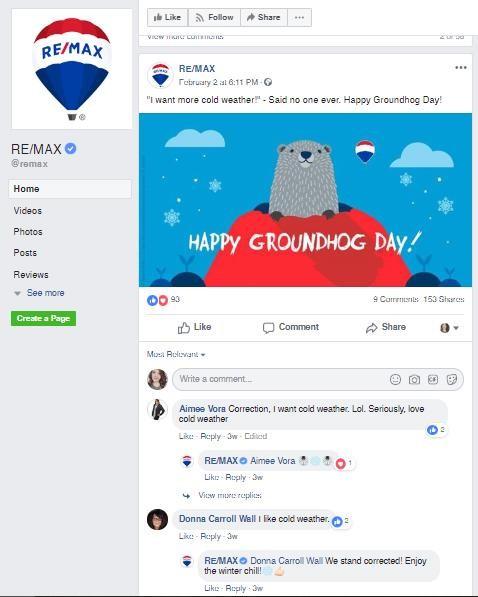 #5 Ask Clients for Photo Tags When They Post Photos of Their New Home
There's no harm in sharing photos of homes that are SOLD but if you don't feel like bragging on social media, why not ask buyers to tag you in their post photos when announcing their new home to friends and family.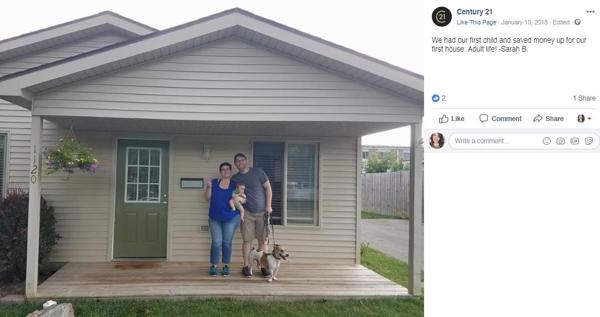 People like to work with the best in the business and if you appear to be busy, you must be good at what you do which will make people hire you.
Century 21 is the master of this strategy. Getting tagged in photos from satisfied clients doesn't necessarily afford them a ton of likes but it makes the experience of purchasing a home more personal.
Research Keywords for Social Media Marketing
While regular social media updates on various channels are vital, you also need to meet the needs of your audience by answering the questions they might have.
One way to do this is with traditional keyword research by using tools like Google Analytics or Serpstat. A quick keyword or key phrase search can help you determine what to publish on your social media channels.
Make sure to track your social media metrics to determine which strategies are working and which aren't so you can make the needed adjustments.
There are so many social media channels out there but being successful doesn't mean you have to use them all. Pick two or three that you know your target market is using and do your best to grow your following by offering quality information. By applying the correct real estate social media strategy, you can increase your conversion rate while building lasting relationships with home buyers, sellers, and tenants.