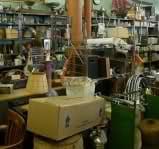 A Junk shop and Scrap Business is a simple buy and sell business, which is less considered by many since the traded products are unclean and soiled. But in another view, it is a lucrative business that generates a lot of money both for garbage collectors and junk shop owners.
This business is most relevant today considering that the government has promoted environmental awareness among its citizens, expressing the need for proper waste disposal and recycling of materials as a major factor in protecting the environment.
As one of the sectors involved in the country's Solid Waste Management, junk shops are now being recognized for its large contribution in recycling activities and waste recovery.
I. Estimated Investment Costs
Minimum Starting Capital Investment: P100,000.00
Fixed Investment
• Business licenses and registrations
• Security (refundable) and advance rental deposit equivalent to 4 months, if business space is on lease/rent
• Operating Equipment Weighing scale (Bascula) 50-kg. countertop/hanging weighing scale 2 Metal push-cart (cartilla) Acethyline Torch and Gas Tank Pulley Tools (steel saw, pliers, vice grips, screw drivers, hammer, "baretta de cabra", etc.)
• Vehicle, pick-up-truck (optional)
• Renovation, in case of land lease
• Miscellaneous
Revolving Fund
• Purchasing cash
Labor Cost
• 1 General Manager
• 1 Officer-in-Charge (minimum wage)
• 1 Driver/Helper who can also act as Checker (minimum wage)
• 2 Helpers who can also act as checkers (allowance + free board)
II. Things to Consider
A) Sourcing of Potential Clients
Clients are recycling agents to whom the junk shop owner will be selling the junk items, which have been sorted and segregated. The junk shop owner must search the market for several possible recycling agents to get the best deal possible such as a lock-in period with regard to the buying price of a specific item within one month. Cost of delivery/pick- up also affects the price and should always be taken into consideration.
The junk shop owner must bargain for the best deal possible and coordinate with the respective recycling agents as to the payment schedule and volume of deliveries or pick-up.
B) Walk-in Procedure for Retailers
Retailers are the scavengers, with or without pushcarts, and residents of nearby communities and local business establishments. To avoid
pilferage and maintain an accurate inventory, a step-by-step procedure should be applied in the business:
1. The walk-in customer/retailer with the recyclable items will be met and assisted by the helper. The helper will inspect the items and sort it out if needed. He will be the one to put the items in the weighing scale.
2. The OIC will then do the actual weighing. He will fill up a "weigh slip" wherein the type of item and its corresponding weight is reflected and his signature is affixed. The OIC shall submit the slip to the Cashier.
3. The helper shall then transfer the weighted items to the corresponding stock area.
4. The Cashier shall compute the total amount due to the customer.
5. The customer must personally receive the amount and sign the slip of paper as proof of payment.
6. The cashier shall file all Weigh Slips on a daily basis.
C) Daily Accounting
On day one of operation, a pre-determined amount shall be the basis of the Starting Purchasing Cash (SPC), which shall be maintained and replenished at the start of each working day.
• At the start of each working day, the Cashier shall count the
SPC, which should be the pre-determined amount as mentioned.
• At the end of each working day, the Cashier shall make a summary of all purchases and enter it in a log book based on the filed Weigh Slips.
• The Cashier shall also note down all expenses made for the day,
excluding purchases on a separate log book.
• The SPC less all purchases and expenses of the day should
match the existing cash-on-hand.
• The Cashier shall then make a cash count for the day.
• All cash in-flow coming from the Junk Shop's sale to the clients
shall be directly deposited to business' bank account.
D) Trading Process
• Buying
– Search for potential wholesellers who have by-products in their
businesses that would fall under the categories that the junk shop owner would be buying.
– Buy directly from wholesellers/establishments with by-products or
junk items.
– Tap scavengers by providing them wooden pushcarts (kariton) on
the condition that you will have the priority of their junk products and these will be bought at a lower cost to cover for the cost of the cart.
– Give incentives (e.g. allow advances up to a certain amount to
maintain the in-flow of materials, with the limit on advance and up to the prerogative of the junk shop owner)
• Selling
– Sourcing of potential clients must be a continuous process.
– The following are the basic factors to consider as to whom each
type of item/material is to be sold: a) payment terms; b) schedule and volume of pick-up and/or delivery.
– If there is a broker or agent for the client, it should be pre-agreed
upon by both the Junk Shop and the Client that all payments should be made directly to the Junk Shop owner or his duly
authorized representative.
III. Estimated Costing and Pricing (As of February 2009)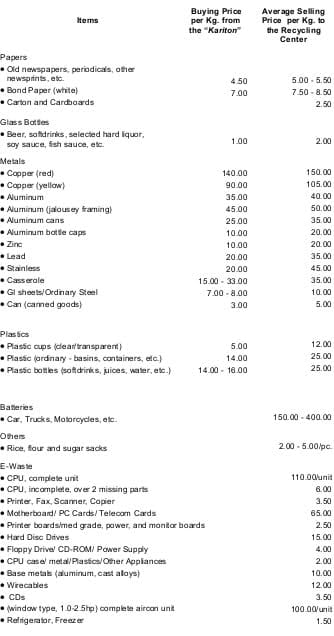 IV. Estimated Monthly Projected Statement of Operations

V. Registration Requirements
1. Business Name Registration
For Sole Proprietorship:
Department of Trade and Industry (DTI)
within the National Capital Region (NCR)
a. 12/F Trafalgar Plaza, 105 H.V. Dela Costa St., Salcedo Village, Makati City
Tel. No.: 811.8232 loc. 208
b. 2/F Park N'Ride, Lawton, P. Burgos Ave., Dr. Basa St. Ermita, Manila
Tel. No.: 536.7153
c. G/F Highway 54 Plaza, EDSA, Mandaluyong City (across SM Megamall) Tel. No.: 706.1767
d. 5/F Araneta Square Mall, Monumento Circle, Caloocan City
Tel. No.: 332-0854 / 332-0829
For Partnership/Corporation:
Securities and Exchange Commission (SEC)
SEC Building, EDSA, Greenhills
Mandaluyong City
Tel. No.: 584.0923
or contact the concerned Office in the province where the business is located
2. License to Operate
Mayor's Permit/Residence Certificate and Sanitary Permit
Contact the local municipality or provincial municipality where the business is located.
3. Application for Tax Identification Number (TIN)/ Application for Authority to Print Receipts and Invoices/ Registration of Books and Accounts
Bureau of Internal Revenue (BIR)
BIR National Office Bldg.
Agham Road, Diliman, Quezon City
Trunklines: (632) 981.7000 / 981.8888
Email: contact_us@cctr.bir.gov.ph
Website: www.bir.gov.ph
or contact the Regional or District Office where the business is located.
VI. Technical Assistance
Technology Resource Center (TRC)
TLRC Building, 103 J. Abad Santos cor. Lopez Jaena Sts., Little Baguio, San Juan, Metro Manila
Tel. Nos.: (632) 727.6205 www.trc.dost.gov.ph
Source: www.dti.gov.ph
BUREAU OF MICRO, SMALL AND MEDIUM ENTERPRISE DEVELOPMENT (BMSMED)
5/F, Trade and Industry Building
361 Sen. Gil J. Puyat Ave. Makati City
Tel. Nos.: (02) 897.1693 / 897.7596 / 890.4968
Fax No.: (02) 896.7916 Email: bmsmed@dti.gov.ph
Do you like this money making business idea? then please consider subscribing to our RSS feed and have new articles sent directly to your inbox. (Once you entered your e-mail address, you need to login to your e-mail account and click the link to confirm your subscription).