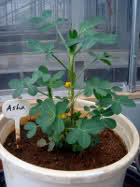 Peanut is a popular food crop in the Philippines. It finds use as a nutritious snack and as an ingredient in different Filipino dishes. It is widely consumed as boiled-in-shell peanuts and salted fried peanuts, processed as peanut butter, and as an ingredient in the manufacture of confectioneries. Peanut is ideal as a food ingredient in the culinary arts because of its aroma, flavor and crunchy texture. Oil from peanut is also extracted for food and industrial uses.
It has excellent nutritional value as indicated by its proximate nutrient analysis – 25.67% crude protein, 20.05% carbohydrates, 47.41% crude fat, 4.39% moisture and 2.48% ash. At 25% protein and 45% oil, peanut is an inexpensive, high protein, high energy food for humans and livestock. It is also a high quality, healthy vegetable oil for cooking. A concentrated food from peanut has more proteins, minerals and vitamins than beef liver, more fat than heavy cream, and more energy than sugar. One cup of roasted peanut has the energy value of approximately 4 cups of milk, 5 cups of meat and 7 chicken eggs. It is also a good source of vitamin A and B (PCARR, 1978).
Based on Protein Digestibility Corrected Amino Acid Score (PDCAAS) – standard quality for protein measurement, peanut is a plant equivalent of meat and eggs – essential for human growth and health. It is also a good source of niacin that contributes to brain health. Some studies have found out that peanut has antioxidants and resveratrol which have potential anti-aging effects and is said to help reduce cardiovascular diseases and lowers cancer risks.
Essentially, peanut has a lot of uses and functions. Aside from being an excellent food source, peanut is an income generating crop to farmers. In fact, it is one of the major field legumes grown by farmers in Luzon, Visayas and some provinces in Mindanao.
However, although peanut production is found throughout the country, the yield is not enough to meet the increasing demand for household and industrial uses. In fact, the Philippines is import-dependent on peanut. Eighty percent (80%) of our peanuts is come from China – one of the biggest peanut producing countries in the world. Ms Rosemary Aquino, project leader on Asha peanut promotion and production of the Department of Agriculture – Cagayan Valley Integrated Agricultural Research Center (DA-CVIARC), admitted that our peanut production is very little compare to the huge demand of the industry. "It is sad to admit that the industry is greatly dependent on imported peanut but it is the reality".
In the early 1990s, regions 1 and 2 were the leading producers of peanut in the country, accounting for 50% of the country's production. Region 2 used to maintain an average yield of 0.65 ton/ha on about 22,000 hectares planted with peanut. But due to the low yield and therefore low income in peanut, farmers shifted to corn production (hybrid yellow corn), which was heavily promoted at that time. This resulted to the sudden decrease in the national production of peanut in the country.
Ms Aquino cited some reasons for having low yield in peanut productions in the Philippines. These are: 1) poor seed quality as planting material; 2) low level technology used; and 3) seasonality of local peanut varieties and its use as an intercrop rather than as a primary crop.
In order to meet the domestic demand for peanut, effective production strategies call a sustainable supply of quality seed materials and increasing the yield per unit area. Ms. Aquino also said that introducing high yielding peanut varieties is the cheapest and easiest way to improve the industry in the country.
Bringing Asha to the Philippines
The International Crop Research Institute for the Semi-Arid Tropics (ICRISAT), an India based, non-profit, non-political organization known worldwide for its excellent research work on legumes, has been linking to the Philippines in germplasm exchange programs and trainings as early as 1980s.
ICRISAT has provided 3302 samples of 2785 germplasm accessions to the Philippines to date. It also supplied 49 sets of trials, 708 advanced breeding lines, and 72 segregating populations to different institutions in the Philippines (ICRISAT Website).
This cooperation led to the development of three peanut lines that passed the standard field testing requirements for legumes of the National Cooperative Test (NCT): The NSIC Pn 10 in 1993 with an average yield of 1.5 tons/ha, NSIC Pn 11 in 2002 – a variety with an average bean yield of 1.65 tons/ha, and NSIC Pn 12 in 2003 with an average yield of 1.62 tons/ha. These three lines were also approved for commercial release by the National Seed Industry Council (NSIC) of the Philippines.
Under this endeavor, the relationship of India thru ICRISAT to the Philippines became stronger. In fact, Dr. William D.Dar, ICRISAT's director general, personally brought to the Philippines a packet of the very best ever peanut variety from India in January 2005. This variety, named "Asha peanut" a Hindi word for "hope", is a large-seeded and a high yielding peanut variety that could bring hope to the Philippine peanut Industry as it had in India.
Consequently, a month after Dr. Dar's gesture, the President of India, Dr. APJ Abdul Kalam symbolically, handed over the foundation seeds of "ASHA Peanut" to President Gloria Macapagal-Arroyo at the Malacañang Palace in a ceremony in February 2005 during his official visit to the Philippines.
Boosting government-private partnership
For a better peanut industry, DA-BAR being the leading institution for research and development in agriculture and fisheries in the country, took the opportunity and funded the implementation of research and development activities on Asha peanut with field testing through its Community-based Participatory Action Research (CPAR) Program.
Since Region 02 is the leading producer of peanut in the country, the DA CVIARC was identified as the first implementer of the project "Introduction, promotion and efficient seed support system of ICRISAT ASHA peanut variety in region 02"
Part of the CPAR project is the training of the staff on appropriate technologies needed in the production and implementation of the Asha project in the Philippines. BAR therefore sent two DA technical staff to ICRISAT in India for training on groundnut crop improvement, integrated pest management, and aflatoxin determination prior to the implementation of CPAR project on Asha peanut in the country. After the establishment of a demo farm in region 02, farmers/growers, stakeholders and other peanut enthusiasts in the region were also trained to ensure common understanding on the proper management of asha peanut production.
Techno demo and field days were also conducted to showcase the performance of Asha variety and production technologies to farmers, buyers, processors, and other peanut enthusiasts. Production guides and product catalogues, in the form of leaflets, flyers, and posters were also produced in the local dialect and distributed during the trainings. Trade fairs, exhibits, summits and research investment forums were also held. Promotion of Asha peanut through television and daily newspapers contributed to widespread awareness resulting to wider acceptance of the variety.
Eventually, other agencies also showed interest and helped in the promotion and production of the new peanut variety. The Department of Trade and Industry (DTI Region 02), Department of Labor and Employment (DOLE region 02) and Department of Science and Technology (DOST Region 02) collaborated in the project thru the conduct of training activities on community-based processing of Asha peanut food products and packaging, and other related livelihood. These were conducted in the different participating municipalities in the Cagayan Valley region.
The Philippine Council for Agriculture, Forestry and Natural Resources Research and Development (PCARRD) and ICRISAT have enjoyed a fruitful relationship since 1975 accordingly. In November 2005, the Bureau of Agricultural Research (BAR), PCARRD and ICRISAT signed a Memorandum of Understanding (MoU) to support the commercialization of Asha peanut and other ICRISAT mandate crops in the Philippines.
CVIARC also noticed the willingness of the Local Government Unit (LGUs) to support and participate in the commercial production of Asha peanut. A memorandum of agreement (MOA) was therefore executed between DA-CVIARC and all interested LGUs.
Motivating factors for investment
Asha peanut was found suitable to the country's climatic and agronomic condition in the series of testing and evaluation trials conducted by the National Seed Industry Council (NSIC) in eight different locations all over the country.
It is the only peanut variety released in the Philippines that has produced the highest recorded yield of 3,991 kg per hectare. It has double the yield of the regular peanut varieties in the country and makes possible an income up to PhP 27,000.00 per hectare.
Asha peanut is also a 3-in-1 variety in terms of seed sizes – comprised of Class A (50% extra-large seeds; 1seed:1 gram); Class-B (30% large seeds; 2 seeds:1.5 grams) and Class-C (20% medium-small seeds; 3 seeds:1 gram). The biggest seed are same sized as cashew nuts. Aside from being large-seeded, it has a high shelling recovery of 73-79% making it ideal for confections and table food.
Asha peanut is resistant to bacterial wilt and other foliar diseases like early and late Cercospora leaf spot and rust. It is ideal for livestock forage due to its high fresh bio-mass and dry matter yield.
The strong promotion of the variety has motivated and attracted the interest of farmers as shown by the increase in hectarage, not only in region 02, but in other regions as well.
Today, Asha peanut is commercially grown in various locations in different part of the country. In Region 02 it is in DA-CVIARC, Laguna area – Bureau of Plant Industry – Los Baños National Crop Research and Development Center (BPI-LBNCRDC), La Union – Don Mariano Marcos State University (DMMSU), Southern Mindanao – Southern Mindanao Integrated agricultural Research Center (DA-SMIARC) and University of Southern Mindanao (USM Kabacan), Ilocos region – Mariano Marcos State University (MMSU Batac Ilocos Sur), and Central Visayas – Central Visayas Integrated Agricultural Research Center (DA-Cenviarc).
With the good qualities of Asha peanut, five major peanut processors in the Philippines, the Marigold Commodities Incorporated, Newborn Food Products Inc., Tobi Marketing, Growers Food Industries Inc., and California Manufacturing Corporation, are now accepting peanut products from the different production areas. This gives Asha peanut growers an assured market in the years to come.
Source: Edmon B. Agron- bar.gov.ph
Photos by: CVIARC
Do you like this money making business idea? content"> then please consider subscribing to our RSS feed. You can also subscribe by email and have new articles sent directly to your inbox. (Once you entered your e-mail address, you need to login to your e-mail account and click the link to confirm your subscription).