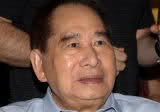 "Success is not just good luck. It is a combination of hard work, good credit standing, opportunity, readiness, and timing." – Henry Sy Sr.
Henry Sy, known as the "Father of Philippine Retail" and the #1 Philippines' richest man, was born October 25, 1924 in the village of Ankhue, in the Jinjiang county (now city) of Fujian province, south China.
We will look into the business success story of a Filipino entrepreneur, Henry Sy, in this article by Wilson Lee Flores, entrepreneur magazine.
Chinese immigrant Henry Sy survived the loss of his father's two sari- sari stores at the close of World War II eventually install to himself as Asia's shopping mall king. He survived other crises as well: the late dictator Ferdinand Marcos' declaration of martial law (1972), the chaos following opposition leader Benigno Aquino Jr's assassination (1983), the military coups against the Aquino administration (1987- 89), and the Asian financial crisis (starting 1997). "I don't give up easily," Sy, 85, says, "I look for solutions to problems. I want to make things happen."
And happen they did. In its March 17, 2003 issue, the US business magazine Forbes listed Henry Sy among the world's billionaires, with an estimated net worth of $1.2 billion and exceeding the fortunes of France's Michellin, clan of tire makers; Citigroup boss Sanford Weill; publishing tycoon William Hearst III; Richard Marriott of the world- famous hotel chain; and television host Oprah Winfrey. In 1999, the Management Association of the Philippines named Henry Sy as "Management Man of the Year." In 2005, the Philippine Retail Association conferred him the title, "Father of Philippine Retail," and the Hong Kong Shanghai Banking Corporation honored him as one of four Business Greats.
Sy's success has only increase his fame and clout. In 2002 he astounded most analysts when he tapped Asia's wealthiest billionaire, Hong Kong's Li Ka-Shing, to invest in the Philippines through a joint venture between the SM group and Li's Watson retail chain.
Mall of Asia
His retail and other businesses aside, Sy is the power behind Banco de Oro Universal Bank and the 85-year old China Banking Corp., which his group took over in early 2005. He became a major force in promoting Philippine tourism after taking control of Tagaytay Highlands, a prime property and one of the projects Highlands prime Inc. (the real estate arm of publicly- listed Belle Resources), where Sy and sons Henry Jr. and Hans sit as board members. Tagaytay Highlands is a strategic complement to similar projects in Baguio and Cebu, and that gave the Philippines "a world- class resort community." When "Mall of Asia," his dream project, is completed in the Manila Bay reclamation area, it will sit on 90 hectares and is envisioned to be the premiere destination mall in the Asia Pacific region.
Indeed it is in the mall business that Sy has eminently distinguished himself. Sy's SM Group of Companies, one of the Philippines' biggest conglomerates, started as a shoe-retailing store on Carriedo Street in Quiapo, Manila. (The holding firm for the group, SM Investments Corp., was incorporated in 1960. SMIC became public in early 2005, raising nearly P25 billion in new money that many believed the Sy family will use to expand its portfolio investments and acquisitions). In 2001, the London- based Euromoney magazine named Sy's retail chain as Best Retailer in Asia. Shoemart Inc., the Philippines' largest chain of department stores, is an anchor tenant in all SM malls. Supervalue Inc handles the group's supermarket businesses, including the Warehouse Clubs. The group's retail chain include Star Appliance Center as well as stores dealing in hardware products, appliances, toys, home and lifestyle products, health and beauty products, export- overrun clothes and fashion accessories. SM also operates the Philippine's largest chain of cinemas. Its Makro retail chain is a partnership with the Ayala Group of companies, another Philippine giant.
Group Leader
Henry Sy was born in the village of Ankhue, in the Jinjiang county (now city), of Fujian province, south of China. In 1936, when he was 12, he and his father migrated to Manila and here learned the basics of retailing and good customer service in his father's sari-sari store. (One of his fondest memories of the pre- war era was joining a crowd of onlookers at the inauguration of Quezon Bridge in Quiapo, Manila, with the guest of honor, the flamboyant President Manuel L. Quezon, wearing his famous safari hat. The boy never imagined that he would get to meet and know all Philippine Presidents in the course of his business career). Desperate to study and learn English, Sy asked permission from his father to go back to school. He was already 12, but he had to start from grade one when he enrolled at the Quiapo Anglo- Chinese High School, where his classmates were younger and smaller. On reaching grade 4, Sy asked his teacher if he could be accelerated, and his teacher agreed provided he attained a minimum grade average of 90 percent. He eventually completed grad school in five years. "I used second- hand books and bought only a few pieces of pad paper at a time," Sy says. "I did not want to ask more money from my father, who was working so hard. I was happy enough to be studying. I was not first in academics, but I was the group leader."
Near the end of the war, one of the elders Sy's stores was burned down and the other looted in the chaos. "We lost everything," Sy says. "My father decided to go back to China and asked me to join him, but it was my opportunity to start a business; I decided to stay behind. My father was pained by the hardships, but I never lost hope."
After the war, goods were in desperate supply, so the young Henry joined the booming buy-and-sell business and saved enough money for future ventures. He returned to school in the early 1950s, enrolling at the Far Eastern University in Manila, in hopes of securing a degree in commerce. He lasted only two years as a result of pressure from his growing business. More than 40 years later, on January 30, 1999, De La Salle University conferred on him an honorary doctorate in business management. It was a toast to half a century of brilliant entrepreneurship. It has become a cliche, but success came to Sy only as a result of hard work, tenacity, frugality, self- discipline, Confucian values, and an undying thirst of learning.
Photo: forbes.com
Do you like the Henry Sy's success story? then please consider subscribing to our RSS feed and have new Filipino entrepreneur success story sent directly to your inbox. (Once you entered your e-mail address, you need to login to your e-mail account and click the link to confirm your subscription).