Buying a pond fountain for your office or home can be one of the best ways to add grace to your living space. The fountain will not only take your decor to the next level, but it will be the perfect way to relax you and your guests. There are some key factors you need to look to buy pond fountains to get the perfect water fountain. You need to consider where you want to place your fountain. This is important as it will dictate the shape, size and style of fountain best suited for your needs.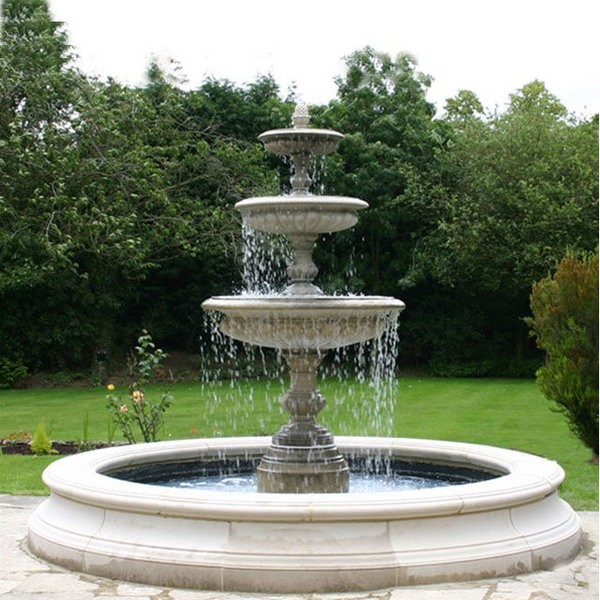 There are some specially designed fountains that fit on the corners of the walls. These exclusively designed units can give your home or office a smart touch that your guests are sure to enjoy. Before selecting any type of fountain, you must select a pump that suits your pond. A pump with a lip seal works best with lined ponds as they are clean and without much debris. On the other hand, a commercial-grade trash pump is good for a pond with a sand bottom as its water gets dirty after rain and particulates can clog a lightweight pump. Following are some of the major factors you need to think before spending your money on purchasing a pond fountain.
Choose which fountain you need: 
There are mainly two types of pond fountains that are aerating fountains and decorative fountains. Decorative fountains are mostly used for their aesthetic appeal and can range in height from a few feet to a spectacular 20 feet or above the pond's surface. They also include interchangeable spray nozzles that can create different patterns and styles, from cascading tiers to starbursts, to one majestic jet.
The movement of water caused by the splashing of a decorative floating fountain offers some good surface aeration, aerating fountains offer more gallons per minute of water movement. This means splashing, more volume and water movement than decorative fountains provide. Aerating fountains comes with a V-shaped pattern and deliver more aeration than other styles, and maybe the perfect choice for a pond if aeration is the primary goal. Therefore, take your time before you go to buy pond fountains which might be right for you.
Manufacturing of fountain: 
You should always stick to a reputed brand while purchasing a pond fountain. Quality is the primary goal, and a subpar purchase could result in a leaky fountain, thereby causing damage. Avoid this by choosing a reputable brand you can trust, and that gives value for money. The branded water fountain will always include a warranty that will cover everything except normal wear and tear. Another factor is the quality of the pump, which is the most important issue for anyone to keep their pond fountain durable. The reputed brand always uses the right size pump for your fountain. In case you increase the pump pressure, you may get an unexpected amount of splash from your fountain basin, which may result in damage to your floor if your fountain is inside. So, to avoid all such things go for a reputed brand fountain.
Check the Features: 
Once you choose the best brand, you should plan on looking out for a fountain that has the best features. You should take the time to see how various fountains function. Check the capacity of the pump as it will determine how far the water will rise and fall. Apart from the things mentioned here, you should look for a fountain that is eye-appealing and good looking. Fountains look beautiful in the nights if there is lighting underneath them. Therefore, you should also check if the company that is selling the fountain is also selling the lighting. If yes, you should plan on purchasing the accessories and lights immediately.
Check fountain parts assembly: 
Before using your fountain, it needs to be assembled first. Always read the directions first before you start assembling your fountain to ensure you don't get stuck in between the process. Some fountains are self-explanatory in setting up, and some need a perfect installation to work appropriately. Larger fountains have pieces that are too heavy to be moved by a single worker. In such cases, always check the fountain parts assembly to avoid this trouble.
Consider your budget: 
This is one of the crucial things that should be of concern to you when you are purchasing a pond fountain. See how much money you can spend on it. You can find fountains in various models, styles, and prices. You should pick one that is affordable for you. Make sure to choose a product that's safe for birds, wildlife, and household pets.
Conclusion:
Fountains are lovely water features, and adding them to a pond creates ventilation for the water and gives it a fantastic look. You can operate the fountain in the evening or at night for a few hours to enhance the aesthetic appeal of your location. There are various factors mentioned above that you should keep in mind when you buy a fountain.