Participating in an exhibition provides an opportunity for a business to showcase its products or services to new potential customers. On the other hand, the visitors learn more about various brands by interacting directly with company representatives. In fact, exhibition is a reliable marketing channel that has not yet lost its relevance despite advancements in technology. And although there are many businesses that participate in exhibitions, it's only a few that are able to exploit the opportunity to the maximum.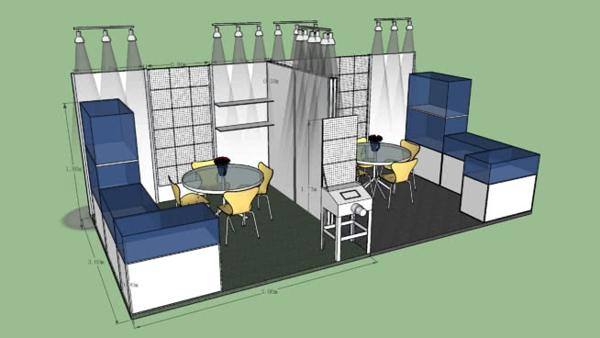 Majority of enterprises fail to attract visitors due to poor planning. If you want your business to stand out during an exhibition, you have to plan ahead of the event. By planning ahead, you will know what to do and what not to do including the stuff that you need to display in your booth. For beginners that have never attended such an event before, here are tips that can help you put your exhibition booth in tip top shape.
Select a Strategic Location
Some people will tell you that all stands get an equal opportunity to promote their brands. This is further from the truth. Since there are many businesses at the event, it's only those that are in strategic location that attract the most attention. Keep in mind that increased visibility helps in boosting brand awareness and that's exactly what brought you to the trade fair in the first place.
If possible, you should pick a spot that's between the main entrance and the extreme end of the facility. Remember, visitors may not be able to visit every individual stand at the event. But you want to make sure they don't leave the venue before stopping over at your stand. Besides that, you should opt for a location that has other businesses that offer the same products or services as yours. This is because you want to target people that are interested in what you deal with.
Pick a Roomy Booth
When it comes to the size of the booth, bigger is always better. A smaller booth will definitely work against your intentions. For a start, you will not have enough space for keeping your stuff, which in return will make it look congested. In addition to that, you will only be able to accommodate just a few people. With a bigger booth, you will have ample space for keeping your stuff and it will be easy for visitors to move around your stand.
Make it Welcoming
A crowded booth is hardly welcoming. When preparing for a trade fair, you should factor into the issue of making your visitors feel comfortable. Most people don't like standing for long as they watch or listen to presentations. You should therefore bring furniture such as tables and chairs so that visitors can remain seated most of the time. You should mount a few screens and audio systems as they will make it easy for everyone to follow on what's being said by the speaker. Audio systems help in ensuring that you can be heard by every visitor even when there are many people at the stand. Without such exhibition equipment, it will be difficult to communicate with the visitors, especially when there are questions that need to be answered.
Prepare the Sales Team
Going to an exhibition without a sales team is a huge mistake. This is because you will not be able to coordinate the activities at your stand. In fact, you will be overwhelmed by the high number of visitors. At the end of it all, you will have failed to impress the people that have the potential to become your customers in future. With a dedicated sales team, you will be able to give out flyers and other promotional products. The sales team will also help in getting contacts from potential customers. Besides that, they will be able to handle one on one interactions with the visitors by answering their questions and informing them about the solutions that your business offers.