Remote-work or back to the office? Why not choose both? These days, more and more companies are considering a working arrangement that allows their employees to work remotely for half a week or less and spend the rest of the time working in the office. If you want to apply this practice to your company, read the guidelines below to reap the benefits of a hybrid office arrangement fully.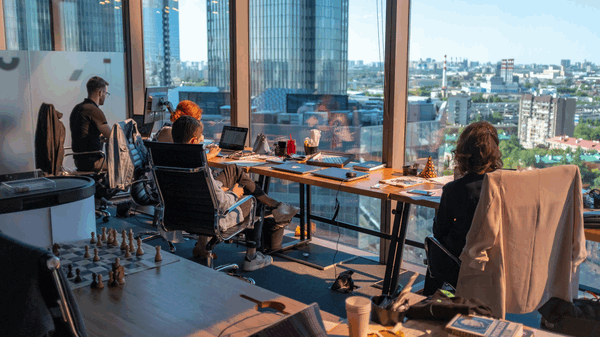 Set clear arrangements
It is absolutely crucial that you make sure that you've planned everyone's schedule and workload for roles that will have a hybrid office arrangement. There may be some projects where some people would need to go to the office to work together, but there may also be times when the person can arrange to work remotely and still be able to contribute towards a project.
Figuring this part out can be tricky since it requires you to have thorough information about the roles in your company and how they play in the context of specific tasks. Your best bet is to involve the employees in setting up their positions to be ready for a hybrid work environment.
Some relevant questions that you can ask during the discussion are:
When do you need to meet someone in person to perform your work?
How can you adjust your current tasks to be workable remotely?
What challenges would you experience in your role as you transition from office-based work to remote, and vice versa?
Invest more in remote work-friendly platforms
Since at least half of the time employees spend working would not happen on-site, it is essential that you invest more in platforms that are designed to make remote-working arrangements run more smoothly. Depending on what your business is, there are numerous platforms that you can use. For example, tech startups may benefit from using project management platforms such as Trello and communication tools like Slack for their day-to-day operations. The same processes may not be suitable for larger companies, however, who have concerns about data security.
You have to manage your budget wisely, however, since many of these tools use subscription-based models and are counted against you based on the number of employees you have. If you have the resources, consider developing an in-house alternative, provided they would indeed cost lower and be more efficient to use than external services.
Find office space with a more flexible lease
There is no point in renting a traditional office space, which usually requires at minimum a year contract when you're planning to make your entire operations fully hybrid. Since the number of employees that are in the office at one time should be drastically reduced when you're working in hybrid offices, finding an office space that can accommodate your need for flexibility should be a priority.
Usually, this translates into entering coworking space or shared office space arrangements. Depending on what you require and the number of your team members, it is also possible to get a private office instead of sharing an open office area with other companies. As an added bonus, these spaces are usually centrally located, and thus your team members shouldn't have much of a commuting issue when it's their turn to go to the office.
Schedule in-person meetings
Although video conferencing tools have gone a long way into making online meetings more effective, there would still be a time when you need to set up in-person meetings with your team. When that depends on you and your business. Maybe you only want to schedule in-person meetings just to check how everyone is doing. Perhaps you only require an in-person meeting during project kick-off, or alternatively, when you're closing a project.
It is up to you to decide when to do it, but it is vital that you set clear expectations for your team members from the start. Don't expect them to suddenly come to the office when you haven't given them prior notice, and you should consider informing them about how often they would be expected in the office and the reasons behind that decision.
Make sure everyone is on the same page, day-to-day.
The most difficult thing to navigate in a situation where there is more than one individual involved is in making sure that everyone has the necessary information to complete their tasks effectively. Even in a non-hybrid work environment, miscommunication and errors may occur – so one can only imagine how high the potential for this situation to occur more frequently in hybrid offices.
To decrease the chance of misinformation and communication errors, consider having a daily or weekly email that summarizes what's going on in the company right now and what everyone is currently doing.
In creating a hybrid work environment, finding the balance between what your business needs and what your employee requires would be the main challenge. Consider the above points when you're planning your hybrid office system, and you may find your journey to be easier than you thought it'll be.