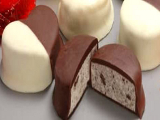 Undeniably, chocolate has become the most popular dessert in the world. No matter what the occasion is, chocolate is always present. You will find a countless number of types of chocolate, with some of the most popular being dark chocolate, white chocolate, and milk chocolate. You will also find different kinds of chocolate bars, chocolate drinks, chocolate cakes, chocolate fudge, and chocolate pudding, not to mention the milk chocolate covered polvoron, one of the most loved sweet Filipino delicacy.
Polvoron and now chocolate covered polvoron is becoming a favorite present of Filipinos to overseas friends and family. This also makes a good sideline business to start.

A little treat perfect for a date or as a gift this valentine, Milk Chocolate covered Polvoron
You will need:
Wax paper
Polvoron moulder
Toothpicks
Ingredients:
2 cups all purpose flour
2 cups powdered milk
1 cup refined sugar
1 cup butter
flavorings: nuts, pinipig, cookies 'n cream (optional)
Milk Chocolate Dip
8 ounces milk chocolate chips
Preparation:
Polvoron making:
1. On a pan, toast flour in moderate heat for about 15 minutes, or until light brown, stirring constantly to avoid burning.
2. Remove the pan and transfer the mixture into a big bowl.
3. Add the powdered milk, and toss for another 3-4 minutes.
4. Add sugar, other flavorings and melted butter. Mix well.
5. Fill the polvoron mould with the mixture, press it hard by using a spoon, then release it. If it is still too loose, add more butter or olive oil and store in the freezer for an hour (this will harden the polvoron).
Milk Chocolate Dip Procedure:
1. In a double boiler, melt the chocolate while stirring gently.
TIP: When you are melting over a double boiler, don't let the water touch the bottom of your upper pan. Heat only until half of the chocolate is melted, then remove from heat and stir gently until it is all melted.
2. Stick the toothpick in a piece of polvoron gently and dip it in the chocolate dip to coat and simply place them on a sheet of wax paper to let dry. For variations, you can use white chocolates or any other colors.
Do you like this money making business idea? then please consider subscribing to our RSS feed. You can also subscribe by email and have new articles sent directly to your inbox. (Once you entered your e-mail address, you need to login to your e-mail account and click the link to confirm your subscription).