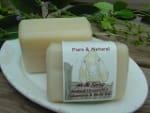 Making Goat Milk Soap
By James Pickavance
Goats' milk is rich with nutrients like proteins, vitamin A, B12, B6, E, beta casein, and minerals. Skin absorbs beta caseins easily and helps in rapid hydration of the dry skins. Goats' milk helps in moisturizing and soothing the skin as it is natural emollient.
It can make soap creamy, moisturizing, as well as lovely. More over goats' milk will lower the Ph value of soaps, so that it becomes skin friendly. Goats' milk soaps are effective for acne treatment as well as other problems of skins. With these qualities, goat milk soaps have positives for regular use.
One can easily make goat milk soap at home. You might be wondering how to make goat soap at your home.
For soap making goats' milk soaps, milk is used as either liquid milk or powdered milk. It is easier to buy powdered goat milk from food stores. Use either pure milk or equal quantity of water and milk. There is hot process and cold process for making soap with liquid milk.
Two ounces of glycerine, three cups of goats milk, two teaspoon of borax, six and half ounces of lye, one and half pounds of fat etc makes a simple recipe for goats milk soap. Like this, various recipes are there for making goat soaps.
Melt and pour method is widely used for making goat milk soaps. You can buy both bases of pour soap as well as goats milk melt. Decide the recipe for the soap. Decide the type of molds for using.
Decide the shape of the soap that you want to make. Once you stock the goats melt milk as well as base for pour soap, you can look for colours and fragrances for the soap.
It is important that you follow the recipe for goat soap making. Using Vaseline, grease the molds properly so that soap does not stick after it sets. Melt the fat and cool it up to temperature range of eighty-five and ninety-degree Celsius. Pour lye into the paper cup, and then add goat milk. Slowly keep adding the lye. Mix the solution with hand mixer.
Chemical reaction will change the colour of milk to golden one, and the mixture becomes hot. So let the mixture to cool up to eighty-five degrees. To this mixture add glycerine, oatmeal, borax and mix well with the hand mixture for at least fifteen minutes.
Then keep it to rest and then mix at regular intervals of five minutes. Until noticeable changes takes place in consistency keep continuing the above process.
Pour the mixture of soap into the molds and allow it to set. Cover the top part of the molds with cheesecloth. For 24 hours, keep this soap at room temperature, which must be constant.
Remove the cloth off the top of molds and then take the soaps out of it. If the molds used is larger one, cut the soap into equal sized bars.
It is better to cure the soap by the air-drying method for a period of four to six weeks before using.
About the Author: All about How To Have the Healthiest, Best Producing, Longest Living Goats in the Land … Guaranteed Guide for Keeping Goats. You'll soon have such amazing goats your neighbours will be asking you "How?" visit http://www.keeping-goats.com
Source: isnare.com
Photo: outhernbellessoap.com
Do you like this Goat Milk Soap Recipe? then please consider subscribing to our RSS feed and have new soap recipes sent directly to your inbox. (Once you entered your e-mail address, you need to login to your e-mail account and click the link to confirm your subscription).