Every Christmas, it has already become a tradition to give gifts to your loved ones and friends. As Christmas is fast approaching, it is the time to start thinking of the things you want to buy or make as gift. It is important to think of some unique gift as this will make it extra special. Your gift is not necessarily the most expensive, rather something not so cheap but has value and love that you put in it. Make it a point that your gift is something special. A gift that is uniquely made- a handmade Christmas gift.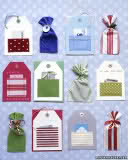 Here are some handmade Christmas gift ideas that you can add in your list. (Note: description were taken from the source sites)
Handmade dolls– These are wonderful playthings and steadfast companions for children — especially when they resemble familiar people. These basic dolls have yarn hair and clothes fashioned from fabric scraps, which give them a rustic aura. Click "how to make handmade dolls".
Sock Monkey doll– This free sock monkey pattern shows you how to make a classic sock monkey with a step by step tutorial. Click "how to make sock money".
Silk Scarf– This one-of-a-kind silk scarf is the perfect gift for any fashionista. Click "How to make silk scarf".
Knit Hat– Perfectly choreographed, the movement of yarn between two needles yields hats, scarves, sweaters, and mittens as if by magic. Click "How to make knit hat".
Aromatherapy Air freshener– These wonderful aromatherapy air fresheners are perfect business idea for selling together as part of a gift basket, or individually as corporate gifts, door-prizes, or party favors. Click "How to make aromatherapy air freshener".
Bead Jewelry– This is a creative and entertaining hobby that not only will have you produce unique, handmade items of jewelry, but will also be a great business and a source of gift ideas for family and friends. Click "How to make bead jewelry".
Scented Bath Salt– Bath salts are a simple way to experience some of the same benefits in the comfort of your own bath. And when combined with the aroma of natural essential oils, the experience can be truly amazing! Click "How to make scented bath salts".
Herbal Soap– a kind of soap mixed with natural ingredients, juice or extract and vitamins from medicinal plants. This is a perfect gift for women, men and teens. Click "How to make herbal soap".
Felt Slippers– Homemade slippers of thick wool felt make a heartwarming (and foot-warming) gift. Click "How to make felt slippers".
Papier- Mache Pull Toys– These animal pull toys pair a vintage feel with a modern look. Click "How to make papier- mache pull toys".
Cupcake Towels– These cakes are actually towels that are exquisitely designed to look just like real cakes. Cupcake towels are the perfect innovative dessert souvenirs for any occasion. Click "Cupcake towels".
Shirt- Pocket Quilt– This pocketed quilt, made from recycled shirts, will look sweet hanging on the wall of any child's room. Click "How to make shirt-pocket quilt".
Stuffed Animals– These petite stuffed animals-a Fair Isle lamb, a cable-knit chicken, and an argyle pig-are so cuddly and simple to make, you'll want a menagerie. Click "How to make stuffed animals".
Quilted Coaster Set– These coasters make a great holiday gift. Each takes about 15 minutes to complete, so it's easy to plan on making a set of four or six for a generous gift. Click "How to make quilted coaster set".
Chocolate candies– You can sold luscious chocolate candies and other chocolate treats to other people, or to package as gifts for family gatherings, social events, for hard-working co-workers or friends. Click "How to make chocolate candy".
Chocolate Chip Cookies– These Chocolate Chip Cookie Recipes hit list is a compilation of all kinds of different chocolate chip cookie recipes–some basic and traditional all- time favorites. These are deliciously mouth-watering recipes you'll surely love! Click "How to make chocolate chip cookie".
Black Apple Doll– A one-of-a-kind doll peeking out of a stocking on Christmas morning is a sight that's sure to please children and adults alike. Click "How to make black apple doll".
Etched Glass– Flea-market finds and dollar-a-glass specials can be transformed with monograms, stripes, and whimsical polka dots. Click "How to make etched glass".
No- Sew Tote Bag– Why break the bank for a designer bag when you can easily make one? These fashionable totes are constructed with two surprising items: a roll of duct tape and a stapler. Click "How to make tote bag".
Photo: marthastewart.com