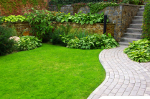 How to Start a Landscaping Business
By John Carlstrom
Perhaps you have enough experience or skills on landscaping and you want to establish your own business and be free from your demanding boss who is always on your shoulder watching your every move or monitoring everything that you do. Or, it could be that landscaping is a hobby that you like and with the many appreciations that you hear from those who see your result, you feel that it is time to make money out of this hobby and help other people make a nice and good looking lawn or garden too.
There may be other reasons why you are interested to setup your own landscaping business. Whatever it is, what is good is that you are making a right decision to rely on your skills and be your own boss.
Setting up a landscaping business may not be as difficult as the other medium or large scale businesses but you still need to exert an effort and follow some procedures to make sure that you will end up successful in this venture.
Step 1 – List down your prospective clients.
If you already worked for a company, you probably have established relationships with some of your happy clients. You can contact them and inform them about your upcoming business but you just have to make sure that you will not be stepping on your former boss' toes. What you can do is to contact those that have not actively availed of the service of the landscaping company that you worked with. If you think that there is a client that would rather have you to work on their landscaping requirements than any other person, just let the person know that you are now available for direct service. The good thing is that you can give a competitive pricing which will be favorable to them.
If you do not have contacts yet, you can go around the community and see who is in need of your service. You can inform people you know about your new business. You can prepare flyers as your information dissemination campaign and write your contact details so they can immediately get in touch if they have a need for the service.
Step 2 – Research on the landscaping rates in the area and use these as a basis of the fees for your service. You can lower down the fee as your introductory or launch offer and you can increase the rate when you already have an established name and clientele.
Step 3 – Start presenting marketing offers to promote your business. You can give discounts for those who can refer clients. You can also offer free estimates and consultations as a come on and use your selling skills to close the deal. Even if the need is not immediate, you can note down a date when the prospective client is ready to have the work done and call him back or visit him when the time comes.
Step 4 – Conduct intensive marketing campaign.
Promote the service not just to your community but in other places for a wider coverage. You can also have your business listed in the local newspapers and service directories.
With the above steps, it will be easy for you to establish your own landscaping business. You just have to make sure that you have the necessary permit to run the business as this is an important legal requirement. With this and all the steps mentioned above, you can end up being successful in the business.
Are you looking for Snohomish, WA Landscaping? Check out http://snohomishlandscaping.net today!
Photo: ryanoconnorpc.com