What is Botika ng Bayan Program?
Launched in 2004, the PITC-Pharma, Inc. (PPI), in coordination with the Department of Health and the Bureau of Food and Drugs, is currently implementing the Botika ng Bayan Program. Through the program, qualified privately- operated drug retail outlets nationwide comprise the sales and distribution network for low priced, high quality medicines. The Botika ng Bayan seal is the mark of guaranteed quality and affordable prices.
Botika ng Bayan, more than just making medicines more affordable, the program also creates more jobs, more opportunities for Filipinos.
I. Eligible Applicants
– Non-government organizations (NGOs) and cooperatives
– Trade and labor unions, employees' associations
– Corporate foundations and religious groups
– Senior Citizens' and women's groups
– Sole proprietorships, partnerships and corporations
II. Pre-qualification Requirements
– Valid and current registration, either with the Cooperative Development Authority, Securities and Exchange Commission, Department of Labor and Employment, or any organization authorized and certified by a duly recognized agency.
– Minimum initial capital evidenced by a certification issued by an authorized Bank of a financial institution acceptable to PPI: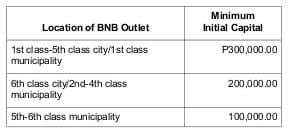 – Valid government licenses, business permits.
– Proposed location plan or vicinity map (floor area should be at least fifteen (15) sq. meters).
– Capability to comply with the documentation, technical and other requirements of the Bureau of Food and Drugs (BFAD) in the filing of the application for a License to Operate (LTO) as a Drugstore, including the availability of the services of a licensed Pharmacist.
– Filled-out Application Form from PPI for the Accreditation of a Botika ng Bayan Outlet.
III. Application and Evaluation Process
1. Interested applicants shall fill up the Application Form for the Accreditation of a Botika ng Bayan Outlet which can be obtained from PPI.
2. Completed application forms, together with the Pre- Qualification Requirements, shall be submitted in three (3) copies to the:
PITC PHARMA, INC. Botika ng Bayan Secretariat
G/F Orient Mansion Building
118 Tordesillas Street, Salcedo Village, Makati City
Telephone Nos.: (632) 496.6945/892.2021
Telefax: (632) 892.1061/892.1647
The applicant shall also pay PPI the non-refundable accreditation fee of P2,000.00 for the first 2 years of operation, and renewable thereafter for another 2 years upon payment of non-refundable renewal fee of Php2,000.00.
3. PPI shall verify the location plan/vicinity submitted by the applicant. There shall be no other Botika ng Bayan outlet within 300 meters away from an existing BNB accredited outlet. Exceptions may be approved by PPI depending on the population or business potential of the area upon ocular inspection and evaluation. (This is to make sure that every BNB outlet becomes profitable to the investor/s while making BNB medicines more accessible to all.)
4. Upon approval of the location, applicant must submit the required documents pertaining to their application within 45 working days; otherwise it will be forfeited in favor of an applicant with the same site/location who has submitted the required documents.
5. After validation/verification and due evaluation, the applicant shall be officially informed of the decision of the Accreditation Committee through a written notice sent by mail or fax. (PPI reserves the right to reject applications which fail to comply with the standards and guidelines of the program.)
6. PPI will issue an Endorsement Letter in the name of the qualified applicant and shall be submitted to the BFAD, together with other requirements for the application for a License to Operate as a Drugstore. (In the case of Metro Manila outlets, PPI will endorse the application directly to the Head Office of the BFAD). Regional or provincial applicants shall submit the Endorsement Letter issued by PPI, together with all required documents, to the BFAD Regional Offices where the proposed outlet is located. Applicants shall be responsible for following up, monitoring, or coordinating directly with BFAD during the evaluation period, and for complying with additional requirements which BFAD may require. PPI may, however, assist NCR applicants in facilitating BFAD's approval when necessary and if requested by applicant.)
BFAD Requirements for Registration of Drug Retail Outlets :
a) Notarized Petition Form/Joint affidavit of undertaking duly accomplished.
b) Tentative list of Products using generic names and brand names, if any.
c) Floor area, not less than 15 square meters.
d) Generic white labels and red labels.
e) Rubber stamp of outlets.
f) Pharmacist board of Registration Certificate, PRC-ID, valid PTR, 2 pcs. 2×2 ID picture and Certificate of Attendance of owner/pharmacist to a BFAD sponsored/accredited Seminar on Licensing of Drug Establishments and Outlets.
g) If Sole Proprietorship, DTI Certificate of Business Name Registration.
h) If Corporation or Partnership, copy of Registration with SEC and Articles of Incorporation or Partnership.
i) Contract of Lease for the space to be occupied, if the owner does not own it.
j) Picture of drugstore with signboard.
k) Location Plan and Floor Plan with dimension
l) Fee for LTO (License to Operate) valid for 1 year P1,000.00
Upon inspection of BFAD, the following must be present:
* Reference Books
– Philippine National Drug Formulary
– R.A. 3720, otherwise known as Food, Drugs and Devices and Cosmetics Act
– R.A. 6675, Generics Act of 1988 and relevant implementing rules and regulations
– R.A. 5921, Pharmacy Law as amended and relevant implementing rules and regulations
– R.A. 8203, Special Law on Counterfeit Drugs
* Any one of the following reference books:
– United States Pharmacopoeia/National Formulary (USP-NF) latest edition
– Remington's Pharmaceutical Sciences (latest edition)
– Goodman and Gilman Pharmacological Basis of Therapeutics (latest edition)
7. Following the issuance by BFAD of the License to Operate (LTO), qualified applicants to be directly serviced by PPI, who intend to avail of a credit line with PPI, shall issue in favor of PPI a security in any of the following which PPI can collect when necessary or upon demand:
– Surety bond issued by a reputable bank or insurance company acceptable to PPI
– Cashier's or Manager's Check
– Domestic standby Letter of Credit
– Deed of Assignment of Bank Deposit
All BNB outlets without a Security Bond posted with PPI shall at all times pay on cash basis for goods ordered/ delivered.
8. Upon compliance of all requirements and PPI approval, a Certificate of Accreditation will be issued by PPI.
IV. Basic terms and Conditions
Orders
– Botika Ng Bayan Outlet shall exclusively purchase pharmaceutical products from PPI. In case PPI pharmaceutical products are temporarily out of stock, BNB Outlet may source products from other reputable manufacturers/ suppliers upon prior written approval from PPI.
– For pharmaceutical products not carried by PPI, BNB Outlet may source them from other reputable manufacturers/suppliers, provided, PPI is properly informed and raises no objection. Products not registered in the BFAD are PROHIBITED to be sold by BNB Outlet.
– Other non-pharmaceutical products carried by PPI may likewise be retailed by BNB Outlets.
Minimum Monthly Purchase, Placement of Orders, Deliveries
– BNB Outlet must maintain the following minimum monthly purchase of
pharmaceutical products from PPI or its authorized Territorial distributors at its standard units of sale:

– Minimum required purchase from PPI in order to be delivered shall be:
For NCR- Ten Thousand Philippine Pesos (Php10,000.00)
For Provincial Areas- Fifteen Thousand Philippine Pesos (Php15,000.00)
– Botika ng Bayan Outlet may buy directly from the BNB Outlet located at the PPI head office or any of its offices. Stocks must be picked up and paid in cash by BNB outlet. It shall be granted a 5% discount on Parallel Drug Importations (PDIs) except when the BNB Outlet has an overdue account.
Other Conditions
– All products supplied by PPI, shall be sold not higher than the Maximum Retail Price (MRP) established by PPI.
– Accredited outlets shall extend the standard discount to qualified senior citizens in accordance with existing laws and government guidelines for the grant of said discount.
V. Estimated Annual Projected Marginal Statement of Operations
(Based on PITC's Financial Projections)
Source: www.dti.gov.ph
BUREAU OF MICRO, SMALL AND MEDIUM ENTERPRISE DEVELOPMENT (BMSMED)
5/F, Trade and Industry Building
361 Sen. Gil J. Puyat Ave. Makati City
Tel. Nos.: (02) 897.1693 / 897.7596 / 890.4968
Fax No.: (02) 896.7916
Email: bmsmed@dti.gov.ph
Do you like this money making business idea? then please consider subscribing to our RSS feed and have new articles sent directly to your inbox. (Once you entered your e-mail address, you need to login to your e-mail account and click the link to confirm your subscription).