Sitel joins fellow call centers in the Philippines to support the Call Center Association of the Philippines' (CCAP) fundraising project in partnership with Caritas Manila. The joint fundraiser brought together business process outsourcing (BPO) firms to raise funds to help alleviate the situation of less fortunate families in Manila battling the impact of COVID-19. Through the combined efforts, CCAP was able to pledge P4.3M in donations on behalf of its member companies and help over 1,600 families in need.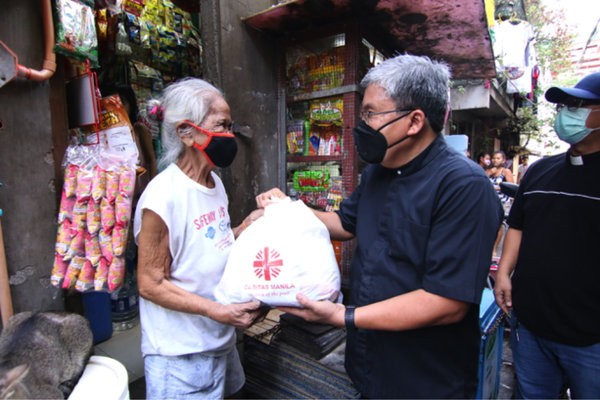 "We discovered Caritas Manila's program early in the Enhanced Community Quarantine," shared Jay Santisteban, Operations Director, CCAP. "So we put out the call to our member companies and asked them to join us in raising funds. They responded immediately, coming together during the height of the pandemic when they also had their hands full with their own operations and workforce, companies like Sitel and other Philippine BPOs still made a way, amidst the challenges, to help people who were suffering."
The campaign, "Protect the Poor from COVID-19", utilized donations to create two kits for underprivileged families. The first was the Caritas Manas kit filled with essential food products and the second was the Caritas Ligtas kit filed with COVID-19 essentials – disinfectant, alcohol, masks and vitamins.
"When CCAP started this initiative, we were happy to join them in helping families that needed this support the most," said Haidee Enriquez, Chief People Officer, Sitel Philippines. "Efforts like these showcase the power of the collective and give BPO companies in the Philippines the chance to give back to the people and the communities in which we live and work. We look forward to supporting more of CCAP's and the industry's efforts towards helping those in need during these challenging times."
ABOUT SITEL GROUP
Sitel Group's 90,000 people across the globe connect many of the world's best-known brands with their customers – 3.5 million times every day. As a global customer experience (CX) management leader, we apply our 35+ years of industry-leading experience and the entrepreneurial spirit of our group's founders to deliver omnichannel experiences through voice, chat, social media and more to customers of our 400+ clients across all verticals – from Fortune 500 companies to local startups.
Our group's breadth of capabilities – powered by our ecosystem of experts including Learning Tribes, innso, Sitel, Sitel Insights and TSC – go beyond business process outsourcing (BPO) to support every stage of the customer journey. We are redefining the contact center and improving business results by pairing innovative solutions – such as self-care and automation – with the human touch, emotion and empathy of our people.
As a CX platform, we are powered by experts to deliver tailored CX solutions to fit our clients' needs through our consultative, customer-centric approach adding value at every touchpoint – regardless of location, channel or time of day.
Learn more at www.sitel.com and connect with us on Facebook, LinkedIn and Twitter.