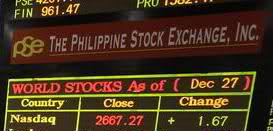 What are Stocks? Securities?
Stocks are shares of ownership in a corporation. When you become a stockholder or shareholder of a company, you become part-owner of that company. Securities, on the other hand, are proof of one's ownership or indebtedness in a company. Examples of securities are treasury bills and commercial papers, which are considered as short-term and are traded in the money market; and stocks and bonds, which are long-term and traded in the capital market. Securities are easily bought and sold in the stock market.
What are types of securities that I can buy in the stock market?
Most of the issues listed in the PSE are common stocks. Other types of securities such as preferred stocks, warrants, PDRs and bonds are also traded.
1. Common Stocks – These are usually purchased for participation in the profits and control of ownership and management of the company. Holders of common stocks have voting rights. They are also entitled to an equal pro rata division of profits without preference or advantage over another stockholder. However, they have the last claim on dividends and are the last to collect in case of corporate liquidation.
2. Preferred Stocks – Its name is derived from preference given to the holders of these stocks over holders of common stocks. Holders of preferred stocks are entitled to receive dividends, to the extent agreed upon, before any dividends are paid to the holders of common stocks. However, preferred stocks usually have a specified limited rate of return or dividend and a specified limited redemption and liquidation price.
3. Warrants – A corporation can also raise additional capital by issuing warrants. A warrant, normally issued on a detachable basis, allows its holders the right, but not the obligation, to subscribe to new shares at a set price during a specified period of time. It is usually provided free of charge and traded separately in the securities market.
4. Philippine Deposit Receipts (PDRs) – A PDR is a security which grants the holder the right to the delivery or sale of the underlying share, and to certain other rights including additional PDR or adjustments to the terms or upon the occurrence of certain events in respect of rights issues, capital reorganizations, offers and analogous events or the distribution of cash in the event of a cash dividend on the shares. PDRs are evidences or statements nor certificates of ownership of a foreign/foreign-based corporation. For as long as the PDRs arenot exercised, the shares underlying the PDRs are and will continue to be registered in the name of and owned by and all rights pertaining to the shares shall be exercised by the issuer.
5. Small-Demominated Treasury Bonds (SDT-Bonds) – The SDT Bonds are long-term and relatively risk-free debt securities issued by the Bureau of Treasury (BTr) of the Republic of the Philippines. The bond is a certificate of indebtedness of the Republic of the Philippines to the owner of the SDT-Bonds.
Where can I buy or sell shares of stocks and/or bonds?
In the Philippines, the only operating stock exchange is the Philippine Stock Exchange (PSE). Its main function is to facilitate the buying and selling of stocks and other securities through its accredited trading participants.
The PSE has two trading floors – PSE Centre in Ortigas, Pasig City and PSE Plaza in Ayala, Makati City – where trading participants trade daily – from 9:30 a.m. to 12:10 p.m. except Saturdays, Sundays, legal holidays and days when the Central Bank Clearing Office is closed.
How are shares and SDT-bonds bought or sold?
If you wish to buy shares of stocks or SDT-Bonds, you must have a stockbroker who will do this for you. A stockbroker is a person or a corporation authorized and licensed by the Securities and Exchange Commission (SEC) and PSE to trade securities.
Investing Procedures:
1. Choose a stockbroker. The PSE has a complete list and information about all its trading participants who are authorized and qualified to trade either equity or debt securities for you. This list is also available on the Exchange's website and the PLDT directory's Government and Business listings yellow pages under the category of stock and bond brokers.
2. You shall be required to open an account and fill-out a Reference Card and to submit identification papers for verification. The stockbroker will then assign a trader or agent to assist you in either buying or selling any listed security. Discuss with the trader what stocks to buy or sell.
3. Give the order to your broker/trader, and then get the acknowledgment receipt.
4. For equity transactions: Deliver the Stock Certificate if you are selling or pay within the settlement date (3 days from date of transaction) if you are buying. Some brokers may require you to pay with post-dated checks upon ordering.
For SDT-Bonds transactions: Selling investors must open a RoSS account under his broker's sub-account and instruct his bank-underwriter to transfer the share to this account. Buying investors must also open an account with a BTr accredited bank and pay the appropriate amount of transaction to the settlement bank on the trade date.
5. You shall receive from your broker either the proceeds of sale your stocks (after 3 days for equities and on the date of trade for SDT-Bonds) or proof of ownership of stocks you bought (confirmation receipt and invoice). If you wish to have a physical certificate of the equities you bought, just give instructions to your broker and pay the required upliftment fee. Buyers of SDT-Bonds will only be given a confirmation slip in lieu of the bond certificates.
You can purchase shares of stock either through IPO (Initial Public Offering) or through the open market. Shares sold through IPOs are offered for the first time to the public by the company (primary market) whereby proceeds of the sale go directly to the company. Shares of listed or publicly traded companies are bought during trading (open market). These shares have since been transferred from one owner to another (secondary market) and proceeds of the sales do not go directly to the company but to the owners of the shares.
What is the minimum amount needed to invest in the stock market?
Equity trading is done by board lot or round lot system. The Board Lot Table determines the minimum number of shares one can purchase or sell at a specific price range. Therefore, the minimum amount needed to invest in the stock market varies and will depend on the market price of the security as well as its corresponding board lot. Prices of stocks move through a scale of minimum price fluctuations.
On the other hand, the minimum amount of SDT-Bonds that an investor can buy is Php 5,000.00.
How can I profit in the stock market?
Investors can profit in the stock market thru any or a combination of the following;
a. Capital Gains – These are profits made due to an increase in the market price of a stock from the buying price.
b. Cash Dividend – A dividend given to shareholders in the form of cash. It is computed by multiplying the number of shares held by the cash dividend rate declared.
c. Stock Dividend – A dividend given to shareholders in the form of additional stocks. It is computed by multiplying the number of shares held by the percentage of the stock dividend declared.
d. Stock Rights – Stock rights offering is the option given to the present shareholders to buy additional shares of stock at a price lower than its market price.
Is there any risk involved in investing?
Yes, since risk is always a part of any investment. And because stock investment is the most volatile, a better attitude would be to limit and manage your risk. A maximum level of gain or loss should be set and calculated decisions should be made when this level is reached.
Do I need to keep track of my investment?
Yes! Having placed some amount in stocks, you should spend some time and effort in studying your investment. You should keep track of the stock price and follow closely the developments of the company. This way, you are able to foresee possible gains or losses that will guide you in making sound and wise investment decisions.
Daily quotations of stock prices can be obtained from your stockbroker or from all leading newspapers. You may also get information from the official website: www.pse.com.ph or from the PSE-Public Information and Assistance Center (PIAC) at telephone numbers 688-7602 to 03.
Visit: Philippine Stock Market Investment Guide
Source: PSE.com.ph
Do you like this Money Making Business Idea? content"> then please consider subscribing to our RSS feed. You can also subscribe by email and have new articles sent directly to your inbox. (Once you entered your e-mail address, you need to login to your e-mail account and click the link to confirm your subscription).