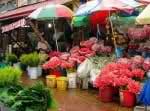 This is a story of a bus terminal that has paved way to a promising industry today. The Dangwa Bus Terminal situated in Sampaloc, Manila is now a by-word among flower shop owners and flower enthusiasts. This is the place to visit for the freshest and cheapest flowers produced by ornamental growers all over the country.
Flowers have become a symbol of different expressions, be it for lovers to make their loved-ones feel special, expression of love, hope, and condolences, personal greetings such as congratulations or just simple "hi's" and "hello's". Or for ornamental enthusiasts, you'll have a grasp of plants for indoor decorations or for outdoor landscape architectures.
The Bulaklakan ng Maynila, popularly known as the Dangwa flower market, has been refurbished and popularized by the Local Government Unit of Manila. The ornamental industry takes it bloom as this "bagsakan" area (trading post) helps showcase flowers and leaves for all occasions with the help of shippers from Baguio City, Davao City, Tagaytay City, Cotabato City and Laguna. Mums and roses are popularly grown in Baguio City as gerberas are in Tagaytay City. As decorative pieces, asters are supplied by Laguna.
Traders deliver wide varieties of flowers to the Bus Terminal almost everyday during "bagsakan" time at 4 o'clock in the afternoon. Retailers and wholesalers would go to their "suki" (consumers) and pay either in cash or in checks.
Wide choices of stalls could provide buyers bouquets, wreaths, corsages, and other flower arrangements. Peak seasons are Valentine's Day, All Saints' Day and recently, Mother's Day. This has been a great help for event organizers/planners for their entourage arrangements, catering services during debuts, weddings, birthday parties, baptisms, and others providing them choices for their motif decoration pieces.
Cheaper at its best
For man courting ladies, popular choices are roses, daisies, gerbera, and varieties of Malaysian mums. A bouquet of roses would cost roughly P 500.00 in private stores or in malls but one can have them at Dangwa only P 200.00.
Malaysiam mums would cost P120.00 and anthuriums at P115.00. Some of the flowers available are orchids (P400.00/bundle), chrysanthemums, gerbera (P200.00/dozen), paper roses (P250/3 pieces), and Ping-pong (P120/dozen).
Flower arrangements
Showcased at the Dangwa bus terminal are not only flowers but also varieties of leaves used as decorative accessories in flower arrangements. Podo, Kamuning, Wondering tube, Cypress, Honey Lemon, Rosal, Tibatib, and Bottle grass top the list. They also use Anahaw, San Francisco, Jamaica, Fish Tail, and Pormosa.
To further enhance arrangements, florists use Japanese papers, ribbons, flower foam, plastic covers, and color sprays for accent and to fit desired color of the flower.
A family enterprise
An initial capital of P 10,000.00 could generate income not less than P100,000.00 per month. Ms. Emma Petate has proved successful in 20 years of business. She has expanded and developed a family enterprise. Her two children were able to establish their own stores, one also situated in Dangwa (Mariel's Flower Shop) and the other located in Parañaque. You'll hear hosts saying "compliments to Mariel's Flower Shop" A.S.A.P '07 in ABS–CBN. Yes, they've been popular now providing A.S.A.P.'s guests with bouquets.
The Dangwa flower market not only provides flower enthusiasts and ornamental growers with the freshest and cheapest flowers but more so a great venue for entrepreneurs for a profitable business.
Try to visit Dangwa and you'll see how relaxing it is to see flowers everywhere. Flowers are made available 24 hours a day, having no worries what time to come, providing you the cheapest and best flowers in town.
Source: Ma. Eloisa E. Hernandez – bar.gov.ph, January-March 2007 Volume 9 Issue No. 1
Photo: housewifeatwork.blogspot.com
Do you like this Money Making Business Idea? content"> then please consider subscribing to our RSS feed. You can also subscribe by email and have new articles sent directly to your inbox. (Once you entered your e-mail address, you need to login to your e-mail account and click the link to confirm your subscription).