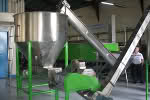 The baking industry has a new ally, a new flour-processing facility that does not depend on wheat is expected to be operational before the end of the third quarter of 2010.
The facility is a joint project of Technology Resource Center (TRC) and Food Nutrition Research Institute (FNRI) aiming to pioneer the production of flour from indigenous sources such as root crops, cereals, legumes and vegetables as an alternative source of flour which the country imports.
The alternative processing flour facility is the government's response to mitigate the impact of cyclic soaring price of wheat flour in the world market which has a direct impact on the local prices increasing the cost of flour-based foods like noodles and bread, both basic food products in the Philippines. Currently, the Philippines imports 43 thousand tons of wheat flour and two million tons of wheat, 80% of which is channeled to the needs of bakeries, pastry makers, noodle manufactures and similar products.
Aside from processing flour, the facility also aims to develop value added products utilizing alternative flour such as nutritious snack foods (e.g. cookie, biscuits and crackers) and pasta.
The TRC and FNRI chose Central Luzon as a venue for the facility because of the abundant supply of the material in the region.
According to Mr. Romeo S. Mendoza, Chairman of the Porac Federation of Cooperatives, there are about 800 hectares of cassava plantations in Pampanga yielding 20 metric tons per hectare per year or about 16, 000 metric tons of cassava tuber per year. This will not only buffer flour supplies but also provide additional income to cassava farmers.
The Technology Resource Center will also develop marketing campaign to further disseminate the benefits that can be gained from low cost and high nutritional value of the alternative flour produced and the value added products developed by FNRI.
The project is funded by the Department of Science and Technology (DOST).
For inquiries, please contact Mr. Abelardo Valdez or Jojo Tuzon at Tel. No. 727-62-05 loc 402 or email them at abelardovaldez@yahoo.com or jvtuzon@yahoo.com
Source and Photo: trc.gov.ph – Daryl D. Angeles "Heralding the rise of an alternative flour processing facility"