Workwear is a debatable topic as there are many views on what to wear and what not to wear. There were times when people used to dress up formally for their work in suits every day for their job places. Now that we have evolved a bit we do understand that you don't need to wear formals every single day to your workplace. There are CEOs like Mark Zuckerberg who can wear a grey t-shirt and jeans to their office and still look like a professional. In the last decade, the term "business casual" became quite popular. Business casual style means dressings casually for everyday work and giving people the liberty of dressing down in their offices.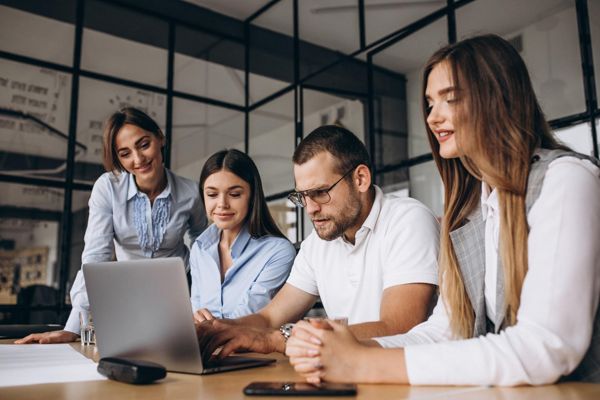 As the business casual style is gaining popularity among all the people involved in work culture, it is essential to understand that you can't be too relaxed when it comes to dressing up for business and work. To help all my readers, I am going to give some styling tips for both men and women. These tips will help you in dressing casually for your work but will still be suitable for your workplace.
1. Shoes are important!
The first thing that anyone notices about you is the footwear that you are wearing. Make sure you wear shoes that fit you correctly, and it is polished well. Footwear should be taken seriously as some experts say that you are judged from shoes you are wearing, yes you are.
Men: Although we are talking about being business casual, it is not cool to wear slippers at work. Make sure you have a good pair of shoes. I would suggest that every man should have three pairs of shoes: a pair of black shoes, a pair of tan shoes and brogues. While you might need a pair of black shoes for meetings, you can style white shoes if you are wearing a t-shirt and jeans to your office. The thumb rule is to wear the right footwear according to your attire. So gentlemen, select your shoe wisely.
Women: Women have many options in footwear when it comes to business casual. The same rule applies to women as well that flip-flops or sliders are a big no-no. If you want to dress down, you can avoid high-heels and can switch to plumps. There are ballerinas also available for office wear that go well with all your office wear. I would suggest having one pair of black heels that are not that high for attending all the meetings and conferences. For daily wear, you can wear mules, brogues, short-heels or even trainers on some days. Make sure that your footwear compliments what you are wearing.
Quick tip: Men, keep your shoes clean and polished. Nobody likes to see a dirty pair of footwear. For women, make sure that your toenails are well groomed if you are wearing a pair of shoes that is open in the front.
2. What to wear and what not to wear?
While now that we are talking about business casual it is not necessary to wear complete formal suits to work every day. There are many casual attire options for both ladies and men available that can help them look presentable at the workplace.
Men: There are some solid shirts such as a Black, a White and a Navy blue shirt that are classics. These shirts look good universally on everyone. You can also wear Chinese collar shirts to work, and when it comes to the bottom wear, you can select from jeans, chinos or trousers. However, if you go for jeans make sure it fits well and is not ripped from the knees as that doesn't look good for a workplace. Select a button-down shirt that is pressed neatly and team it up with chinos. You can also wear Khaki shirts and sweaters to keep it casual yet something that is not informal.
Women: Women also have many options for keeping the outfit casual. There are silhouette dresses that can be worn. Also, you can wear shirts, blouse, khaki shirts, cardigans, pullovers and team it up with cotton pants or trousers. You can also go for formal pants if there are meetings lined up for your day. Always go for solid and mute colours. Bright colours should be avoided for keeping it more business casual.
3. Layering
When it comes to layering there are common do's, and dont's for both men and women. A good jacket or a coat can make your outfit look different yet elegant. Select a coat that is minimal. Black, grey and blue jackets are classic for men. When you are layering the outfit make sure that you are not overdoing it. Keep it as minimal as possible. Women can go for pullovers that look casual but should not be bright in colour or have large prints.
4. Accessories
Accessories are an essential part of your style. Accessories are different for men and women, and you should know how to accessorise right that goes well with your attire.
Men: While there are many bags available for workplaces it is essential to select the right office bag. There are briefcases as an option for formal meetings, rest you can choose casual bags that are available for the regular days. If you are someone who wears glasses, then make sure that your glasses fit properly. Keep your bag and glasses clean. Another vital accessory is a belt. Keep it simple and don't overdo it. Lastly, a good watch can make casual attire also look good.
Women: The working ladies should understand that the accessories should be kept minimal. Don't wear something that makes noise or is shiny as it attracts the attention of people around. You can wear a band with a watch as it looks sleek and elegant. Wear short chains that are subtle and look good. Avoid big pendants and big earrings. A pair of studs is a classic. Make sure that your bags are also minimal. Go understated when it comes to accessories. Don't wear too many rings or bracelets as it is not suited for workplace attire.
5. Grooming
The last but not the least is grooming. Grooming is essential, and everyone should follow the grooming routine to look presentable and confident.
Men: All men should take their grooming sessions seriously. Keep your beards trimmed and make sure the trim looks neat and pleasant. Always cut your nails every week and don't overgrow it. A right hairstyle is also important when you are working. Don't go for spikes as it doesn't go with business casual outfits. Lastly, don't wear a powerful fragrance in the workplace. Select a scent that has light notes of musk and doesn't smell too strong.
Women: Working ladies should also take their grooming seriously. You don't need to wear too much make-up to the workplaces. A natural no-makeup makeup look is in trend and also looks good for every day. Wear nude lipstick colours and don't overdo the eyeliner. Keep it minimal. Keep your fingernails trimmed and clean. Also if you wear cologne or perfume, the same rule applies that the fragrance should not be overpowering.
In short to make it easy for you to understand I would say that keep your outfit simple and minimal. Don't overdo anything. Select a good pair of shoes that go well your attire and accessorize it right. Solid colours look excellent for everyday wear. Avoid too dark colours. Search for muted tones as these colours make up for the best office wear outfits.
Author Bio : I am Rachel Brier – blogger by choice. I love to discover the world around me and share my discoveries as well as experiences. I love to write about automotive, gardening, science, travel, technology and much more. Check out my blogs to know more.