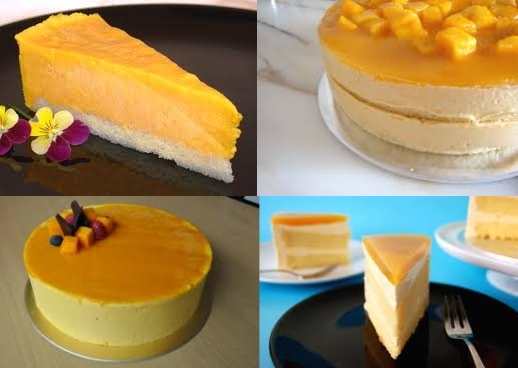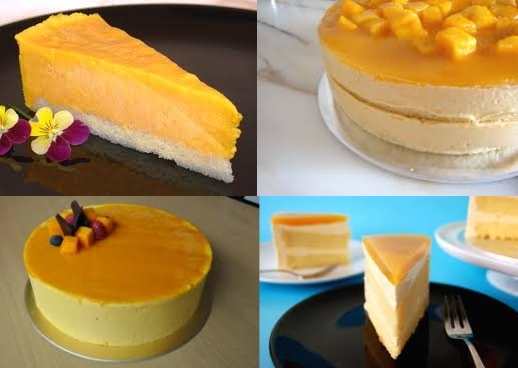 Basic Mango Cake Recipe1
Ingredients:
1½ – cups all purpose flour
1 tsp baking soda
1 cup white sugar
2 whole eggs
2/3 cup butter 1 cup buttermilk
1 tsp – vanilla extract
1 cup ripe mango puree
Procedure:
1. Preheat oven to 375 degrees F (190 degrees C)
2. Grease a 9×5-inch baking pan.
3. Cream butter and sugar until light and fluffy.
4. Add in eggs and beat well.
5. Mix together flour and baking soda.
6. Add into butter mixture.
7. Fold in buttermilk, vanilla, and mango puree.
8. Pour in batter into the prepared baking pan.
9. Bake for 45 minutes or until done.
Note: If you don't have buttermilk, substitute it with sour milk by mixing 1 tbsp of vinegar or lemon juice together with 1 cup of milk and let it stand for 10 minutes.
Mango Cheesecake Recipe2
Ingredients:
Crust
– 1/3 cup butter melted
– 1 1/4 cup graham cracker crumbs
– 1/4 cup sugar
Filling
– 2 tbsps unflavored gelatin dissolved in
– 1 1/2 cups pureed ripe mangoes
– 1 cup cream cheese softened
– 1 300 ml can Carnation Condensada
– 1 170 g can Nestle Cream
Topping
– 2 pcs mango gelatin dissolved in
– 1/2 cup boiling water
Preparation:
1. Combine all ingredients for crust. Press firmly on the bottom of a 9″ springform pan. Chill.
2. Heat gelatin mixture for about 5 min. Set aside to cool. Beat cream cheese with Carnation Condensada and Nestle Cream. Fold in gelatin mixture and pour into prepared pie crust. Chill until set and garnish with mango slices and brush with glaze.
Sources: 1Kusina at iba pa!, 2Nestle Recipes
Photo: Puddingandpie.com