In a study conducted at UP Los Baños, it was seen that pan de sal with camote, soybean and sorghum is more palatable, cheaper and more healthful than pan de sal made from flour alone.
Two proportions were tried:
A.
10% camote flour
10% soybean
80% all-purpose flour
This contains 12.25 gms.protein with 600 cal./100 gms.
B.
10% sorghum flour
10% soybean flour
80% all-purpose flour
This contains 14.26 gms.protein with 57.04 cal./100 gms.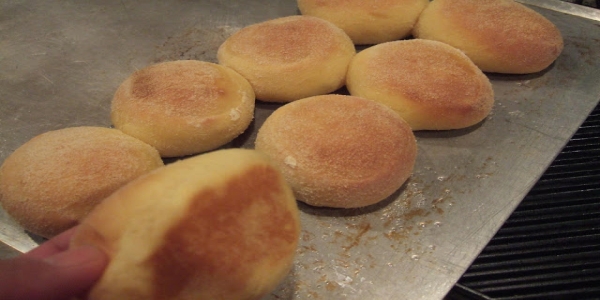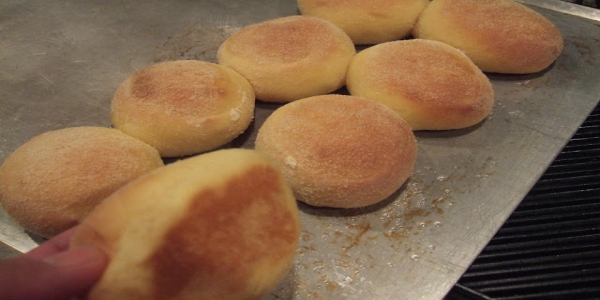 Camote Pan de Sal
Ingredients:
1 / 2 cup milk
1 / 4 cup water
1 / 2 cup boiled and mashed sweet potato
1 / 4 cup butter or margarine
1 large egg
1-1/2 teaspoons salt
3 cups bread flour + 2-3 tbsp while kneading
1/4 cup sugar
2 tsp Fleischmann's bread machine yeast
Instructions:
Mix the milk, water and mashed sweet potatoes and heat in the microwave for around 1-1/2 minutes. Add the butter and egg, beat to mix then check temperature. It should be between 70-80 deg F (room temp). Pour into the bread machine pan. Add the dry ingredients. Set at dough cycle. after about 10 minutes, start adding flour gradually so that the dough is not too sticky (try to poke from time to time with fingers). It should appear relatively smooth and moist, not wet or flaky. The kneading ends on the 30th minute, then it rises for 1 hr.
Transfer the dough on a lightly floured surface (it will shrink). Make a log out of the dough, cut some to form into smooth balls (sprinkle with some flour again as you get a new ball. Shaping this takes practice. The surface should not be too floury or you won't shape effectively, but must not have too little flour so that it becomes sticky and the surface of ball appears very rough). Arrange balls on greased baking sheet as shown in the slide. Cover with damp flour sack in a draft-free place until doubled in size, about 45 minutes. For the remaining log of dough, cut at intervals of 1 to 1-1/2 inch for pandesal. Roll in bread crumbs and arrange on greased baking pan. Let rise for 30 minutes. I like placing them inside the oven, then turn on the oven for a minute and turned off to create that warm draft-free environment.
Bake at 375oF for 12-15 minutes or until done.
Photo credit and Recipe found at Kusina ni Manang
Source: Farming Today February 1981