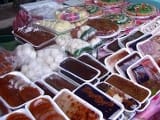 Native delicacies, known as kakanin in Filipino, are popular snack foods that are usually served as desserts. Kakanin are usually prepared whenever there is a special occasion like fiesta, birthday, Christmas, anniversary, etc. No celebration is complete without these kakanin being served in the table.
Because of its popularity among Filipinos here and abroad, many household mom entrepreneurs saw the need for commercializing it into a kakanin business, knowing that this type of industry can be easily manufactured at home. From traditional ways of cooking and selling, native kakanin delicacies have now reached major mall food stalls around the country. And, from unsophisticated plastic wrappers, kakanin are now gracefully stuffed in polystyrene foam (commonly known as "Styrofoam") with printed labels on them. No doubt, these generated income opportunities to many Filipinos.
Just like any other business, you must first get to register your kakanin business. Follow these steps in business registration. You must also get your products approved by the Bureau of Food and Drugs.
The important thing that you must do before going into this kind of business, if you don't have any experience, is to get a training. You can get that one thru DTI-sponsored seminars and trainings and to any other training institutions. This is one way of educating and empowering you as an entrepreneur.
Below are list of Filipino kakanin delicacies which you can use to start a small kakanin business. (Note: some descriptions were taken from the source sites)
Biko is a Filipino rice cake made from sticky rice (locally known as malagkit), coconut milk, and brown sugar. Like other rice cakes, this is referred to as kakanin (derived from the word "kanin" which means rice) and is often eaten as dessert or meryenda (mid-afternoon snack). Biko recipe here- panlasangpinoy.com
Kalamay hati – a native kakanin or rice cake. It is made from ground sticky rice, sugar, mascuvado, coconut milk and sesame seeds. It is brownish in color; it is very sticky that you will almost spend your whole time chewing it. Kalamay hati recipe here –iloveiloilo.com
Sinabalo (Suman) – this suman recipe is from Cagayan Region II. Instead of wrapping the malagkit in banana leaves, it is broiled in fresh bamboo tubes. Sinabalo (suman) recipe here- filipinovegetarianrecipe.com
Palitaw – made from glutinous rice and sugar, sprinkled with sesame seeds and topped with grated coconut. They're very soft and easy to chew and are best served cold. Palitaw recipe here- easymealrecipes.blogspot.com
Espasol – kakanin dessert made out of glutinous rice, coconut milk, shredded coconut, rice flour. Espasol recipe here –easymealrecipes.blogspot.com
Tupig – made from glutinous or malagkit rice flour, coconuts, molasses, sesame seeds, wrap in banana leaves and baked over live charcoal. Tupig recipe here- filipinovegetarianrecipe.com
Cassava cake – a classic Filipino dessert made from grated cassava or manioc, a woody shrub where the starch that is used to make tapioca are derived. Cassava cake recipe here – panlasangpinoy.com
Special Puto – a steamed rice muffin which is of a plain white color but adding certain common Filipino ingredients like coconut milk, ube and pandan (made from pandan leaves) slightly changes the flavor and completely changes the color of the finished product. Special puto recipe here.
Cuchinta (kutsinta) – a native delicacy in the Philippines. It's a sticky, golden brown, sweet dessert popular among Filipinos. Cuchinta recipe here. –easymealrecipes.blogspot.com
Maja Blanca – a cake made out of rice flour, coconut milk with addition of milk to make it more tastier and creamier, top with latik. Maja blanca recipe here. -easymealrecipes.blogspot.com
Puto Bumbong – a steamed glutinous (malagkit) rice mixture which is popular during Christmas season. Puto bumbong recipe here – filipinovegetarianrecipe.com
Buchi or Butsi – a rice cake made from sweet rice flour that is molded into shape with a sweet bean paste filling and sesame seed coating. This delectable treat is deep fried under high heat before serving. Buchi recipe here- panlasangpinoy.com
Sapin- Sapin – a native dessert consists of coconut milk, ube powder, gelatin and corn kernels. Sapin-sapin recipe here –filipinovegetarianrecipe.com
Ube Halaya – a native dessert made of mashed purple yam and condensed milk. Ube halaya recipe –pinoyfoodblog.com
Bibingkang Malagkit – a rice cake made out of glutinous rice, coconut milk and brown sugar. Bibingkang malagkit recipe here – easymealrecipes.blogspot.com
Buko Pie – an all-time favorite traditional Filipino pastry style, young-coconut-filled pie. Buko pie recipe here – easymealrecipes.blogspot.com
With this kind of business, it is also good to complement it with Binignit, champorado, buko pandan or even halo- halo.
Kakanin Business Tips:
– Join any capability-enhancement trainings to boost your morale
– Adopt new better technology to increase production and to improve the shelf life of kakanin.
– Formulate new marketing strategies to broaden your niche.
Do you like this money making business idea? then please consider subscribing to our RSS feed and have new articles sent directly to your inbox.