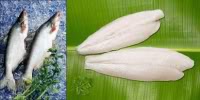 A balanced and healthy diet is what almost everybody wants nowadays. What is considered to be healthy is what sells most in the market. Because of this, many food products tagged as "healthy" or "nutritious" came out and eventually conquered the food industry business, thus, making their manufacturers wealthy and at the same time, helping the community increase its investments and employment.
It is with the above premise that the Department of Trade and Industry 12 has promoted the processing of Pangasius Value-Added Products to MSMEs in the Region. With the advent of a steady increase in supply of Pangasius and the health nutrients that its products can offer, who then, can go wrong in venturing into this business.
First, the meat recovery of Pangasius, just like tuna, is very high in that it can be processed into many food products such as chorizo, embutido, siomai and shanghai. Second, it has a very appealing taste and a less offensive smell compared to other fishes. Third, it is considered to be "nutritious" since it is rich in Omega & DHA and at the same time "healthy since it is low in fat. Because of these, Pangasius Value-Added Products have the potential to become a lucrative food business.
OBJECTIVE
The project aims to introduce the processing of Pangasius value added products as a viable and lucrative business in Region 12.
PROJECT DESCRIPTION
The project will produce Pangasius value-added products like Pangasius Chorizo, Embutido, Siomai and Shanghai. These frozen products will be packed at 200-225 grams. These nutritious and tasty Pangasius value-added products, just like processed tuna, are viewed as healthy alternatives for processed meat products. Though popular as breakfast food, these are also ideal as viands for meals. These are also best for pasalubong. Market of these products will be local consumers, high-end restaurants and fast-food chains that will eventually serve Pangasius delicacies.
Since new to the local market, the project needs intensive promotion and marketing. In this case, the Department of Trade and Industry will be the one to promote and look for the market of the products locally. Based on a month's operation, the project can generate total sales of Php 60,840.00.
Strategically, General Santos City is considered to be the best location of the project since many of our Pangasius growers and fish processors are situated. The technology used in processing the Pangasius value-added products such as classifying and sorting of Pangasius meat, washing and draining of ingredients, mixing and grinding of materials, stuffing, packing and freezing are the same with that of the tuna value-added products except for that of the Pangasius Siomai which also requires steaming and cooling. The needed production equipment and facilities, on the other hand, are meat grinder, mixer, chest freezer, air-conditioner, steamer, production table and chairs, kitchen utensils, weighing scale, sealer and other supporting production tools.
Requiring an initial investment of Php 351,034.24 with a working capital of Php 41,109.24, the project will generate a net income of Php 15,912.17. Financial ratios show that Gross Profit Rate (GPR) and Net Profit Rate (NPR) are 24% and 19% respectively. The return on investment is 36%. Having a Cost of Investment recovery period of approximately two (2) years, one (1) month and two (2) days, the project is really worth embarking on.
CURRENT MARKET TRENDS AND OPPORTUNITIES
The food processing industry is an important sector of the Philippine economy, being a major contributor of jobs, investments and output.
Emerging trends in the local consumer market have started to effect changes and eventually, have influenced the food industry. Filipino households are affected by busier lifestyles resulting to an increase in the demand for easy to prepare and ready-to-eat processed and packaged food. This emerging trend could mean opportunities for local businesses that offer healthy, convenient and ready-to-eat food products.
The popularity gained by tuna value-added products has proven the potential of fish processed products in the region. Because of this, DTI, after several research and consultations, was able to confirm that process Pangasius indeed, is a viable business. In fact, several fast food chains are already serving patties and fish fillets made out of Pangasius to their customers.
On the other hand, the production of Pangasius in the region is increasing brought about by increasing growers who saw that there is indeed a local and foreign market for Pangasius. Hence, a sure supply and a sure market can guarantee the sustainability of this project.
FINANCIAL REQUIREMENTS
Pangasius Processing

Total Project Cost

Particulars

Amount
Fixed Assets
1 Mixer
115,510.00
1 Meat Grinder (capacity: 320kg/hour)
110,915.00
2 Chest Freezer (100kg storing capacity)
50,000.00
1 Air Conditioner
12,000.00
Kitchen Utensils
5,000.00
1 Steamer
2,000.00
Production Table and Chairs
10,000.00
1 Stove
2,500.00
1 Weighing Scale
1,000.00
1 Sealer
1,000.00

Sub-total

309,925.00

Working Capital (1 Month)

Direct Materials
25,720.00
Direct Labor
6,704.00
Overhead
1,085.24
Operating Expenses
2,600.00
Training Cost
5,000.00

Sub-total

41,109.24

Total Project Cost

351,034.24
*Note: TPC excludes the cost of processing area.
Underlying Assumptions:
* 8 batches of each product line are processed in a month.
* Fixed assets are depreciated using the straight-line method for 3-8 years.
* Training cost is amortized using the straight-line method for 3 years.
* Selling price of each product is Php 40.00 per pack of 200-225 grams.
* Mode of selling is on consignment basis for 15-30 days.
PROJECTED SALES AND INCOME (1 Month Operation)
Pangasius Processing

Projected Sales and Income

Particulars

Amount

Sales

Pangasius Chorizo (304 packs @ 40.00 each)

12,160.00

Pangasius Embutido (376 packs @ 40.00 each)

15,040.00

Pangasius Siomai (336 packs @ 40.00 each)

13,440.00

Pangasius Shanghai (336 packs @ 40.00 each)

13,440.00

Total

54,080.00

Less: Cost of Sales

Direct Materials

8×20 kilos Pangasius Meat @ Php 100.00/kilo

16,000.00

8×4 kilo Chicken Fats @ Php 60.00/kilo

1,920.00

8×4 kilo brown sugar @ Php 35.00/kilo

1,120.00

8×4 kilo vegetables @ Php 25.00

800.00

8×1 kilo Iodized Salt @ Php 48.00

384.00

8x1Micro Ingredients @ 100.00

3,200.00

8×2.5 kilo cake flour @ Php 40.00/kilo

800.00

8×4 pcs. 500 ml Can Evap Milk @3 Php 30.00/ can

960.00

8×1 pc. 135g Cheese @ Php 42.00

336.00

8×1 pc. 250g raisin @ Php 25.00

200.00

Packing Materials

1,798.00

Direct Labor

Cook

4,000.00

Processors/ Packers (Php 2.00 per pack)

2,704.00

Overhead

Fuel

700.00

Water

300.00

Electricity

2,000.00

Depreciation of fixed assets (FA/ EUL x WC Cycle)

3,712.76

Amortization of training cost (TC/ EUL/ WC Cycle)

138.89

Total

41,073.65

Gross Profit

13,006.35

Less: Operating Expenses

Communication

300.00

Promotion

1,000.00

Miscellaneous

500.00

Transportation

500.00

Repair and Maintenance

300.00

Total

2,600.00

Net Income before tax

10,406.35
Return on Investment (Ave. Net Income/ TPC)

36%

Payback Period (TPC/ Ave. Net Income + Dep'n. + Amort.)

2 years, 1 month and 2 days

Gross Profit Ratio (Gross Profit/ Total Sales)

24%

Net Profit Ratio (Net Income/ Total Sales)

19%
For Inquiries, please contact:
National Economic Research and Business Assistance Center
SOCCSKSARGEN (Region 12)
Ground Floor, RA Bldg., South Osmena St., General Santos City
Telefax No. 083-5528250
Email Address: nerbac@dti12.org
Visit: www.investinr12.net
Source: Pangasius Processing (Value-Added Products) by MASICAP, trc.dost.gov.ph