A backyard is your private space that grows with your creative ideas and thoughts. If you are passionate about decorating your backyard, you can start with landscaping and then move forward. If you think you have a lesser space to do gardening, think carefully. A garden doesn't need a bigger space but lots of creative ideas and details to make it a success. After you have introduced some nice plants in the garden, you could also create a small pond. A pond is a fantastic way to give your garden a stunning look. You could decorate your pond and turn it into a beautiful piece of art. But, don't forget that a pond needs regular maintenance and your efforts. If you don't take care of the pond water, it will become stagnant, and your entire project will become a flop. So, you can watch some DIY videos, talk to your friends or get an expert's opinion and start designing that dream backyard with a lovely pond and beautiful flowers and plants. You could use pluck out some of these ideas add in your own and create a lovely space in your backyard. Get creative and have fun with your backyard.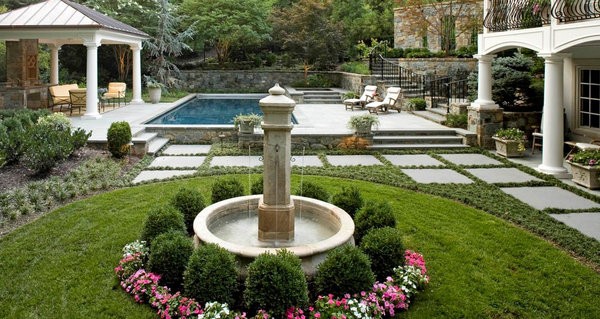 Buy a Fountain
If you have a nice and big backyard, you can introduce a fountain. The best fountain pumps help to save your energy consumption as well. Fountains are great to attract birds and create your own natural paradise and a cocoon to relax.
Fountains are great to impress your guests and enjoy the dramatic splash of the water. There are different types of fountains that you can buy from the market. Some common ones are free-standing fountains and wall-mounted fountains. Take your pick, check what suits the look of your garden and buy wisely.
Make Use of Old Tires
If you are keen on upcycling and using old materials from your garage, start with some tires. You can build a solid base to the tires, fill up some earth and plant some colorful flowers. This is a great idea for an upcycling project, and it makes use of your old items. The tires will give a more natural and detailed look to your garden. You can even tie ropes on the outside of the tires if you prefer that way. You could also create legs for the tires so that you have plants and flowers a little lifted from the ground. This way, tires will never go waste.
Create a Stunning Pond
A pond is a great way to decorate your garden. You could introduce some water lilies or irises and create a stunning look in your backyard. A pond should be kept clean with pumping water regularly. The pump helps to create aeration in the pond and helps reduce algae and other waste materials. To make your pond extra attractive, you could add some fishes. The best fishes for your pond are Goldfish and Koi. These fishes are catchy and very appealing to the eyes. If you want to do something more to decorate the pond, add some LED lights to it. These lights will ensure that your pond stands out for an evening party. LED lights end up adding more beauty to your pond and are great to impress your guests.
Make Use of Old Soda Cans
If you don't want to spend a lot of money and want to go more environment-friendly with your backyard, soda cans are another great idea. You could paint them by sticking another sheet on the outside of the can or just leave them the way they are. Plant some small herbs or other mini-plants that don't take up too much space. You could arrange them in a cluster and assign a different area for that. Don't keep it too close to the walking area as they need space of their own. This way, you are making use of old scrap and also decorating your garden.
Build an Overhead Bridge
If you want to add more decorative elements to the pond, add a bridge over it. You can get creative with the style of the bridge and make one that it not too high or too low. A bridge is a great way to view the fishes in your pond. A bridge also gives you access to the other side of the pond which would be otherwise unused if not accessible. If you have kids at home, a bridge is a great idea to generate their interest in outdoor playing. You should be careful to keep the bridge clean and remove the mosses whenever required. In the rainy season, the pond could get dirty and so will the bridge. So, ensure that the algae and moss are cleaned to avoid any accidents on the bridge.