Employees are one of the most important assets of a business. Every business, whether big or small, needs a certain number of employees for its smooth operations. It takes a great workforce to make a business fruitful and organisations with the most talented staff are more likely to be successful. While finding the right talent might sound tricky, in this competitive business environment the trickiest part is to attract and retain the best employees.
One of the most common ways to attract the best personnel is to treat your workforce like your support system. Whether employees say it or no, feeling appreciated and valued at work is something we all look forward to. Employee appreciation is known to not only increase motivation amongst the workforce but also shows greater levels of commitment and innovation. Usually, employee appreciation is mostly applicable to a certain task or project, whereas making employees feel valued is a comprehensive and continuous feeling that employees develop over time. Regularly appreciating employees leads to making them feel valued.
However, making your employees can be relatively subjective. As every person has a different set of aspirations, beliefs and expectations, the best way to know what employees value is by asking them and knowing them more closely. When employees feel appreciated and valued, they are more motivated to remain loyal to the organisation and give their best performance at work.
Thus, it is important for employers to ensure that the entire staff feels appreciated and valued in the organisation.  Depending on the size of the organisation, the role of the employer or the manager is thus to create a productive and positive working environment that supports and serves all the team members in an unbiased manner. As making your employees feel appreciated and valued does not require any extraordinary efforts or expenditures, just follow these certain basic steps that will help you achieve your goal.
To make your employees feel valued and appreciated, start by following a simple and positive approach. A number of leaders and managers just focus on correcting the mistakes of their employees. However, the best leaders in the industry try to find ways to highlight the positive things which their employees bring to the workplace. Instead of pointing out every small mistake of your employees, emphasise on their plus points. As you incline your thinking towards a more positive approach, you will start seeing the wonderful impact it makes on your people.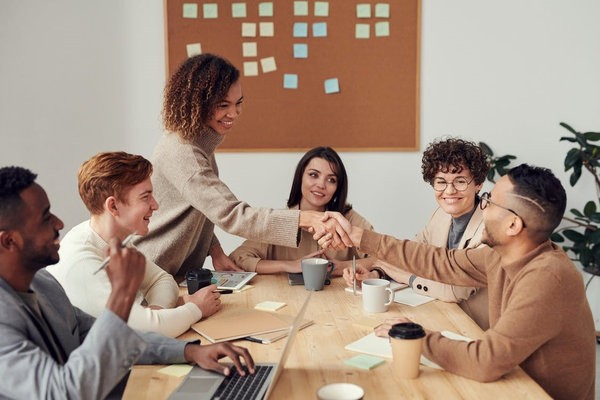 Gratitude and recognition are known to strengthen the feelings of enthusiasm and self-confidence within employees. It also reinforces a sense of belonging and purpose. As leaders hold a distinct position in an organisation and have a better understanding of organisational goals, employees cherish every word of appreciation from a leader. Evaluating your employee's performance from time to time and telling them how their unique qualities have contributed to the growth of the organisation is one of the best ways of showing gratitude. Also, let your employees know they are going in the right direction by genuinely appreciating them and their efforts.
Facilitate growth and opportunity
Apart from showing gratitude towards your employees, you also need to facilitate growth and opportunities within the organisation. As a leader, you will be steering your team and will have to guide them towards their personal and organisational growth. Timely mentoring your employees while eliminating their hurdles, opening new doors of opportunities and helping them grow are some of the ways of making your employees feel valued. As your workforce will realize that you care about their growth and are willing to provide them with various opportunities to excel they will feel appreciated and will be more motivated towards accomplishing the business goals.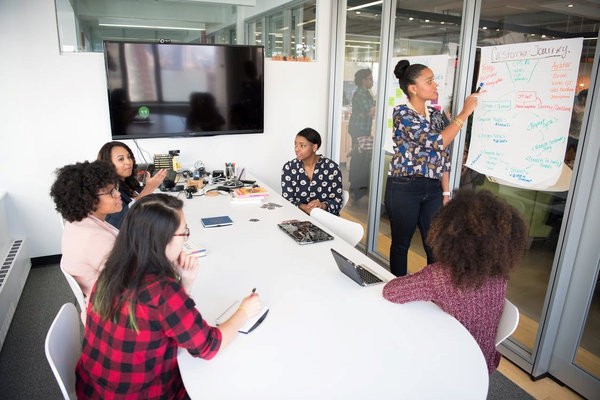 Communication plays a crucial role in the success of any business organisation. To ensure that your employees understand your vision and work together to achieve your goals, you need to clearly communicate your goals. Be transparent and tell your employees about your short-term and long-term goals. Simultaneously motivate them towards driving innovation and productivity. Depending upon the type and size of your business, you can conduct quarterly or annual meetings where the senior management directly presents the business goals in front of the employees and encourage them to achieve these goals. Additionally, you can either send emails or newsletters to your employees to educate them about the achievements of the company. You can also mention how it would not have been possible for the company to achieve these goals without their support. Seeing regular such updates will show your employees that you care about their hard work and will motivate them in future.
Review compensation and benefits
Compensation and benefits are some of the most significant things which employees care about while joining a new workplace. A fair pay not only attracts candidates towards a company but also increases the chances of retaining the best talent. Depending on the market trends, set a salary scale that is in-line or a little higher than the industry average. Also, ensure that every year you review all your employees' salaries. Giving your staff a higher pay to cope up with the rising prices, will indeed make them feel more valued and appreciated. 
Additionally, do not overlook extra perks and rewards. An employee's salary package is incomplete without these benefits. Seeing the revolution in the working culture, a lot of companies provide free meals, gym membership, access to wellness programmes, medical insurance, transport and communication allowance, etc. along with the basic salary to their employees. Providing these benefits will make your employees feel that you care about their health and well-being.
Providing employees freedom and flexibility will add a human touch to your working culture. All employees need some time off from work to refresh them. Never hesitate in giving your employees the much-needed break time. Encourage them to take small breaks from work when possible and spend some time with their family or indulge in a hobby. Also, at times allowing your employees to work from home when possible will make them feel that you genuinely care for them.