It's a fact that millions of people are making money just by using their own computers right at their own homes. Some of these "Make Money Using Computer" ideas require no money capital at all to get started. It only requires your dedication, creativity and persistence and you can build a nice stream of income. There are actually countless ways to make money using your computer but here are some common ways people are using to make money with their computer.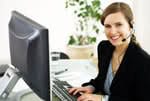 1. Network marketing. For many people, having home business network marketing is their only realistic hope of making an extraordinary income. And the basic of Internet home business network marketing is nothing but "duplicating yourself many times over". There is no doubt that a multi-level marketing MLM business is potentially a very profitable undertaking. It can be the most profitable business you can imagine. The first, and probably most important tip to success in home business network marketing is to choose the company wisely.
2. Affiliate marketing. With affiliate marketing, you get paid to sell other people's products. Getting paid to sell other people's products is very easy to do because it's free. There are site you can apply as an affiliate marketer like Amazon, Clickbank, Commission Junction and more. It's very important that the products that you represent are of a high quality.
3. Email marketing. It has become a method by which you can distribute, advertise and promote various types of communication to different recipients. Jump start your email list with co-registration leads and make money selling products to it. This is a very hand off way to earn money working at home.
4. Taking Paid Surveys. This is one way of making an extra money on your spare time. There are lots of companies that offers surveys that will pay you for your opinion. You can join them free such survey networks are global test market, survey head, spider metrix, palm research etc..
5. Data Entry. In this kind of job, you are actually transcribing the data or information into another form, usually a computer program. Forms of data that people might transcribe include handwritten documents, information off spreadsheets from another computer program, sequences of numbers, letters and symbols that build a program, or simple data like names and addresses- wisegeek. Here is the link to look for data entry jobs.
6. Selling Items Online. This is one of those "make money online" jobs that really makes money. You can set up a free online store in eCrater and you can start selling in less than 2 hours or even less. You can also make an account in ebay but you will have to pay some fees to list your items. You can sell your unused items and products and make money instantly. Here is the link on How to start an eCrater online store business.
7. Writing Product Reviews. There are also sites that will pay you for your review of a product. You can actually review anything around you including: electronic gadgets, medicines, cosmetics, companies, hotels, politics, cities, stores on your street etc. You don't have to go out and buy products to review, you can just use what is in your home already. You are free to join and no cost at all. Visit review stream and ePinions to try it.
8. Blog Writing. There are millions of people making a handsome money writing a blog or making a blog for themselves. You can earn an excellent income on a part-time or full-time basis with a blog. Some of the well- known Filipino bloggers are Jehzeel Laurente, Carl Ocab and Abe Olandres. Learn how to make your own blog and make money blogging.
9. Do Word Processing. This is a good business to start because it can be easily operated from inside one's home and doesn't take much investment to start. It only requires a computer, a printer and a word processor. You can make a lot of money on this if your business is near schools and offices. A lot of students will pay you to type their assignments, projects and other outsourced paperworks.
10. Virtual Assistant. Being a virtual assistant you do the work remotely and use technology to deliver services to clients globally. You can work from your home office and receive project instructions by phone, fax, e-mail or even instant messages from your clients. Virtual assistance job includes virtual administration support, and clerical services. Here is the link to look for virtual assistant jobs.