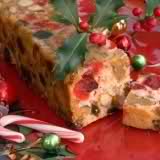 Fruitcake is a kind of cake made with chopped candied fruit or dried fruit, nuts, and spices, and can be optionally soaked in liquors like brandy or rum. Back in the days, fruitcakes are only traditionally serve during the holiday season because this is the only time you could get walnuts, cherries, and some other ingredients needed for making a fruitcake.
Today, you can now make your own fruitcake all year round. Try this classic yet easy to make fruitcake recipes for this holiday season.
Holiday Fruitcake
Ingredients
1 cup (250 mL) chopped dried apricots
1 cup (250 mL) chopped dried figs or raisins
¾ cup (175 mL) brandy
1 cup (250 mL) unbleached white flour
1 cup (250 mL) granulated sugar
1 tsp (5 mL) salt
½ tsp (2 mL) baking powder
2 eggs plus 2 egg whites, slightly beaten (or ¾ cup/175 mL) liquid egg substitute
½ cup (125 mL) frozen orange juice concentrate, defrosted
1 jar (284 mL) maraschino cherries, drained and patted dry
1 cup (250 mL) chopped pecans
1 cup (250 mL) chopped walnuts
Glazes
½ cup (125 mL) powdered sugar
2 tsp (10 mL) frozen orange juice concentrate, defrosted
1 tsp (5 mL) water
Directions
1. Place apricots and figs or raisins in a small bowl. Pour brandy over fruit. Cover with plastic wrap. Let stand overnight at room temperature. Drain. Set aside.
2. Preheat oven to 300˚F. In a large mixing bowl, combine flour, granulated sugar, salt and baking powder. Stir in eggs or egg substitute and ½ cup (125 mL) orange juice concentrate. Stir in cherries, pecans, walnuts, apricots and figs or raisins. Mix well. Pour batter into a 2 L loaf pan that has been sprayed with vegetable cooking spray.
3. Bake fruitcake for 2 hours. Cover cake with foil. Bake for 15 minutes more, or until toothpick inserted in center comes out clean. Let cake cool for 15 minutes before removing from pan. Remove cake from pan and place on wire rack to cool.
4. Meanwhile, combine glaze ingredients in a small bowl. Drizzle glaze over cake while cake is still hot. Cool completely. Wrap cooked cake in plastic wrap, then in foil. Store in refrigerator.

Fruitcake Recipe
Ingredients
1 lb butter
12 eggs
1 lb. sugar
1 lb flour
1 lb white raisins
1 lb walnut meats
1 lb. red and green candied cherries
1 lb. bakers flaked coconut
1 lb. candies pineapple
1 tablespoon of baking soda dissolved in ¼ cup warm water
2 cups brandy–any brand
Procedures
Step 1. Soak the raisins, walnuts, cherries, coconut and pineapple with 2 cups brandy overnight in a stainless steel bowl.
Step 2. In a 5 quart mixing bowl cream butter and sugar, then add eggs slowly, then add your flour and blend well, add the baking soda and water and mix a minute more, add all other ingredients and mix until well blended.
Step 3. Now you are going to bake it in a 2 pound pan, or in the pan of your choice, foil or hard pan, line the pan with wax paper or baking paper or better yet a pan liner the size of the pan. For a 2 pound pan, Place 1 pound 12 ounces of the mixture in the pan and level it with a spoon, don't bang it on the table. Bake it in a 350 degree preheated oven for 1 hour to 1 hour 20 minutes, depends on your oven and how brown you want it.
Step 4. It's done when a pick is placed in the center and it comes out clean. Let it cool on a rack for a while and then sprinkle it with 1 ounce of brandy and then another ounce when it is cool and then pack it away for about 3 days in your refrigerator and then "enjoy it".

White Fruit Cake
Ingredients
2 cups butter
4 cups confectioners' sugar
8 eggs, separated
2 ounces candied citron peel
2 ounces candied orange peel
1 cup dried currants
1 1/2 cups candied pineapple chunks
3 cups golden raisins
1 1/2 cups candied cherries
4 cups pecans, chopped
3 cups sifted all-purpose flour
1/2 cup orange juice
Directions
1. Chop pineapple, raisins, and cherries. Combine chopped fruit with currants, peel, and citron; soak in orange juice overnight.
2. Preheat oven to 275 degrees F (135 degrees C). Place a small pan of water in the oven. Line one 5 x 9 inch loaf pan and two 3 x 8 inch loaf pans with parchment or doubled waxed paper.
3. In a large bowl, cream butter and confectioner's sugar. Stir in beaten egg yolks. Stir in fruit, juice, and nuts. Mix in sifted flour.
4. In a clean bowl, beat the egg whites to peaks. Fold into batter. Fill pans 2/3 full.
5. Bake for 2 to 2 1/2 hours until golden brown, or until toothpick comes out clean when inserted.

Golden Fruitcake
Ingredients
1 package (1 pound 2.25 ounces) yellow cake mix
1 container (8 ounces) sour cream
3 eggs
2-1/2 cups California raisins
1 jar (10 ounces) red maraschino cherries, drained
1 jar (6 ounces) green maraschino cherries, drained
1 cup chopped dried apricots
1 cup broken walnuts
Procedure
Step 1. Heat oven to 350°F. Generously grease and flour 12-cup Bundt pan or 2 (8 x 4-inch) loaf pans. Combine cake mix, sour cream and eggs in large bowl. Mix at low speed until well combined. Beat at medium speed 2 minutes. Stir in remaining ingredients. Spoon into greased and floured pan.
Step 2. Bake at 350°F for 55 to 60 minutes for Bundt cake or for 50 to 55 minutes for loaf cakes, or until top is deep golden brown. DO NOT UNDERBAKE. Cool slightly in pan. Remove from pan onto cooling rack. Cool completely. Brush top of cake with light corn syrup, if desired. Wrap tightly in foil. Store in refrigerator.
Sources: Allrecipes.com, streetdirectory.com, calraisins.org, readersdigest.ca
Photo: rd.ca
Do you like this money making business idea? then please consider subscribing to our RSS feed and have new articles sent directly to your inbox.