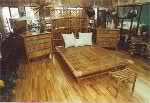 Researchers of the Mariano Marcos State University (MMSU) in Batac, Ilocos Norte developed a simple process that converts the bamboo pole into materials that can be readily used for furniture and handicrafts. Engineered kawayan, or E-kawayan, is an advanced form of bamboo products put together to form a whole new different product kawayan tiles.
The bamboo, known locally as kawayan, grows just about anywhere across the country. Its use can range from making houses, fences, bridges, walking sticks, furniture, chopsticks, food steamers, toys, construction scaffolding, hats, abaci, and various musical instruments. Flooring made of bamboo has become popular throughout the years. Its culms may also be cut and made into vases or tubes, or pipes to transport water or as containers.
Culms, also called the stems, can range in height from a few cm to 40 m, with stem diameters ranging from 1 mm to 30 cm. The stems are joined together by a node. Each node bears one leaf, and may also have one to several side branches.
Kawayan tiles
Dr. Stanley C. Malab and Jose A. Zafaralla of MMSU developed both the process and the machineries for the development of kawayan tiles, the basic material for manufacturing engineered kawayan products.
Tiles production starts with choosing the finest bamboo trees. The culms are harvested and cut to lengths maximizing the straight portions. The researchers noted that irregularly shaped parts of the pole are cut into not less than 18 inches.
The poles are then split manually with an approximate width of 33mm. The split parts are treated with wood preservatives, boiled, and dried in a bamboo dryer also developed in MMSU and are left to dry for four days. This process improves the slats' resistance to borer.
MMSU also developed the Kawayan Tile Machine, for the shaping of slats into desired width and thickness. Flooring made of bamboo pieces are steamed, flattened, glued together, finished, and cut. The bamboo slats, after they are treated and dried, are joined together in the machine to minimize gaps after gluing them together.
The laminated slats are sorted to minimize apparent color differences. The laminates are cold-pressed at 150 kg/m2 vertical and 5 kg/m2 side pressures. This is done for three hours. For making planks, the
slats are applied with white glue commonly found in local hardwares. The semi-finished products are smoothened through a sanding machine.
The researchers noted that the process and machines they developed were able to maximize the utilization of bamboo, even its most unwanted part.
———–
This article was based from the study, "Production of MMSU Kawayan E- Products" by Stanley C. Malab and Jose A. Zafaralla of the Mariano Marcos State University (MMSU), Batac, Ilocos Norte.
Article by Maria Lizbeth Severa J. Baroña – bar.gov.ph
Do you like this money making business ideas for entrepreneurs? then please consider subscribing to our RSS feed and have new articles sent directly to your inbox. (Once you entered your e-mail address, you need to login to your e-mail account and click the link to confirm your subscription).