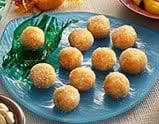 Yema Kasuy is a custard candy made from egg yolk, milk and nuts. A typical yema is only made from egg yolk and milk but you can make a different variation like adding some fruits or nuts. Yema is not only a favorite dessert but also makes a great pasalubong or present to your loved ones and friends. This can also be a good home business for anyone especially mothers who want to make an extra income.
Here is a simple Yema Kasuy recipe.
Ingredients:
– 8 egg yolks
– 1 (380g) condensed milk
– 3 tbsp chopped toasted cashew nuts (you could also use peanuts or any nuts you want)
– tbsp butter or margarine
– 1/2 cup white sugar
– Colored cellophane for wrapping
Procedure:
Step 1. Combine the egg yolks and condensed milk in a pan.
Step 2. Cook over low to medium heat with constant stirring for about 30 minutes or until very thick.
Step 3. Remove from heat. Stir in butter and chopped cashew nuts. Cool for about 30 minutes.
Step 4. Scoop half a tablespoon of yema. Form into a ball and roll in sugar. Wrapped in colored cellophane.
This is a great sideline business idea for teens, moms and dads. You could sell it to your friends, neighbors, classmates, and even to pasalubong centers and food shops.
Makes 2 dozen yema balls.
Do you like this yema kasuy recipe? then please consider subscribing to our RSS feed. You can also subscribe by email and have new recipes sent directly to your inbox. (Once you entered your e-mail address, you need to login to your e-mail account and click the link to confirm your subscription).