As host of Truelogic's latest webinar, "Digital Partnerships: Finding The Right Ones," Truelogic's Managing Partner Bernard San Juan III noted that brands and businesses are encountering many crossroads in their digital journey.
Choosing digital vs. traditional (or both).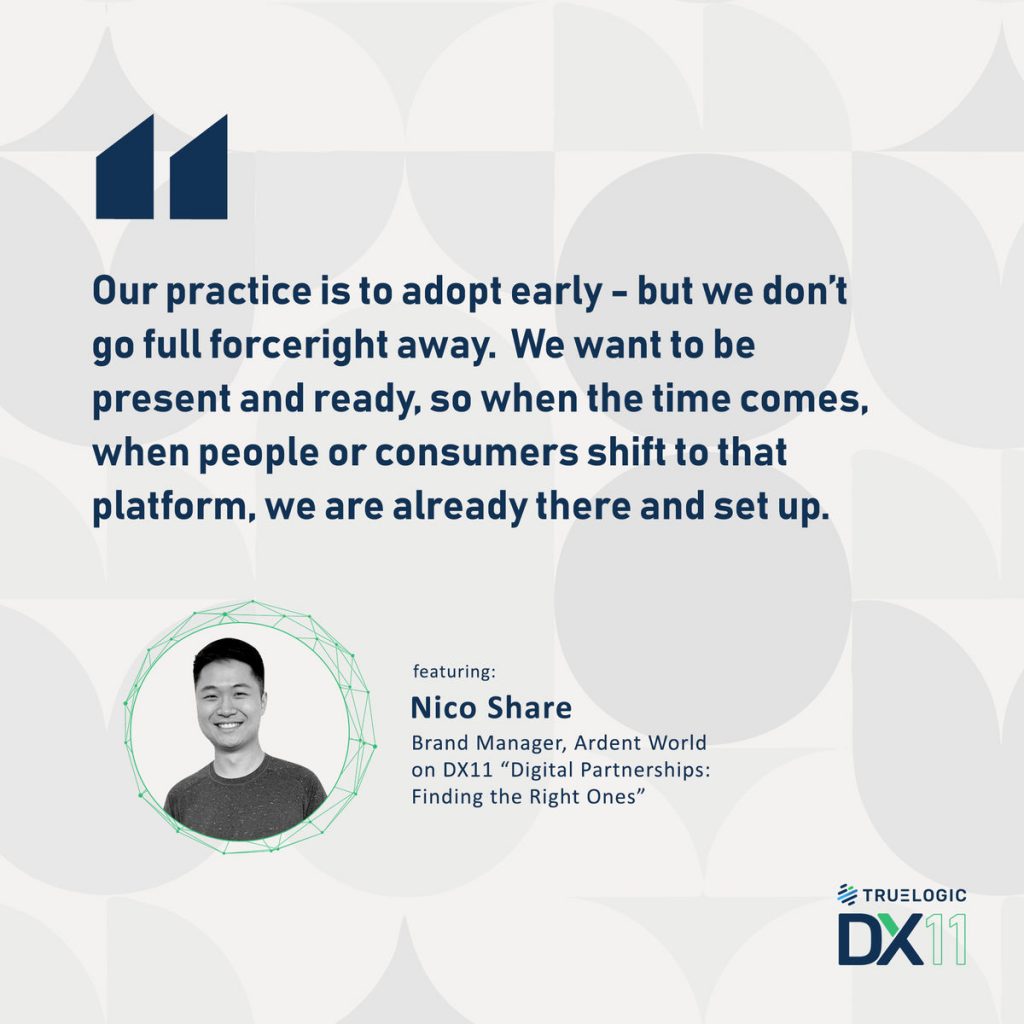 Developing in-house capabilities, or partnering with external vendors.
Expanding multi-channel sales vs. captive e-commerce capabilities. 
There are advantages and tradeoffs to these arrangements – and to discuss some of these experience from a brand's perspective, Truelogic brought in one of its clients, Ralph Nicolas Share, Brand Manager at Ardent World, Inc (AWI), an FMCG company in the personal care and skincare sector, to share their story.
Positioning for Digital
Share oversees traditional and digital marketing concerns for their two brands, Gluta-C and Moringa-O2.
Ardent World's products were a way to provide for "those who are not yet ready" for services offered by the Marie France Group of Companies (Marie France, Facial Care Centre, and Svenson).

"That's why it's part of our philosophy to be able to provide premium skincare and haircare products at reasonable prices," said Share.
Because Ardent's products are a notch above the typical demographic for personal care products, AWI brands had to "find their own way" without going head on against the multinationals, he said.
So Gluta-C and Moringa-O2 made quiet steps into digitalization, creating social media pages for Gluta-C and Moringa around 2011 – ahead, in fact, of their sister brands.
"As a smaller, nimbler brand, we had to be noticed. We couldn't go through the traditional media to be noticed, because they were already flooded with big corporations, big brands," Share remembers.

Most of their marketing budget is still allotted to traditional media, but Ardent decided to gamble some of it on digital. 
"Our practice is to adapt early, but we don't go full force right away. We want to be present and ready, so when the time comes, when people or consumers shift to that platform, we are already there – and we are ready to put in our investment to scale," he said.
"It's our chance to understand and get to know the platform – how it works, and how we can incorporate it into our existing operations."
Adapting to the Lockdown
When the lockdown began in March 2020, AWI decided to focus their efforts on Shopee and Lazada – betting on these platforms' visibility and deferring any other ecommerce plans.
"If you try to build your own selling platform, then you will have to invest in, one, the infrastructure and, second, the traffic," Share stated.
But that wasn't easy either. "Even though we thought we were prepared with our Shopee and Lazada stores, for example, on the fulfillment side, we were caught off guard because of the restrictions in logistics and movements," said share.
Pre-pandemic, online and offline shoppers were separate markets, said Share.
"But when the pandemic came, it left people no option but to shop online. We really felt a shift from offline to online," he related.
Choosing Partners
Working with external partners for marketing and ecommerce fulfillment has been important to their operations.
How does AWI go about choosing the partners it works with? San Juan asked.
"They have to give us the confidence that they're going to do it better than our existing team, and better than the team that we will be able to form if we decide to form one," Share stated.
"Otherwise, it's not going to work out because they're not going to meet expectations."
"In our company, we're trying to focus on our core, so we want to dedicate all our time and effort to things that only we can do," he continued.
"If there's something that can be done by a third party or a partner, for example, and their expertise is really in that field, then we're better off just getting their help."
Transparency and Competence
Ardent says that their choice for partners is based on two things: transparency and competence. 
"We want to work with a partner who is very open, whether the report is going to be good or bad. We want to know the truth," Share emphasized.
And they don't expect the partner to do everything for them, as certain roles and functions are still fulfilled by his team.
To determine competence, Share relies on word of mouth – "peer reviews and feedback from colleagues, from friends, from other players in the industry," he says.
Ecommerce Marketplace Partnerships
Ardent stands by its choice to partner with marketplace platforms.
"Our digital sales before the lockdown, before the pandemic, were decent, but not enough for us to really invest in growing it," Share explained. "We were just monitoring. We didn't think it would be a serious channel for us."
When COVID-19 happened, they focused on collaborating with Shopee and Lazada. "You need their support in growing your brand, and that's where the relationship with them becomes very important."
The biggest trade-off was not gathering any customer data from marketplace platforms, who save it as proprietary data.
Nevertheless, the ecommerce partnerships were valuable to them.
"In this kind of industry, you don't get full advantage just because you're a first mover. You have to be able to put up with the required investment to be able to capitalize on your position. Otherwise, it will just be taken away from you," Share said.
Moving Forward with New Digital Plans
AWI now plans to build its own e-commerce site to boost their digital presence. "I think the pandemic really pushed the entire digital industry forward," said Share.
"It's not just for the online sellers. Also for the other players as well.
"The shift from offline to ecommerce or just growing ecommerce in itself is a long process," he also said. "You wouldn't realize that you [there's] demand online, which will push you to the next step…make you want to capture the customer data," said Share.
Ardent is now focusing on using their data to really understand where they are present – and see what they're looking for in that platform.
"It's not enough to know where they are, because we also need to know why they are there."

"In digital, the changes are very fast. You can see real time data, so you can see real time changes as they occur. That's the main advantage. "
Visit Truelogic's website to watch the replay of this webinar and learn more about our past webinar sessions.
About Truelogic Inc
Truelogic Inc. is a digital marketing agency and a leader in the digital sphere providing flexible, scalable, results-driven digital marketing solutions to local and global clients from a range of industries. For ten years now, the company has invested heavily in research and development to complement and advance the expertise of its employees and benefit clients.
For PR information and exclusive interviews, email ella@truelogic.com.ph